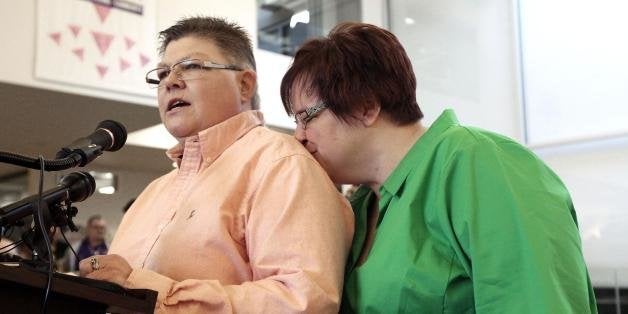 The Cincinnati-based 6th U.S. Circuit Court of Appeals heard arguments Wednesday on six gay marriage fights from Ohio, Michigan, Kentucky and Tennessee on Wednesday, setting the stage for one ruling. Each case deals with whether statewide gay marriage bans violate the Constitution. A look at them:
KENTUCKY: Bourke v. Beshear & Love v. Beshear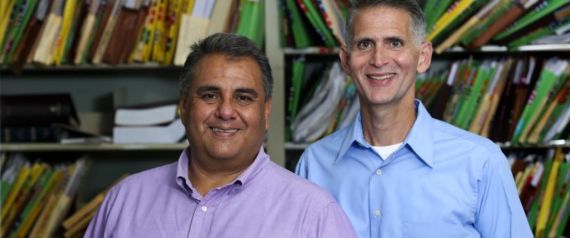 Greg Bourke (right) with his partner Michael Deleon.
Kentucky has two cases, including a lawsuit filed by three couples last year seeking to have their marriages recognized by the state. The couples are Timothy Love & Lawrence Ysunza, Gregory Bourke and Michael Deleon, and Maurice Blanchard and Dominque James.
Plaintiff's attorney Laura Landenwich told the judges that Kentucky's law doesn't have a rational purpose and discriminates against same-sex couples. Waiting for voters to change the law is not an option, Landenwich said.
"There is a limit to the democratic process," Landenwich said. "The purpose of the Bill of Rights is to protect the minority from the will of the majority in a democratic society."
Leigh Latherow, hired by Gov. Steve Beshear after Attorney General Jack Conway declined to appeal the ruling, said the state benefits from same-sex couples having children.
"Kentucky didn't take away any right that had already been given," Latherow said.
In July, U.S. District Judge John G. Heyburn II agreed with the couples, striking down the state's ban on recognizing out-of-state marriages. That ruling is on hold pending appeal.
"In America, even sincere and long-held religious beliefs do not trump the constitutional rights of those who happen to have been outvoted," Heyburn wrote in a 19-page decision in July.
In the other case, the same judge also struck down Kentucky's ban on issuing marriage licenses to same-sex couples. That ruling is also on hold.
MICHIGAN: DeBoer v. Snyder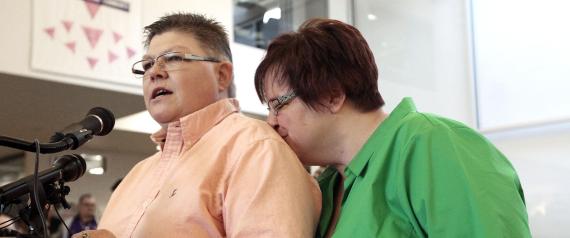 Michigan's gay marriage fight began when a lesbian couple, Jayne Rowse and April DeBoer, sued to change a state law that bars them from jointly adopting their three children.
The state's solicitor general, Aaron Lindstrom, said that any change in the state's ban on same-sex marriage should come through the political process.
"The most basic right we have as a people is to decide public policy questions on our own," he said.
Fundamental constitutional rights shouldn't be decided in popular votes, countered attorney Carole Stanyar, who represents the plaintiffs in that case.
"The Michigan marriage amendment gutted the democratic process," she said.
Judge Martha Craig Daughtrey rebuffed the notion that society had somehow fundamentally deteriorated in the decade since same-sex marriage first became legal in Massachusetts during oral arguments Wednesday.
"We're now beyond 25% of the jurisdictions in the country and probably more than that in terms of population as a whole -- it doesn't look like the sky has fallen in," Daughtery said.
Watch the plaintiffs react to the decision here as they learned that their family had won their case in March.
OHIO: Obergefell v. Wymyslo & Henry v. Wymyslo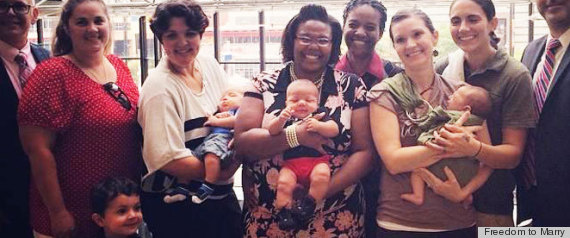 The plaintiffs in Henry v. Wymyslo: Brittani Henry and Brittni Rogers; Georgia Nicole Yorksmith and Pamela Yorksmith; and Kelly Noe and Kelly McCracken. Photo by Freedom to Marry.
Ohio's two cases involve rights for gay and lesbian couples at the beginning of life and at the end. One case involves two gay men -- James Obergefell and David Michener -- whose spouses were dying. They sued to win the right to be listed as the surviving spouses on their husbands' death certificates and for their spouses to be listed as having been married.
Cincinnati civil rights attorney Al Gerhardstein said the state's refusal to recognize out-of-state gay marriages violates the dignity of same-sex couples and amounts to unique discrimination, since Ohio has historically recognized marriages in other states that wouldn't be legal in Ohio, such as between cousins or involving minors.
Eric Murphy, Ohio's state solicitor, said that the state has traditionally defined marriage as between a man and a woman and that same-sex marriage is too new to be considered a deeply rooted, fundamental right.
On December 23, 2013, federal judge Timothy Black ruled in their favor, writing that "the fact that a form of discrimination has been 'traditional' is a reason to be more skeptical of its rationality."
In a separate lawsuit, three lesbian couples in Ohio and one gay couple living in New York sued to have both spouses listed on their children's birth certificates. One woman in each Ohio couple was pregnant and gave birth this summer, while the New York couple adopted an Ohio child.
In a ruling, Ohio was ordered to list both spouses of each couple on their children's birth certificates. Black also issued a broader ruling in the case, ordering Ohio to recognize all gay marriages performed legally in other states. That's on hold pending appeal.
"Without a permanent injunction and declaratory relief, the affected same-sex couples and their children would have to continue to navigate life without the birth certificates that pave the way through numerous transactions, large and small," Black wrote in April. "They would needlessly suffer harmful delays, bureaucratic complications, increased costs, embarrassment." ___
TENNESSEE: Tanco v. Haslam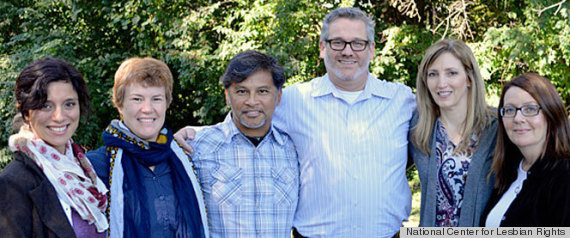 Tennessee's case applies to the marriages of three same-sex couples who sued to be recognized on their children's birth certificates. The plaintiffs are Dr. Valeria Tanco and Dr. Sophy Jesty; Ijpe DeKoe and Thom Kostura; and Matthew Mansell and Johno Espejo.
Tennessee Associate Solicitor Joseph Whalen told the judges that the state's law doesn't discriminate because it bars recognition of any marriage not recognized by state law, rather than singling out same-sex couples. Instead, Whalen said, Tennessee's law ensures that children are born into a stable family environment.
"The Constitution does not demand Tennessee recognize same-sex marriage," Whalen said.
Plaintiff's attorney Bill Harbison said when the law was enacted in 2006, gays and lesbians weren't stepping up for their rights. That has since changed, but Tennessee hasn't, he said.
"It's as if Tennessee wants to wall itself off from the reality that gay and lesbian people are marrying," Harbison said.
In March, U.S. District Judge Aleta Trauger in Tennessee issued an injunction against the state from enforcing the gay marriage ban against the three couples.
"At this point, all signs indicate that, in the eyes of the United States Constitution, the plaintiffs' marriages will be placed on an equal footing with those of heterosexual couples and that proscriptions against same-sex marriage will soon become a footnote in the annals of American history," Trauger wrote in March.
The lawsuit does not challenge laws barring same-sex marriage in Tennessee, only those that prohibit recognizing such marriages performed in other states.
"Tennessee's laws do, in fact, cause harm to the plaintiffs. They cause harm to people similarly situated. [The marriage ban] is an extreme intrusion into a relationship that they've formed validly, voluntarily," Harbison said during oral arguments Wednesday. "They not only asked for benefits, but they assumed obligations to each other and to their children. There are children in our case -- there's even been a child born during the case. I don't think the harm caused to these plaintiffs is really in controversy."
To listen to the oral arguments, click here.
Associated Press writers Amanda Lee Myers and Brett Barrouquere in Cincinnati, Ed White in Detroit, Lucas L. Johnson II in Nashville, Tennessee, and Dylan Lovan in Louisville, Kentucky, contributed to this report.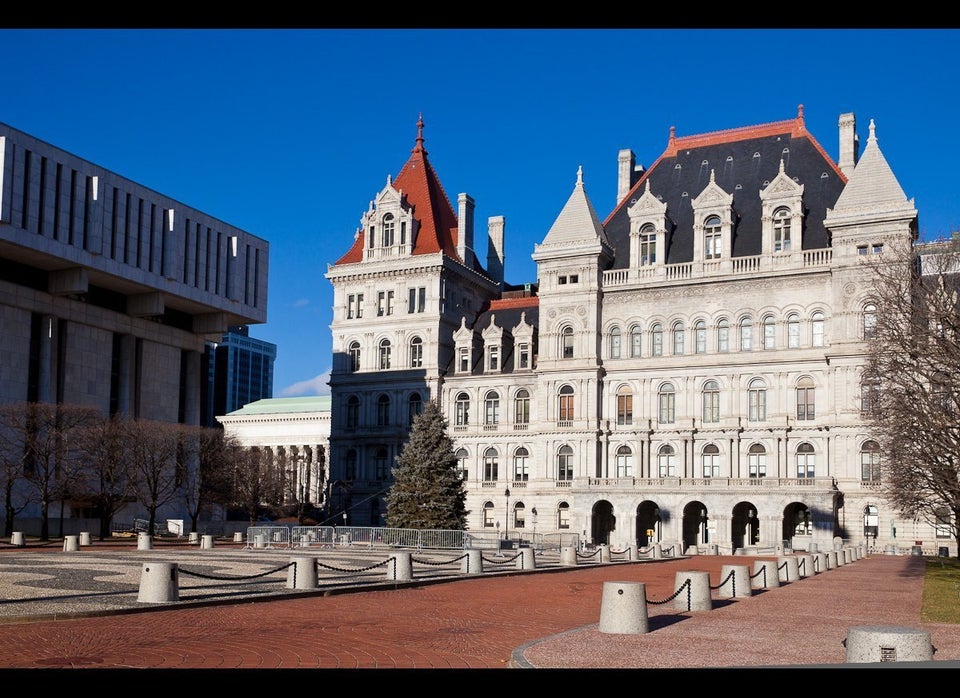 Gay Marriage In The United States