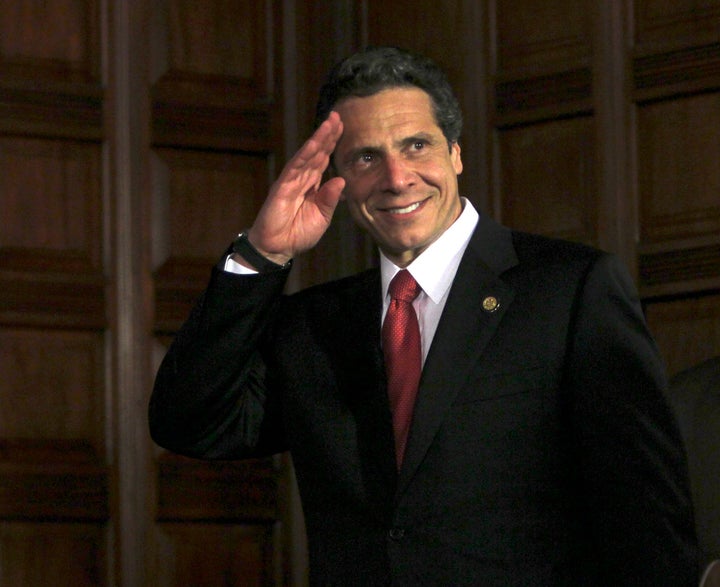 NEW YORK (AP) — New York Gov. Andrew Cuomo's successful push to legalize gay marriage in his state has made him a national hero to liberal voters and has sparked talk of a potential presidential bid for Cuomo in 2016. But Cuomo paired his quest for same-sex marriage with efforts to slash state spending and curb the power of public employee unions, suggesting a blend of fiscal prudence and progressivism on social issues could be a new Democratic model in tough economic times.
"Andrew Cuomo is seen as a civil rights leader and has millions of volunteers and millions of donors across the country who would instantly support him if he decides to run," California-based gay rights leader Chad Griffin said. "He took a bold stand on a priority issue, made a commitment and delivered on it. Talk about motivating the base of a party."
Cuomo tried to tamp down talk about his presidential ambitions in a radio interview Monday, dismissing such talk as "silly" and disconnected from the importance of equal rights for gay couples.
"It's not about 2016. It's about the power of the passage of marriage equality," Cuomo said. "I'm not going to engage in this conversation or fuel this speculation." He didn't rule out a run in 2016 but said he had much more work to do as governor.
Cuomo had already racked up an impressive series of legislative accomplishments before last Friday's gay marriage vote, giving him robust approval ratings in New York even as governors elsewhere have struggled.
In a state notorious for its political dysfunction, Cuomo successfully pressed lawmakers to pass an on-time budget that cut spending to address a $10 billion deficit without raising taxes. He negotiated several concessions on salary and health care from some of the state's powerful public employee unions without setting them up as political targets or reducing their collective bargaining rights, as Republicans like New Jersey Gov. Chris Christie and Wisconsin Gov. Scott Walker have done. And Cuomo worked with legislative leaders to craft a proposed overhaul of ethics enforcement after years of high-profile corruption cases eroded public confidence in state government. The bill didn't go as far as advocates wanted but was still viewed as a positive step.
Still, Cuomo's approach to the state's fiscal challenges has irked some Democratic activists.
His budget included historic reductions to public education, social service programs and health care. He allowed a temporary millionaire's tax to expire, prompting some critics to complain that he was protecting the state's wealthiest residents from the kind of belt-tightening he was asking of everyone else. He allowed tuition at public universities in New York to rise. And he pushed through a 2 percent cap on the state's notoriously high property taxes, which could lead to deep cuts for local school districts.
At times, Cuomo's approach appeared to repudiate the legacy of his father, three-term New York Gov. Mario Cuomo, whose championship of government programs for the poor made him an icon to liberal Democrats during the 1980s.
Mario Cuomo came close to running for the Democratic presidential nomination in 1992 but ultimately decided against a run, clearing the way for another Democratic president, Bill Clinton. Andrew Cuomo served as Secretary of Housing and Urban Development under Clinton and adopted much of Clinton's centrist approach to governing.
Clinton's record on gay rights was decidedly mixed. He eased out a ban on gays serving in the military by crafting the so-called Don't Ask, Don't Tell policy that allowed them to serve as long as they did not disclose their sexual orientation. Congress voted to overturn the policy late last year, clearing the way for gays to serve openly for the first time.
Clinton also signed the so-called Defense of Marriage Act in 1996 that defined marriage as a union of one man and one woman.
Cuomo pledged to legalize gay marriage in New York during his gubernatorial campaign last year. He stuck to that pledge even as he tackled the state's budget woes, sending a strong signal to Democratic base voters that he wouldn't back away from one of their signature issues.
Democratic strategist Peter Daou said Cuomo's success on gay marriage had persuaded many skeptical liberal activists to give him another look.
"He has earned some very solid points all the way to 2016, which will mitigate some of the criticism he's gotten from progressives about the way he's governed," Daou said., adding that Cuomo's efforts stood in stark contrast to President Barack Obama. Obama attended a fundraiser last week hosted by gay and lesbian donors in New York, but refused to endorse same sex marriage even as he expressed support for legal rights for gay couples.
"Progressives want leaders," Daou said.
Cuomo also demonstrated bipartisan skills that appear all but lost in Washington. He maneuvered the legislation through the Democratic-controlled Assembly and the GOP-controlled Senate, where four Republicans joined Democrats Friday night to ensure its passage.
Cuomo was hailed as a champion during New York's gay pride parade Sunday, where cheering supporters greeted him with signs and flowers.
"New York has sent a message to the nation," the governor said before the march. "If New York can do it, it's all right for everyone else in the country to do it."
Chris Lehane, a Democratic strategist who has worked for Cuomo, said Cuomo had already demonstrated significant political skill that would serve him well whether he stayed in New York or had ambitions for higher office.
"He walked in with historic challenges and under any objective analysis he got an A or an A plus," Lehane said. "He's coming from one of the biggest states in the country, and that gives him an enormous base. He's done this year right, and at the end of four or eight years, people will decide on the totality of what he's done."

Related
Popular in the Community