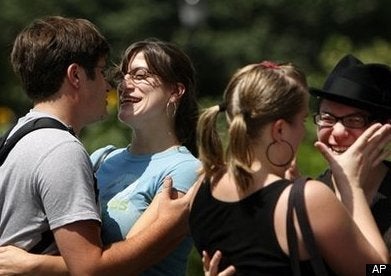 By JENNIFER DOBNER, Associated Press Writer
SALT LAKE CITY - The Mormon church's vigorous, well-heeled support for Proposition 8, which banned gay marriage in California last year, has turned the Utah-based faith into a lightning rod for gay rights activism, including a nationwide "kiss-in" Saturday.
The event comes after gay couples here and in San Antonio and El Paso, Texas, were arrested, cited for trespassing or harassed by police for publicly kissing. In Utah, the July 9 trespassing incident occurred after a couple were observed by security guards on a downtown park-like plaza owned by the 13 million-member Church of Jesus Christ of Latter-day Saints.
The court case was dismissed, but the kiss sparked a community backlash and criticism of the church.
"I don't think that kiss would have turned out to be the kiss heard round the world if it were not for Proposition 8," said Ash Johnsdottir, organizer of the Salt Lake City Kiss-In.
Atali Staffler, a Brigham Young University graduate student from Geneva, Switzerland, said she joined the 200 or so people who filled a downtown amphitheater for the event because she has watched her gay father and many gay friends struggle to find their place.
The 31-year-old, who was raised Mormon but is not active in the church, said the church shouldn't be involved in Prop. 8.
"I encourage them to promote the values they believe in and to defend their religious principles in advertisements, but civil rights have nothing to do with religious principles," she said.
Twenty-two people, many of them strangers to one another, gathered under the scorching sun on Washington's National Mall to participate in the national smooch. They were gay and straight, couples and singles of all ages, with placards that read "Equal Opportunity Kisser" and "A Kiss is a Not a Crime."
"This is America. A kiss on the cheek is OK," said Ian Thomas, 26, of Leesburg, Va., who organized the Washington Kiss-In. "It's got to be OK. If not, we're in serious trouble."
About 50 people, mostly gay and lesbian couples, gathered at Piedmont Park in downtown Atlanta and kissed for about five minutes.
"You think that America is evolving into a gay-friendly nation," said Randal Smith, 42, "but what happened in Texas and Utah show us it's still a long way off."
National organizers say Saturday's broadly held gay rights demonstrations were not aimed specifically at the Mormon church. But observers say the church's heavy-handed intervention into California politics will linger and has left the faith's image tarnished.
"What I hear from my community and from straight progressive individuals is that they now see the church as a force for evil and as an enemy of fairness and equality," said Kate Kendell, executive director of the San Francisco-based National Center for Lesbian Rights. Kendell grew up Mormon in Utah. "To have the church's very deep and noble history telescoped down into this very nasty little image is as painful for me as for any faithful Mormon."
Troy Williams, who is gay and grew up Mormon, said ending the tension between gays and the church requires mutual acceptance and understanding.
"For both sides to peaceably coexist, we're all going to have to engage in some very deep soul searching," said Williams, a Salt Lake City-area activist and host of a liberal radio talk show.
Church insiders say Prop. 8 has bred dissent among members and left families divided. Some members have quit or stopped attending services, while others have appealed to leadership to stay out of the same-sex marriage fight.
But church spokeswoman Kim Farah said Friday that Mormon support for traditional marriage has nothing to do with public relations.
"It's too easy for those whose agenda is to change societal standards to claim there are great difficulties inside the Church because of its decision to support traditional marriage," Kim Farah said. "In reality the Church has received enormous support for its defense of marriage."
Mormonism teaches that homosexual sex is considered a sin, but gays are welcome in church and can maintain church callings and membership if they remain celibate.
The church has actively fought marriage equality legislation across the U.S. since the early 1990s and joined other faiths in asking Congress for a marriage amendment to the Constitution in 2006.
Last year at the urging of church leaders, Mormons donated tens of millions of dollars to the "Yes on 8" campaign and were among the most vigorous volunteers. The institutional church gave nearly $190,000 to the campaign -- contributions now being investigated by California's Fair Political Practices Commission.
After the vote, many gay rights advocates turned their anger toward the church in protests and marches outside temples that singled out Mormons as the key culprits in restricting the rights of gay couples.
That constituted a setback for the faith, argued Jan Shipps, a professor of religious history and a Mormon expert from Indiana University-Purdue University Indianapolis.
Mormonism, Shipps said, has struggled with its image since its western New York founding in 1830 for a host of reasons, including polygamy.
Leading up to Salt Lake City's 2002 Olympic Winter Games, the faith worked hard to craft a modern, mainstream image, touting its unique American history, culture and worldwide humanitarian work to thousands of reporters.
"This really undercut the Mormon image that had been so carefully nurtured during the Olympics," Shipps said.
Church representatives don't discuss public relations strategies or challenges publicly, but at a semiannual conference in April, church President Thomas S. Monson seemed to be clearly feeling a post-Prop. 8 sting.
In an era of "shifting moral footings," Monson said, "those who attempt to safeguard those footings are often ridiculed, picketed and persecuted."
That argument doesn't wash for Linda Stay, whose ancestors were early Mormon converts. Stay said she was doubly transformed by Prop. 8. She and her husband, Steve, finally quit the church -- along with 18 other family members and a few close friends -- and became gay right activists.
The St. George woman's family, which includes two gay children, will play a central role in a documentary film, "8: The Mormon Proposition" currently in production. Stay's son, Tyler Barrick, married his boyfriend in San Francisco on June 17, 2008, the first day gay marriage was legal in California.
Miami-area filmmaker Reed Cowan said the Stays' story is a painful representative of many Latter-day Saint families, including his own, that needed to be told.
"It used to be that I could defend my church and my heritage, but what they did here, they crossed the line and they made it very hard to defend their actions," said Cowan, whose family has cut him off since he began work on the film.
With the gay rights fight far from over, some believe Prop. 8 could continue to frustrate the church's image for years to come, much like polygamy -- the church's own one-time alternative form of marriage -- and a policy on keeping black men out of the priesthood, issues that have lingered years after the practices were abandoned.
"The church is certainly going to survive and thrive, there's no question about that," said the National Center for Lesbian Rights' Kendell, who is raising three kids in California with her partner of 16 years. "The issue is, what will be its image in the average American mindset."
To see the church characterized, because of its own actions, as one in a group of anti-gay religions and as a religion that forces members to choose faith over family is "a tragedy of generational proportion," she said. "And it seems to me, that it was entirely unnecessary."
Associated Press writers Gillian Gaynair in Washington, D.C., and Peter Prengaman in Atlanta contributed to this report.
Popular in the Community