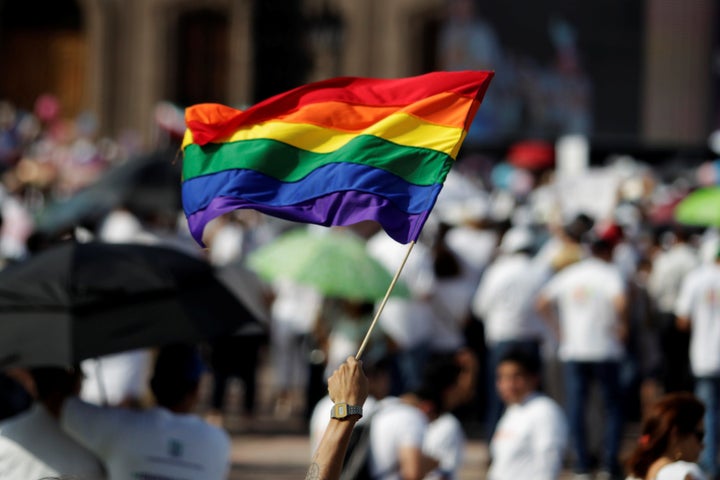 A record high number of adults say that same-sex marriage should be legal in the United States, according to a new poll released on Monday.
Gallup first started tracking the question in 1996, and 68 percent then said same-sex marriage shouldn't be legally valid. Now, the trend has basically reversed, with 64 percent saying it should be legal and 34 percent saying it shouldn't.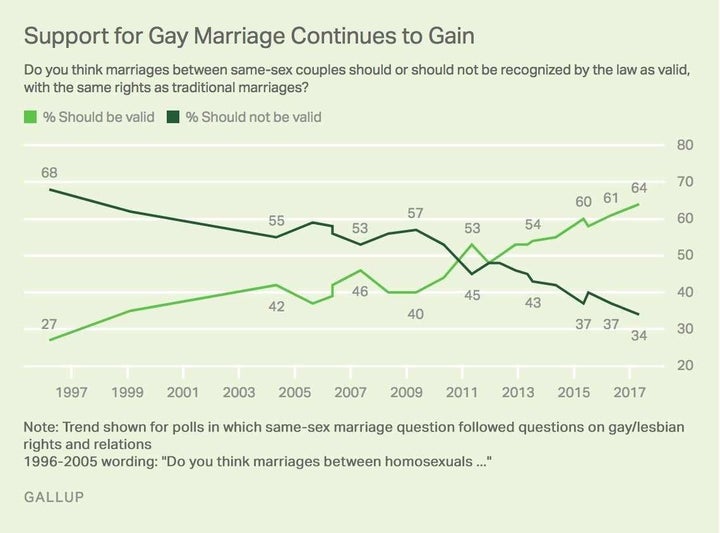 This is a slight increase from Gallup's annual poll on values and beliefs, which least year found 61 percent said it should be legal.
While the Supreme Court ruled same-sex marriage legal in 2015, state laws still differ when it comes to protection from various kinds of discrimination for LGBTQ individuals.
Support for same-sex marriage has grown among all parties since 1996. Seventy-four percent of Democrats approve ― down from 79 last year ― as do 71 percent of independents and 47 percent of Republicans. Despite the fact that Democrats' approval has decreased slightly, Republicans and independents have both reached a record high of those who say same-sex marriage should be legally recognized.
Finally, the number of highly religious people who support same-sex marriage has also increased. A majority of U.S. Catholics ― 55 percent ― approve of same-sex marriage, compared to 27 percent in the early 2000s. In April of last year, Pope Francis urged members of the Catholic church to be more accepting of gay and lesbian relationships.
Results for this Gallup poll are based on telephone interviews conducted May 3-7, 2017, with a random sample of 1,011 adults, aged 18 and older, living in all 50 U.S. states and the District of Columbia. For results based on the total sample of national adults, the margin of sampling error is ±4 percentage points at the 95% confidence level. All reported margins of sampling error include computed design effects for weighting.
REAL LIFE. REAL NEWS. REAL VOICES.
Help us tell more of the stories that matter from voices that too often remain unheard.