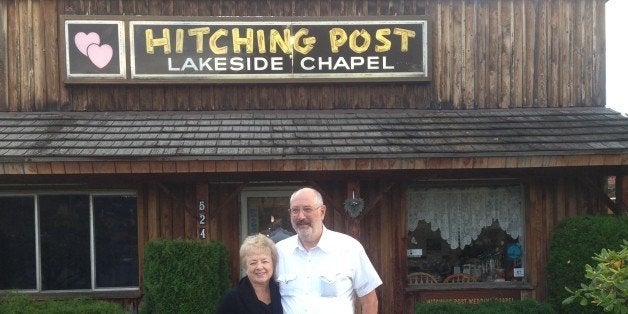 Less than two weeks after a federal appeals court struck down Idaho's ban on same-sex marriage, two ministers in the northwestern Idaho city of Coeur d'Alene have filed a lawsuit claiming they could face up to 180 years in jail for refusing to perform a same-sex wedding.
The lawsuit, filed Oct. 17 in federal trial court by the conservative Christian legal group Alliance Defending Freedom, stoked long-held fears among opponents of marriage equality.
"The day liberals promised would never come is already here," Tony Perkins of the Family Research Council warned in a press release announcing the lawsuit, which was brought on behalf of Donald and Evelyn Knapp, two ordained ministers who own the Hitching Post Wedding Chapel.
Mike Huckabee, former presidential candidate and Southern Baptist minister, weighed in on Facebook: "Remember when same-sex marriage activists used to claim that it would never infringe on other people's religious beliefs? Well, that was a lie."
The governor of Idaho declared the ministers' case to be grounds for asking the U.S. Court of Appeals for the 9th Circuit to rehear the case on the state ban. "One of the key arguments against the Idaho Constitution's defense of traditional marriage has been that redefining it to include same-sex couples would not harm anyone. But the Hitching Post example shows the fallacy of that position," Gov. Butch Otter (R) said in a statement.
There is one major problem with all this outrage, according to city officials in Coeur d'Alene: The owners of the Hitching Post Wedding Chapel do not face arrest or fines or any other penalty for refusing to marry same-sex couples.
The lawsuit argues that Coeur d'Alene's non-discrimination ordinance -- which was passed last year and bars businesses and public accommodations from discriminating on the basis of sexual orientation or gender identity -- will "unconstitutionally" force the Knapps to either "violate their religious convictions and ministerial vows" by performing same-sex weddings or face jail time and fines. According to the suit, the city has "privately and publicly threatened to apply" the ordinance to the Hitching Post.
However, according to city officials and the lawsuit itself, the Hitching Post filed papers with the Idaho Secretary of State identifying itself as a religious corporation on Oct. 6, the day before the 9th Circuit struck down Idaho's ban. The city's ordinance explicitly states that religious corporations are exempt from the law.
The lawsuit came as a surprise to city officials, who described conversations with the Knapps up until last week as "cordial."
"We have never threatened them. We have never sent them a letter warning them. There was no 'we're going to throw you in jail' kind of stuff. So we were mildly surprised, well, totally surprised by the lawsuit," City Attorney Mike Gridley told The Huffington Post.
Moreover, while the lawsuit claims that the Knapps have already turned away multiple same-sex couples, Gridley said that the city had received no complaints about the Hitching Post and had no idea who these couples might be.
How did the Knapps come up with that jaw-dropping figure of 180 years? According to the lawsuit, the city ordinance sets forth fines up to $1,000 and jail time up to 180 days for every day of a violation. The Knapps' complaint reasons that they "risk going to jail for 180 years and being fined $365,000" if they refuse to marry one couple for one year.
Is that a real possibility? Gridley laughed. "That's not correct. Again," he said.
"I want to make clear," said Gridley, "that the Hitching Post, or any other minister that I'm aware of, is not subject to our ordinance."
The Knapps declined to comment on the case.
The lawsuit did not come as a surprise to gay rights advocates and legal experts, who see this case as the latest in a string of lawsuits and proposed laws intended to exempt Christians opposed to same-sex marriage from participating in any way in same-sex weddings. Over the last several years, lawsuits concerning bakers, photographers, florists and owners of wedding venues who declined to serve same-sex couples have played out in the courts. Overwhelmingly, judges have sided with the same-sex couples.
The Hitching Post case stands out, however -- not only because it is the first of these cases to involve ordained clergy, but also because no complaint has been filed against the Knapps, and because their business already appears to be exempt from the non-discrimination ordinance in Coeur d'Alene.
"I think there are a lot of people in this country who have anxiety about what marriage equality is going to mean for them, and there's a widespread misperception that changes to the marriage laws or discrimination laws are going to mean faith leaders are forced to perform weddings they don't want to perform," said Amanda Goad, a staff attorney for the American Civil Liberties Union. "I think the Alliance Defending Freedom may be playing to those anxieties, but it's very much not the case," she said.
Goad served as lead counsel for a couple who filed charges against a Denver bakery owner who refused to sell them a wedding cake. The Colorado Civil Rights Commission sided with the couple in May; the bakery owner announced he would no longer sell wedding cakes to anyone.
Goad described the Hitching Post case as part of a "much bigger Plan B" driven by the Arizona-based Alliance Defending Freedom and other conservative Christian legal and advocacy groups. "Plan A was resisting marriage equality, a fight that resisters have lost in Idaho and appear to be losing everywhere," she said. "Those people are trying to narrow the scope of equality to give businesses a broader excuse to use religion to discriminate."
Jeremy Tedesco, senior counsel for the Alliance Defending Freedom, agreed that the case is critical to his group's broader mission.
"I think it's of extreme importance," he told The Huffington Post. "We've been warning all along that these sexual orientation non-discrimination laws would be used in this exact way. We've got bakers, florists, photographers and now ordained ministers being threatened with jail times, fines and attorney fees that will put them out of business simply because of how they want to follow their faith. If they're unwilling to celebrate and promote same-sex marriage because it contradicts their beliefs, they'll lose their livelihoods. The government shouldn't force them to choose."
Tedesco argued that Coeur d'Alene has been inconsistent with its message about whether the Hitching Post is exempt from the non-discrimination ordinance. However, he acknowledged, the city does now appear to agree that the Hitching Post is exempt. "That, of course, resulted from the massive public outcry from our complaint," he said.
The Hitching Post has certainly been inconsistent in how much its owners' religious faith has restricted its business practices. As blogger Jeremy Hooper revealed this week, the wedding chapel very recently altered its website to limit its service to "traditional Christian" ceremonies. But that was not always true -- at least according to the website.
The Hitching Post first made news in May, after a federal judge initially struck down Idaho's ban on same-sex marriage, when the Spokane Spokesman-Review quoted Donald Knapp saying, "I cannot in good conscience perform same-sex marriages." But the chapel's website said it would perform civil ceremonies and "wedding ceremonies of other faiths," in addition to religious ceremonies for Christian couples. At the time, the Hitching Post had also not yet filed for status as a religious corporation.
This change has fanned the flames of critics' claims that the lawsuit was trumped up to appeal to the worst fears of same-sex marriage opponents.

"They're trying to build up a credible narrative, because it's not going to be credible at all if the narrative is, 'We agreed to serve everyone until the law changed and included gay people, and now we don't like that,'" said Kara Loewentheil, a research fellow at Columbia Law School's Center for Gender and Sexuality Law who specializes in religious freedom issues. "That's not going to play well."
Coeur d'Alene officials said they have been caught off guard by the flood of messages they've received about the small chapel just three buildings down from city hall. As of Thursday, according to city spokesman Keith Erickson, there were around 33,000 emails and 400 phone calls.
"I think a lot of people are fired up over information that is not accurate, and once they hear more accurate information, then they go, 'Oh, okay,'" Gridley said.
Before You Go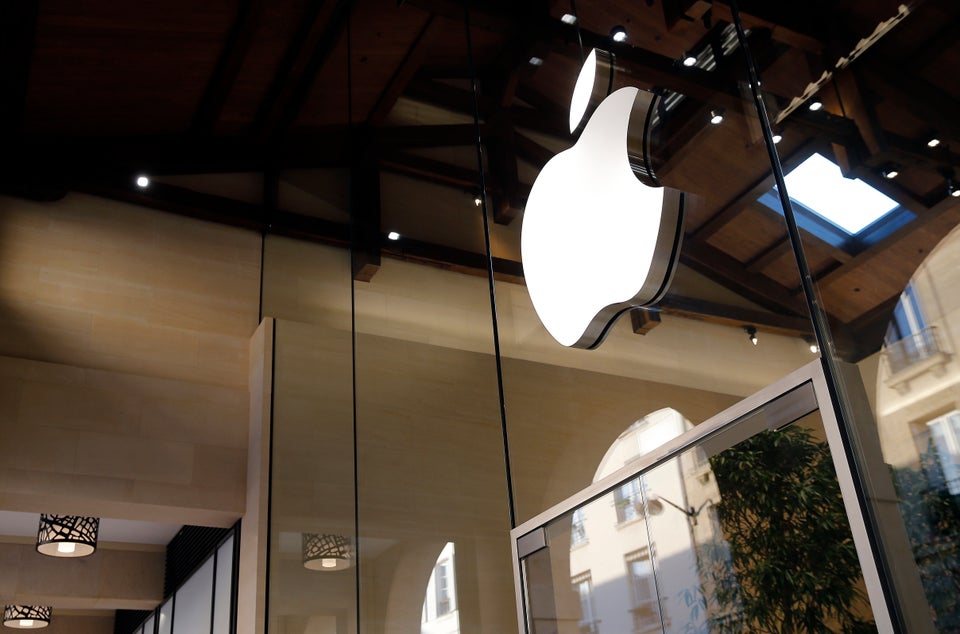 21 LGBT-Friendly Products And Companies
Popular in the Community