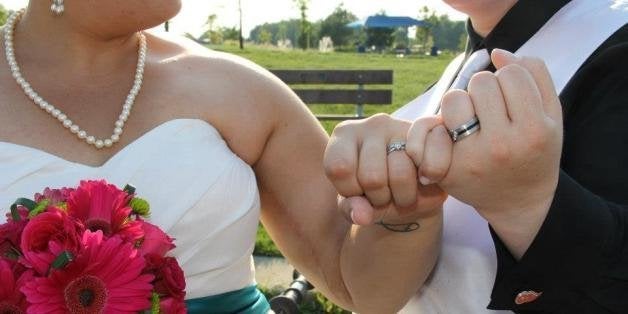 Ever since the Supreme Court overturned the Defense of Marriage Act in June, Grace Wojcik has kept a packet of official paperwork stuck to the fridge with a magnet. When her partner lines up at a county clerk's office Wednesday, documents in hand, the pair hopes they'll be issued a marriage license in a state where same-sex marriage is currently not allowed.
"When I heard that people were trying to challenge that ... I can't quite put into words just how excited I was, and also, nervous," said Wojcik, who is 27. "Nervous because this could be a chance for Michigan to finally move forward ... but also nervous that instead of it being a positive thing, it could also be a reminder of just how much discrimination the community still faces."
LGBT advocacy groups are prepared for the possibility that Friedman will overturn the ban. They have urged that in that event, couples who want to get married do it quickly before the case is appealed. Several counties have agreed to issue licenses -- including Oakland, where Wojcik plans to go.
Wojcik and her partner live in Farmington Hills and had a marriage ceremony last summer. Though they considered going to a state that recognizes same-sex marriages, they decided it was too expensive and more important to have their friends and family attend their wedding.
"It's more than just the piece of paper, because for us, we [consider ourselves] married, but there are a lot of things that we don't get the benefit of having," Wojcik said. She referenced estate planning, tax issues, protecting their future children in the case of one parent's death, and having their home state recognize their relationship.
"I don't even know how that would be, to go through everyday life and you wouldn't have to think about those things," she said.
When plaintiffs April DeBoer and Jayne Rowse began legal proceedings in Wednesday's case, the couple planned to challenge restrictions on joint adoption by same-sex partners. The two have three children, but aren't both legally considered their parents. However, Friedman invited them to instead challenge the gay marriage ban itself.
Wojcik will be paying close attention to see if couples statewide will have a chance to make their relationships official. Jess plans to go wait at the county clerk's office just in case there's a chance she can go ahead and apply for a license as soon as the ban is overturned.
The pair's relationship began three years ago, when Wojcik met Jess on Match.com. On their first date, they talked for hours.
"I knew she would be someone who would have a big impact on my life," she said.
Though they intended to take it slowly at first, Jess proposed less than a year after they met.
"We like to joke, there was a moment [on our second or third date] when she knew that she could spend her life with me. … Instead of watching some musical I asked if we could watch a Red Wings game," Wojcik said.
But their "happily ever after" story is marred by the reality of living as a gay couple in Michigan. Wojcik asked that Jess not be identified by her last name because their relationship is a secret from her employer -- in Michigan, you can be fired for being gay.
"We don't consider ourselves that abnormal. We have a dog, we have a house, we pay our taxes, we go to work, we volunteer in our community," Wojcik said. "The only thing that's different about us is there's two women in a relationship."
The gay marriage ban was approved in 2004 with 59 percent of the vote. Wojcik, who was in high school at the time, said she's seen a shift in how LGBT individuals are treated in Michigan in the last nine years.
When the Defense of Marriage Act was overturned, Michigan Attorney General Bill Schuette issued a statement.
"Michigan's Constitution stands and the will of the people to define marriage as between one man and one woman endures in the Great Lakes State," he said.
In September, he filed a brief in the case stating the state's definition of marriage was needed to "regulate sexual relationships" and their "unique procreative capacity."
If given the chance, Wojcik said, she'd like to invite Schuette to her house for dinner, so he could see "how normal" she and Jess are.
"I would hope he understands there is a human element to this, it's not all policy," she said.
UPDATE: 3:30 p.m. -- U.S. District Judge Bernard Friedman heard arguments on Wednesday in the case challenging Michigan's ban on gay marriage, but declined to issue a ruling. He will hold a trial beginning Feb. 25, according the Detroit Free Press.
Calling all HuffPost superfans!
Sign up for membership to become a founding member and help shape HuffPost's next chapter
BEFORE YOU GO
PHOTO GALLERY
Supreme Court Proposition 8 Case