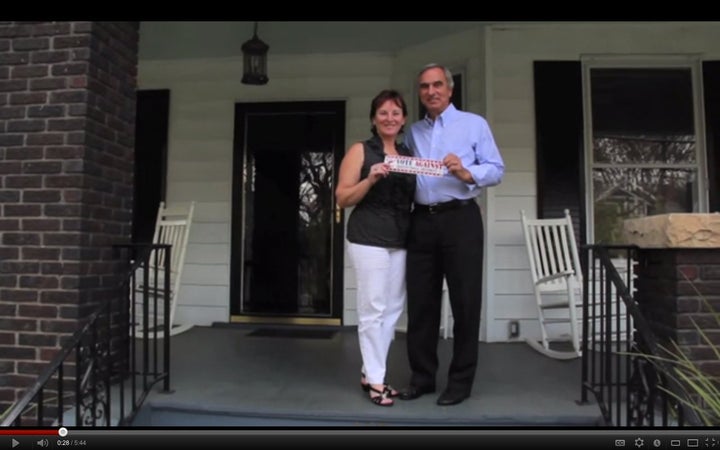 North Carolina is currently facing a very divisive ballot initiative, Amendment 1, which would write discrimination into the state's constitution if passed during the May 8 primary. Even though gay marriage is already illegal in North Carolina, the measure would define marriage in the state constitution as between one man and one woman, and would ban any other type of "domestic legal union," such as civil unions and domestic partnerships. Supporters of the amendment are intentionally misconstruing the issue as a vote to defend marriage and identifying opponents as being "anti-marriage." For example, an organization called Vote for Marriage NC says, "Marriage will be redefined for everyone. Our historic understanding of marriage as the union of one man and one woman would be replaced by a new paradigm for marriage as the union of two adults, regardless of gender."
But while proponents of Amendment 1 are claiming that gay marriage is a threat to all "traditional marriages," many people in traditional marriages disagree: How does someone else's marriage affect their own? North Carolina allies in opposition to the amendment are challenging the rhetoric. Chris Weedy and her husband Jimmy Creech are standing up in this short video, shot by Working Films' Andy Myers and Family Tree Productions' Tab Ballis:
"I consider this constitutional amendment to be a malicious act of violence against lesbian, gay, bisexual, and transgender people, against their inherent dignity and humanity," Jimmy says. Jimmy and Chris are Raleigh, N.C. residents who have been married since 1992. Jimmy is a former United Methodist minister who was booted out for performing same-sex marriages. He is now retired and the author of Adam's Gift: A Memoir of a Pastor's Calling to Defy the Church's Persecution of Lesbians and Gays.
This "legally married" couple supports equality, freedom, and respect for their fellow human beings; they share a profound understanding of what marriage means and what may actually threaten their relationship. Same-sex marriage is not on the list.
After reading an article quoting Tami Fitzgerald of the NC Values Coalition as stating that "marriage is threatened by gay marriage," Chris created the Facebook page My Marriage is Not Threatened by Gay Marriage in North Carolina. Hundreds of North Carolina married couples, young and old, are now standing in solidarity by posting their wedding photos, pictures with their kids and dogs, and snapshots from their honeymoons and family celebrations.
The Vote Against Project, another large photo initiative that opposes the amendment, has created a portrait of North Carolina unity by capturing images of people across the state who are "connected by a common bond to defeat discrimination." After traveling around the state over the course of three months, they documented nearly 5,000 North Carolinians pledging to vote against Amendment 1.
Early voting has started, and already there are high numbers of people turning out at the polls. If these photo campaigns are reflections of our state and who's coming out to vote, there's hope that Amendment 1 will be defeated May 8.
Popular in the Community