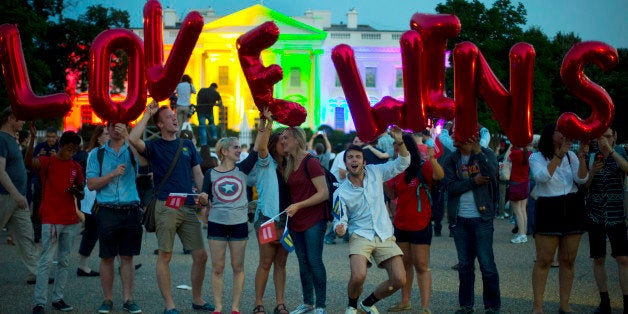 When same-sex marriage bans were overturned in the Supreme Court on Friday it marked a major victory for LGBT advocates. But there's more to be done to change the minds of Americans who still oppose marriage equality, advocates said Sunday.
"Our laws have to treat everyone equally, and that's what this ruling grants LGBT Americans, but we also have to acknowledge there are still folks who are coming along," Chad Griffin, president of the Human Rights Campaign, said on CBS's "Face the Nation."
"But that is truly the lesson of this movement," he continued. "As LGBT people have lived their lives openly and out at home, at work, at school and church, it has changed folks' minds."
A majority of Americans support gay marriage, but about 40 percent still oppose it, and LGBT people still face discrimination in a number of other ways.
"The work is not done," said Evan Wolfson, president of the pro-marriage equality group Freedom to Marry, on ABC's "This Week" Sunday. "We have won the freedom to marry in the law, but we need to harness the conversation," Wolfson said.
Mary Bonauto of Gay & Lesbian Advocates & Defenders, a legal rights nonprofit, expects her services will still be needed in the fight against discrimination, she said in an interview that aired on NBC's "Meet the Press" Sunday.
"I do believe that the work goes on to ensure that the way that we live our lives and the way people treat us, we're not singled out for different treatment because of who we are," she said.
That's not to say LGBT advocates aren't celebrating. In the same interview with NBC, Greg Bourke and Michael DeLeon, two of the plaintiffs in the Supreme Court case, said it will be a "big win" to be able to have both of their names on their adopted children's birth certificates.
Jim Obergefell, another plaintiff, said the ruling wouldn't end his advocacy, even though he will now be able to achieve his goal of having his name listed on the death certificate of his late husband, John Arthur.
"I've discovered that fighting for something that's bigger than me is very important to me and I will continue, like Evan [Wolfson] said, to be involved in the fight for non-discrimination, to make sure that the LGBT community across the country truly is equal part of society and deserving of all the same rights and protections," he said on "This Week."
Calling all HuffPost superfans!
Sign up for membership to become a founding member and help shape HuffPost's next chapter
BEFORE YOU GO
PHOTO GALLERY
Politicians React To Gay Marriage Ruling