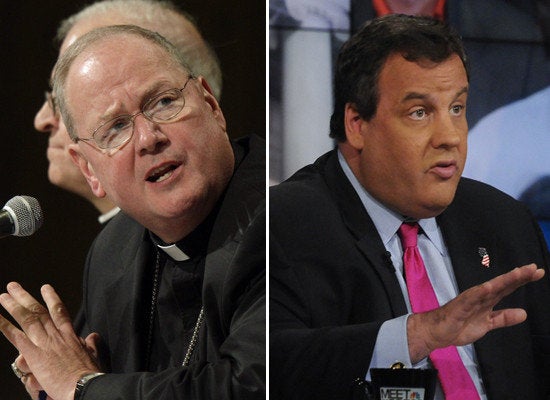 "I sort of needed a good dose of the Lord's grace and mercy because I've been down a little recently, as you might imagine," Archbishop Timothy Dolan of the New York diocese told congregants after mass on Sunday, according to the New York Daily News. "I think society and culture is at its peril if we presume to tamper with what has been given and already cherished through the history of civilization."
Bishop of Brooklyn, Nicholas DiMarzio, called on Catholic Schools to refuse any distinction or honors bestowed on them by any elected official who supported the legislation, WNYC reports, and is asking that leaders of those schools refrain from inviting any state legislator to speak or be present at any parish or school celebration.
"The above request is intended as a protest of the corrupt political process in New York State," DiMarzio wrote on the Brooklyn Diocese website. "More than half of all New Yorkers oppose this legislation. Yet, the governor and the state legislature have demonized people of faith, whether they be Muslims, Jews, or Christians, and identified them as bigots and prejudiced, and voted in favor of same-sex 'marriage.' It is mystifying that this bill would be passed on the last day of an extended session under the cover of darkness."
Neighboring New Jersey Governor Chris Christie, also a Catholic, told NBC's Meet The Press this weekend, "I believe marriage should be between one man and one woman. I am not a fan of same-sex marriage. That's my view and that'll be the view of our state, because I wouldn't sign a bill like the one that was in New York."
CBS 2 caught up with State Senator Rubin Diaz of the Bronx, probably the most outspoken opponent of gay marriage in New York and the lone Democrat who voted no Friday night. "My opinion has not changed, but it's the law." he said. "Now they can get married but my position's still the same. I think it's wrong."
Diaz's son, Bronx Borough President Ruben Diaz, Jr., who did not publicly support the bill, reacted differently however. He instead expressed excitement over the wedding of his gay niece, Erica Diaz, who made headlines when she crashed her grandfather's anti-gay marriage rally and then challenged him in a NY Post op-ed, Bronx News Network reports.
"Now that the debate on marriage equality has been resolved, it is time for us to come together and move forward in a positive manner with respect for our fellow Bronxites and all New Yorkers, irrespective of our differences, backgrounds and religious beliefs." he said.
The Marriage Equality Bill will go into effect 30 days from its passage on Friday.
Calling all HuffPost superfans!
Sign up for membership to become a founding member and help shape HuffPost's next chapter