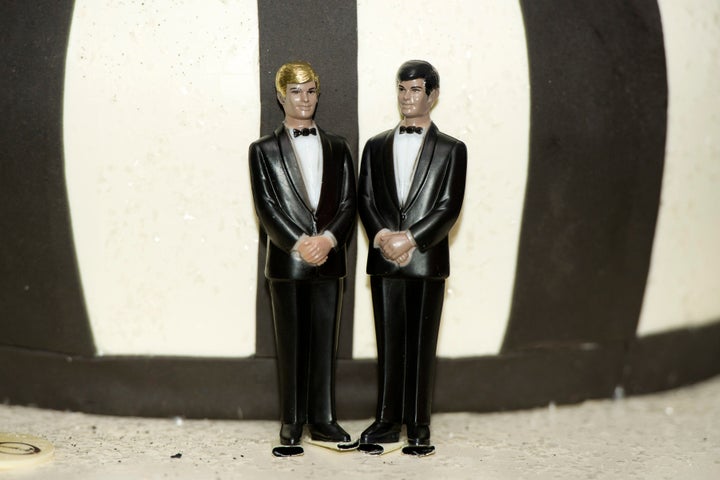 If the president was thinking of the trends in public opinion polls, his read was dead-on. Surveys by various national media pollsters have shown a consistent, ongoing trend toward support of same-sex marriage, with slightly more Americans offering support than opposition in measurements taken over the past year.
For example, a just completed national Gallup poll fielded May 3-6 shows 50 percent in support of same-sex marriage and 48 percent opposed, slightly down from 53 percent support a year ago. As Gallup explained, the latest result marks "only the second time in Gallup's history of tracking this question" that support exceeded opposition.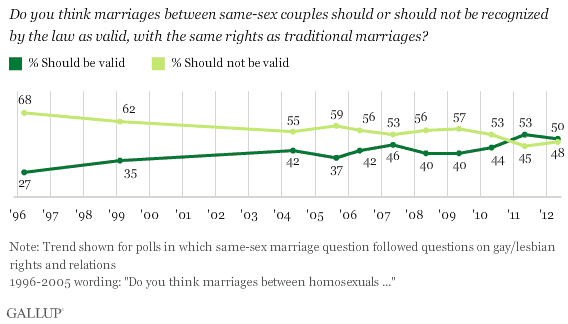 Similarly, three surveys conducted by the Washington Post and ABC News since May 2011 have shown from 51 percent to 53 percent of Americans saying it should be legal for gay and lesbian couples to marry, with 43 percent to 45 percent saying it should be illegal.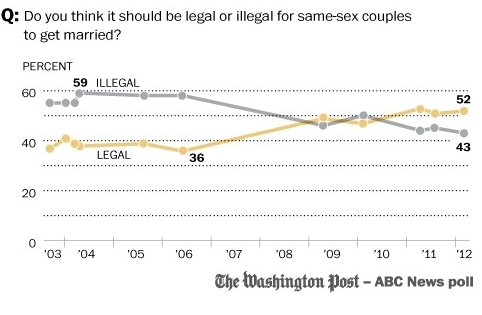 Polls conducted by the Pew Research Center show the same trends, with opposition to "allowing gays and lesbians to marry legally" falling from 60 percent to 43 percent since 2004, while support has increased from 31 percent to 43 percent.
A recent Pew Research report also shows that although black Americans are still more likely to oppose same-sex marriage than whites, the gap has narrowed significantly since 2008.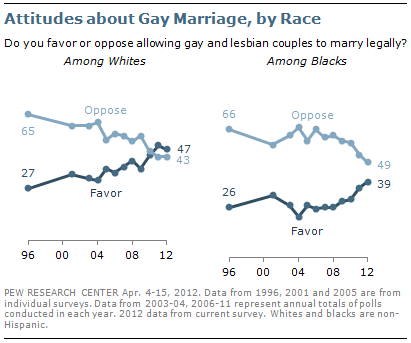 In a recent New York Times column, Pew Research president Andrew Kohut noted that while "much of the growing support for gay marriage is generational," it also reflects changing opinion among older Americans. "Since 2004," Kohut writes, "support for gay marriage has increased from 30 percent to 40 percent among baby boomers, and even among seniors (from 18 percent to 32 percent)."
Kohut also argued that the shifts in attitudes change the "political prospects" for the issue, particularly because of what he described as a narrowing of the "partisan intensity" gap in recent years that has worked to the advantage of opponents of gay marriage. "Today there are almost as many strong supporters of gay marriage among Democrats (34 percent) as there are strong opponents among Republicans (40 percent)," Kohut wrote.
Whether Obama's embrace of same-sex marriage will further shift the intensity of opinion on this issue remains to be seen, but as the president observed nearly two years ago, the direction of the trends is clear.
Before You Go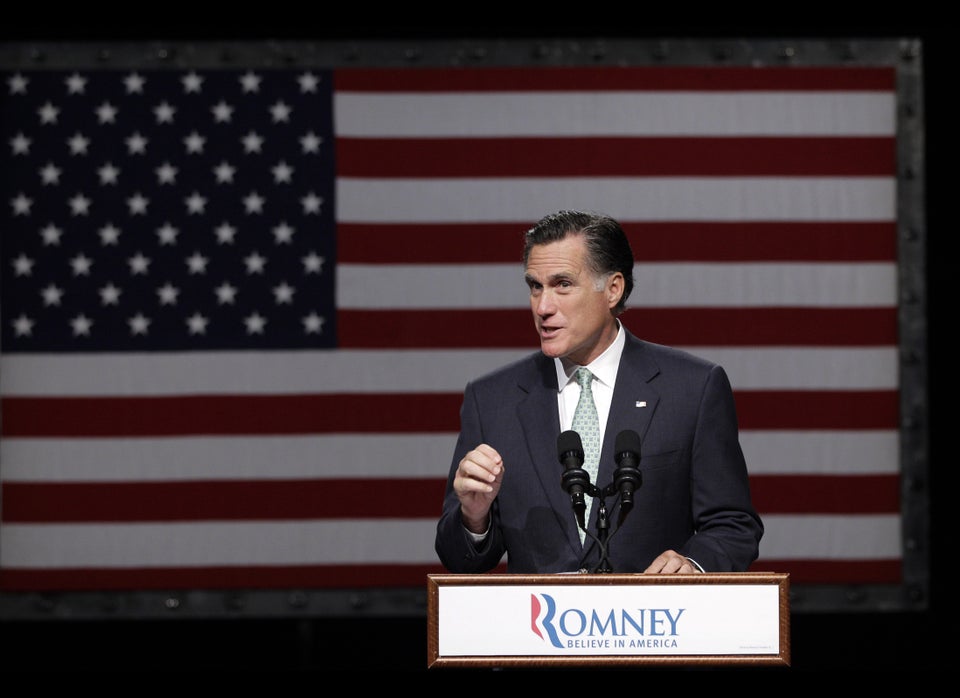 Politicians React To Obama On Same-Sex Marriage
Popular in the Community