 Last week, Sen. Rob Portman (R-Ohio) announced he supports gay marriage after years of opposing it, saying he changed his mind after his son came out as gay. New polls released this week show that Portman is among many Americans who have shifted their views in favor of gay marriage in recent years, and that people's personal relationships with gay people are behind much of the change in public opinion.
According to two surveys by organizations that have tracked opinions on the issue over the last 10 years, one by ABC News and the Washington Post and the other by the Pew Research Center, support for gay marriage has grown by leaps and bounds. These surveys and other polls on the subject consistently show that support for gay marriage is highest among younger adults, especially those under 30, making it clear that a big part of the change is because more young people are entering the adult population, often referred to as generational change.
But it's not generational change alone that's driving the rapid increase in support. The Pew poll shows that support for same-sex marriage has increased among Americans of all generations -- not just younger adults -- over the last 10 years. In fact, if support for gay marriage remained constant within each generation tracked by Pew, with shifts only occurring due to young people making up a larger portion of the population, HuffPost has calculated that between 38 and 43 percent would favor gay marriage in the Pew survey, whereas 49 percent of Americans actually said they support it.
Indeed, the Pew survey and a new HuffPost/YouGov poll both found that a significant percentage of Americans report that they have changed their mind on the issue. In the Pew poll, 28 percent of those who now favor gay marriage said they had changed their mind, and 16 percent of respondents overall noted a shift in opinion. Very few of those who changed their mind said they are now opposed.
In the HuffPost/YouGov poll, 23 percent of respondents said their views on gay marriage had changed over time, and respondents who said they support gay marriage were much more likely than those who oppose it to say that their views had changed. Thirty percent of respondents who said they "strongly support" gay marriage and 50 percent of those who "somewhat favor" it said their views had changed over time. Meanwhile, 5 percent of respondents who said they "strongly oppose" it and 37 percent who "somewhat oppose" it said their views had shifted.
Data from both surveys shows that much of the change in opinion is related to greater interaction with gay and lesbian individuals. According to the HuffPost/YouGov poll, 54 percent of Americans who have a gay or lesbian close friend or family member said they support same-sex marriage, while only 31 percent who don't have the personal interaction said they support it. Among those who know a gay or lesbian person who is married or in a committed relationship, support is even higher, at 60 percent.
In fact, the survey finds that gay marriage proponents are much more likely than opponents to say that their personal experiences had an impact on their views. Fifty-six percent of respondents who "strongly favor" gay marriage, along with 39 percent of those who "somewhat favor" it, said that their personal interactions have been "very important" or "somewhat important" in shaping their views. Only 19 percent of those who "strongly oppose" gay marriage and 26 percent of those who "somewhat oppose" it said the same.
Twenty-six percent of respondents to the HuffPost/YouGov poll with a gay close friend or family member said that their views have changed over time, and 28 percent of those who know a gay person in a committed relationship said the same. Only 21 percent of those who said they do not have any close friends or family members who are gay said that their views have changed.
The Pew survey provides yet more evidence that personal relationships are particularly influential in changing Americans' views on marriage equality. The survey asked those who had changed their mind and now support gay marriage to explain the reason for the shift. About a third cited a personal relationship with a gay person. A quarter said they had thought more about it or become more open-minded, 18 percent cited the prevalence of opinion in favor of gay marriage or the inevitability of change, and another 18 percent cited things like love, happiness and the freedom to choose. Smaller percentages listed a belief in equal rights or their own moral or religious beliefs.
Overall, respondents to the Pew poll said that they support gay marriage by a 49 percent to 44 percent margin, while the HuffPost/YouGov poll found that respondents were more likely to oppose it, 48 percent to 43 percent. Most other recent surveys have shown plurality support for gay marriage, although the level of that support is somewhat dependent on things like question wording and possible variation in the samples.
The Pew Research and HuffPost/YouGov surveys use identical wording, so the differences are likely the result of a combination of random variation, differences in the composition of the sample and differences between online and live-interviewer telephone surveys. Telephone polling has a long history of understating opposition to same-sex marriage initiatives, and it might be affected by "social desirability bias" -- when respondents feel social pressure to answer a question differently in a conversation than they might if answering a self-administered survey.
The HuffPost/YouGov poll was conducted Mar. 18-19 among 1,000 U.S. adults. The poll used a sample selected from YouGov's opt-in online panel to match the demographics and other characteristics of the adult U.S. population. Factors considered include age, race, gender, education, employment, income, marital status, number of children, voter registration, time and location of Internet access, interest in politics, religion and church attendance.
The Pew Research Center poll was conducted Mar. 13-17 among 1,501 adults using live telephone interviews over both landlines and cell phones.
The Huffington Post has teamed up with YouGov to conduct daily opinion polls. You can learn more about this project and take part in YouGov's nationally representative opinion polling.
Mark Blumenthal contributed reporting.
Before You Go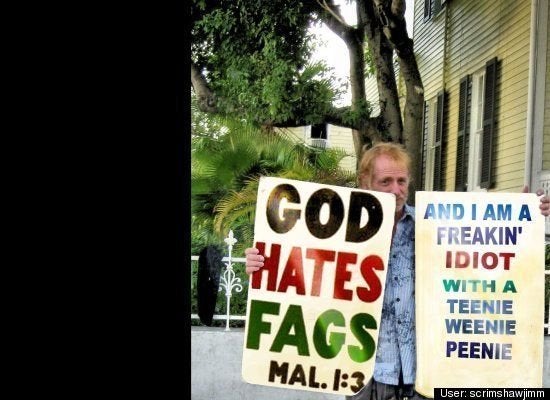 Anti-Gay Protesters Getting Owned
Popular in the Community