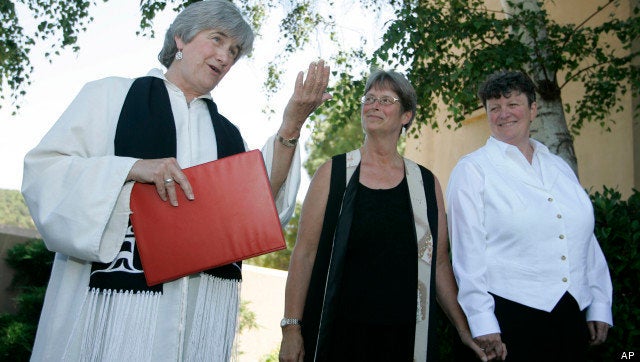 Members of the nation's largest Presbyterian denomination on Friday voted against a proposal that would have created a path to same-sex marriage ceremonies in the church.
After more than three hours of debate at the Presbyterian Church (USA)'s biennial General Assembly in Pittsburgh, voters struck down a proposal to legalize same-sex marriage, 338-308; no voters abstained.
The proposal would have changed the church's Book of Order to define marriage as between "two people." It would have required approval by a majority of the church's 173 presbyteries, or regional governing bodies, in order to become final.
Following Friday's vote, the church will keep its definition of marriage as being a union between "a man and a woman."
"God, we are a divided church," said the Rev. Neal Presa, a New Jersey pastor and the General Assembly moderator, while guiding church members in prayer after the vote. Presa asked God for guidance through "the messiness and beauty of it all."
The decision at the General Assembly, which is made up of pastors and lay people, means that pro-same sex marriage activists must wait two years until the church's next national meeting to make marriage-related proposals.
But the climate for a same-sex marriage vote could be on the activists' side in the future. During deliberations and several votes on different versions of marriage proposals on Thursday, younger members of the church expressed support for same-sex marriage much more strongly than the church's older members. Church surveys also show an increasingly pro-same-sex marriage stance as the younger Presbyterians gain more leadership positions.
In the short term, the vote also means that many conservative congregations threatening to leave the denomination likely will stay. The 1.9-million member church, which had more than 2.1 million members two years ago, has quickly lost congregations and individual members in part because of its increasingly liberal views on homosexuality. According to the Presbyterian News Service, at least 100 congregations have defected in recent years.
While all Presbyterian Church (USA) congregations are affiliated on a national level, individual congregations differ widely on matters such as worship style and views on issues such as homosexuality. More liberal pastors have been known to publicly or privately officiate same-sex marriage ceremonies, but they have risked censure.
There are several smaller Presbyterian denominations, such as Presbyterian Church in America and Evangelical Covenant Order of Presbyterians, which lean more conservative and do not ordain gay people or official same-sex marriages.
Related
Popular in the Community