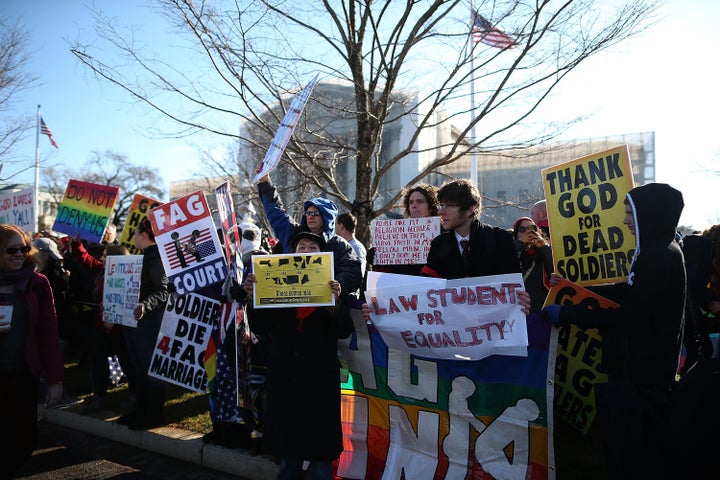 WASHINGTON -- Rarely has the divide over gay rights in the United States appeared so visible and so stark as on Tuesday morning on 1st St. NE, the road that runs past the Supreme Court in Washington, D.C.
On one side of the street, a sea of rainbow flags and signs demanding the freedom to marry. On the other, hundreds of signs declaring, "Kids do best with a mom and a dad," and "Adam and Eve, not Adam and Steve." On one side, deeply personal conversations about decades-long relationships and civil rights, on the other, warnings of an apocalypse and cries for religious freedom.
Inside the courthouse, lawyers were set to make arguments about the constitutionality of Proposition 8, the California law that banned same-sex marriage in the state. Winding along the sidewalk closest to the court, a line of would-be observers formed to gain entrance to hear the arguments for just three minutes.
Two women dressed in long, red velvet coats waited with a hand-drawn sign declaring they'd been together for 18 years. Like many gay-rights supporters gathered before the court, J. Hobart, a retired attorney, and Mary Wilberding, a retired fashion designer, had personal reasons for traveling from California to D.C. this week. They'd met 20 years ago in Los Angeles and were married in California in 2008, in the brief window after the state supreme court granted same-sex couples the right to wed and before Prop. 8 passed, taking that right away.
"We're in a tenuous position," said Wilberding, 62, who wore ropes of pearls and dark sunglasses.
"The vows of marriage were so deep with us," said Hobart, 54. "It's different than just making a promise, it was a sacred oath. It felt different and folks treated us differently."
"It breaks your heart that your love could be questioned," Wilberding added, putting her arm around Hobart. "It's tenuous, but I particularly feel very confident that the justices will do the right thing."
A second group of demonstrators approached the courthouse, led by the National Organization for Marriage, the country's foremost organization opposing same-sex marriage. As they drew abreast with the gay-rights advocates, the tension rose. Protesters on one side chanted, "What do we want? Equality! When do we want it? Now!" Those across the street fell to their knees in prayer.
"God forgive them, for they know not what they do," a man with graying hair said, pointing at the praying crowd. "God forgive them."
"God doesn't need to forgive us," a blonde woman holding a toddler's hand shouted back.
Both camps spilled off the sidewalks, inching closer on the street and shouting their opposing messages in each other's faces. Police officers walked up and down in between the groups, frequently pushing back demonstrators on one side or another to keep them apart.
"Don't you people get it?" yelled one gay rights protester. "We're not governed by your god! You dumb-asses!"
"Jesus! Jesus!" chanted back a group of African-American teenagers who appeared to be part of a church group, holding signs with the outline of a man and woman on them.
A woman with short brown hair and a toddler sitting across her shoulders shook her head as she passed another woman who held a sign painted with block letters reading, "Let me marry who I love."
"They'll pass the law to get married, and then force their way into our temples," said the first woman, Lenae Warr, from Fort Belvoir, Va. "We want our freedom protected."
A Mormon stay-at-home mom with nine children ranging from 7 to 24 years old, Warr said she had traveled to D.C. because she felt same-sex marriage was "mocking God." Asked how two gay people getting married affected her personally, Warr paused for a long time. She turned to a man marching beside her and asked, "Should I tell her everything?"
Warr then grabbed this reporter's arm and whispered fiercely, "I'm a lesbian who chose this lifestyle," gesturing to her three children who had come with her. "That other road never brought me happiness."
Two women nearby, also from Northern Virginia, said they had driven to D.C. because they thought same-sex marriage could bring about "damnation."
"This is the ultimate, this is what's going to push us over the edge," said Marty, 60, who asked that her last name not be used. "In June, if this passes, watch out -- we're toast!"
Marty's friend from church, Janna, who also asked that her last name be withheld, agreed. In her youth she was more liberal, said Janna, who is now 63. "I gave to Planned Parenthood, all that," she said. "But now I can see -- it's like if the whole world were dying of cancer and we have the cure and we're not giving it to you. Would that be right?"
Like many opponents of same-sex marriage who rallied on Tuesday, both women emphasized that they did not dislike gay people, and said they were not bigoted. "We love Anderson Cooper," Marty exclaimed. "We think of him as a point of contact -- and the thought of him burning in hell breaks my heart. Anderson, Rosie O'Donnell, all of them. It just breaks my heart."
While many protesters tried to stick to their own groups, others appeared to relish the opportunity to confront their opponents directly. Many gay-rights activists echoed the words of Supreme Court Justice Elena Kagan, who during Tuesdays hearing asked a lawyer defending Prop. 8 to explain how letting gay and lesbian couples marry harmed the marriages of straight couples. "How does this cause and effect work?" Kagan asked.
On the sidewalk across from the court, a shouting match broke out, as a group of men supporting same-sex marriage asked three women opposing it the same question. "Why is this so important," a man wearing a woolen cap asked. "Why don't you just say, you know, 'I believe what I believe and you believe what you believe?'"
"They're going to force it on us," replied one young woman with frizzy black hair.
"And force it on our children at school!" cried another, who said she was a retired school teacher.
"Really," the man pressed, "they're going to force you to marry a woman?"
Down on the National Mall, where a coalition staged a rally with musical acts and speakers who warned of the evils same-sex marriage would bring, a man tried to explain to a straight husband and wife wearing "marriage = one man + one woman" pins why he believed same-sex marriage should be legal.
"Marriage is a human right," said Tom Dietz, a senior financial analyst for the Department of Homeland Security.
"But you don't have to let yourself be carried away by every desire in your body," the husband responded, as though not hearing Dietz. "You chose this life -- and you can choose a more godly one."
"I do control myself; I've been in a relationship for 20 years," Dietz replied.
Although many in the crowd seemed all too aware aware that public opinion had shifted against them, speakers at the rally tried to boost their supporters' morale. "Don't give up on us young people," said Alison Howard, a graduate of Liberty University and an employee of Concerned Women for America. "The media will tell you that I don't exist. Well I'll be the unicorn! I do exist, and I believe in the marriage between a man and a woman."
"We've got Jesus! We've got Jesus," shouted a woman waving a flag with a cross on it.
Standing nearby, Evita, a 16-year-old from Chicago wearing a black leather jacket and dark mascara, listened carefully. She shook her head. She wasn't sure of her opinion yet, and she'd come down to D.C. on her spring break to hear arguments from all sides.
"Some guys just asked me if I know God -- I said, 'I know who he is, I went to Catholic school!" she said, then paused. "I don't know what God thinks about this, but I don't think I should choose if someone should get married or not."
REAL LIFE. REAL NEWS. REAL VOICES.
Help us tell more of the stories that matter from voices that too often remain unheard.
BEFORE YOU GO
PHOTO GALLERY
Supreme Court Proposition 8 Case