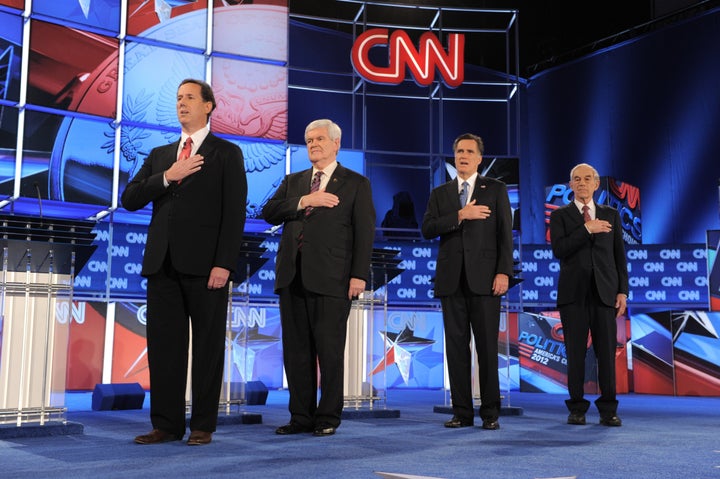 WASHINGTON -- Hillary Clinton's announcement on Monday that she supported same-sex marriage was hardly earth-shattering. Who, after all, believed that the former Secretary of State, who publicly backed New York's decision to legalize gay marriage, continued to draw the line on a federal level at civil unions?
But the statement -- made in a video for the Human Rights Campaign -- still signified the remarkable extent to which LGBT issues have become mainstream within the Democratic Party. As of now, it is difficult to envision the party nominating a presidential candidate in 2016 who doesn't back same-sex marriage.
But what about the Republican side of the ledger?
Some of the party's top strategists say it's not unimaginable that, in a few cycles, Republicans too will nominate a candidate comfortable with the idea of marriage equality, or at least have a vice presidential candidate who's a believer.
"Will we have a candidate who gets there? Yes. Will it be in 2016? No," said John Weaver, who managed former Utah Gov. Jon Huntsman's 2012 bid.
It could be done, concluded Dave Carney, a long-time GOP operative who most recently worked on Texas Gov. Rick Perry's 2012 campaign. But only if same-sex marriage did not become the forefront issue of the election and the Republican candidate was sincere in his or her support.
"If all their other ideas are mainline conservative, they are not for gay marriage as a cause or to plant the flag, it is an issue that they happen to disagree with Republicans on but they are in mainstream conservative thought on a number of other things, it's possible," he said. "It would be a little difficult because they would have to figure out how to navigate that issue, particularly in some of the primaries. But I don't think that issue itself would be a disqualifier."
Stu Stevens, who served as the senior adviser to 2012 presidential nominee Mitt Romney's campaign, argued that the GOP has already had "that moment" when a gay-rights advocate was on the ticket. It came, he said, when George W. Bush tapped Dick Cheney, whose daughter Mary is a lesbian, as his running mate. He recalled that Cheney was asked a question about gay marriage during the 2000 vice presidential debate.
"Cheney basically came out for it. Nobody picked up on it. We were amazed," he said. "I mean, for heaven's sake, Cheney was on stage at the RNC Convention with Heather and Mary, and on the front page of The New York Times Heather was referred to as Mary Cheney's 'friend.' It's not just about the Republican Party, it's about the culture."
If, indeed, culture affects politics just as much as the other way around, then the chances of a Republican presidential candidate backing same-sex marriage are hardly remote. It's true that gay rights groups are still being excluded from the Conservative Political Action Conference and social conservative groups still itch to primary a candidate who offers his or her support. But last week, Sen. Rob Portman (R-Ohio) was broadly accepted by his peers when he became the first Republican senator to publicly support same-sex marriage.
And on Monday, The Washington Post and ABC News released a poll showing that 58 percent of respondents supported gay marriage, an all-time high. The poll also showed an 18-percentage point increase in support among Republicans since 2004. Its most important finding, however, was what it suggested about the future political landscape.
"Gay marriage is supported by a vast 81 percent of adults younger than 30, compared with just 44 percent of seniors," it found.
Public opinion does have a way of convincing politicians about the virtues of certain positions. So do money (a lot of big conservative donors now support same-sex marriage), demographics (while Iowa is a socially conservative state, New Hampshire is more libertarian-minded about marriage equality), and the people who are paid to give political advice.
Support for LGBT issues does seem to be gaining steam among those political advisers, who are by and large fine with the idea of same-sex marriage. This isn't universal, and there are plenty of strategists who believe marriage should stay between a man and a woman. But they are no longer the obvious majority, according to a number of Republicans interviewed for this piece.
Steve Schmidt, who ran Sen. John McCain's presidential campaign in 2008, endorsed same-sex marriage after the campaign ended. Ken Mehlman, who ran President George W. Bush's campaign in 2004, has helped organize gay-rights movements throughout the country after announcing that he was gay himself.
Melhman was hardly alone in coming out or being outed. Terry Dolan, the co-founder of the National Conservative Political Action Committee (NCPAC), which birthed CPAC, was discovered later in life to be gay (he died of AIDS). Arthur Finkelstein, the longtime adviser to Ronald Reagan, has been married to a man for years. Tony Fabrizio, the longtime Republican pollster, is was outed by gay Republican group GOProud. The list goes on.
That these prominent figures either are gay or support gay rights doesn't mean that the candidates they advise will suddenly echo their worldview. Fabrizio, for example, consulted on one of the most memorable gay-baiting ads of the cycle, a spot from Perry attacking the repeal of Don't Ask, Don't Tell.
"I come at this from the perspective that what a consultant believes personally shouldn't matter in the least, but that we are there to best help clients articulate their positions," said Stevens. "Anybody who thinks it's about their views should run for office. And a lot of former political consultants do ... When Dick Morris says he considered Bill Clinton an equal he meant it as a compliment."
"Political consultants are kind of human, sub-human really, so they may have opinions, but in reality when you go to work for a candidate your job is to leverage his ideas or values," said Carney. "What consultants think, who gives a shit? Consultants are tools. Most of them act like tools and their opinion is irrelevant. If they aren't comfortable working for a candidate they should quit."
But not everyone in the business sees consultants as blunt political instruments there to serve the candidates who employ them. The fact of the matter is, they do have an effect on campaigns, if not with respect to position papers then when it comes to messaging and voter outreach.
"You have guys in the room and women in the room whose personal views are for gay marriage and that should make a lot of the candidates more cautious on their language," said one GOP operative who wished to remain anonymous.
"Unfortunately, right now, we have a consultant class that is scared of the base because they don't know the base, and that leads them to push candidates further to the right than they need to be."
REAL LIFE. REAL NEWS. REAL VOICES.
Help us tell more of the stories that matter from voices that too often remain unheard.
BEFORE YOU GO
PHOTO GALLERY
Which Women Might Run In 2016?