WASHINGTON -- The arc of history is moving in the direction of marriage equality, regardless of how the Supreme Court ultimately rules in a case arguing its constitutionality. Just this past week, several senators announced their own evolution on the matter, going from being opposed to same-sex marriage to supportive.
The tide is moving so fast, that in the process of attempting to write a post on the remaining holdouts among Senate Democrats, one of those holdouts, Sen. Jon Tester (D-Mont.), put out a statement saying he supported marriage equality.
And so, as of 3:15 p.m. on Tuesday, March 26, the number of Democratic senators who have yet to embrace the right of gay marriage, or whose position is fuzzy by design, stands at 10. Their reasoning varies. Most say they are in the midst of an evolution; some are fine with it being considered on a state-by-state basis; some declined to discuss the matter at all. Their names and explanations (when provided) are below.
1. Sen. Bob Casey (D-Pa.) backs civil unions but not gay marriage.
"In the past, Senator Casey has supported civil unions and he is closely following the debate around DOMA. He intends to thoroughly review any legislation on this when it comes before the Senate," said Casey's spokesman John Rizzo.
Asked if the senator supports the repeal of DOMA, Rizzo simply repeated that Casey will review any legislation that comes before the Senate.
2. Sen. Joe Manchin (D-W.Va.) continues to back DOMA, in addition to opposing same-sex marriage.
"Senator Manchin believes that a marriage is a union between one man and one woman. His beliefs are guided by his faith, and he supports the Defense of Marriage Act," said Manchin spokeswoman Katie Longo.
3. Sen. Kay Hagan (D-N.C.) has not publicly come out in support of marriage equality, although she did oppose North Carolina's constitutional ban on same-sex marriage. In a statement last year, she said it would have "far-reaching negative consequences for our families, our children and our communities." In 2008, Q-Notes also reported that Hagan said she believed the issue should be left up to the states to decide.
4. Sen. Bill Nelson (D-Fla.) believes marriage is between a man and a woman.
"Sen. Nelson strongly supports civil rights for same-sex couples, while believing marriage should be between a man and a woman," Nelson spokesman Ryan Brown said in a statement. "The issue will likely be decided by the U.S. Supreme Court before the end of the year."
5. Sen. Heidi Heitkamp (D-N.D.) supported allowing states to decide what to do about marriage but did not take a position beyond that.
"Senator Heitkamp believes this should be handled on a state-by-state basis," said Heitkamp's communications director, Whitney Phillips.
6. Sen. Mary Landrieu (D-La.) has mostly shied away from discussing gay marriage in public, offering only her support for people's right to "love who they love."
"I feel very strongly that people should be allowed to love who they love, but unfortunately my state has a very strong ban against gay marriage constitutionally, so I'm going to have to think really carefully and listen to the voters of my state about that issue," Landrieu said. "But it's very tough because I think most people believe that people should love who they love."
The Louisiana senator, who is up for reelection in 2014, voted against an amendment in 2006 that would place a constitutional ban of same-sex marriage, even though at the time she defined marriage as "a sacred union between one man and one woman."
7. Sen. Tom Carper (D-Del.) opposes DOMA and co-signed an amicus brief last much that urged the Supreme Court to invalidate Section 3 of that law. But the senator has yet to endorse same-sex marriage as a legal right.

"Sen. Carper was proud to support Delaware's efforts to enact Civil Union legislation and earlier this month he joined 211 of his Congressional colleagues in co-signing the Amicus brief that urges the Supreme Court to invalidate Section 3 of DOMA," his office said in a statement. "He has also said that he would vote to repeal DOMA. He also opposed President Bush's attempt to enact a constitutional amendment to define marriage as between one man and one woman. Like many Americans including Presidents Obama and Clinton, Sen. Carper's views on this issue have evolved, and continue to evolve. He continues to give this issue a great deal of consideration."
8. Sen. Tim Johnson (D-S.D.) does not support same-sex marriage.
"He has not changed his position on marriage equality," Johnson's office said. Asked if that meant he does support the right of a gay couple to marry, the office replied: "No."
10. Sen. Mark Pryor (D-Ark.) does not support same-sex marriage.
"Senator Pryor's position on same-sex marriage has not changed," said his spokeswoman, Lucy Speed. Was that opposed to gay marriage? "Yes," she replied.
In the past few days, Sens. Mark Begich (D-Alaska), Mark Warner (D-Va.) Claire McCaskill (D-Mo.) and Jay Rockefeller (D-W.Va.) all announced that they were supportive of same-sex marriage rights. McCaskill cited religious reasons. Begich was actually reiterating a position he had offered -- much more privately -- a year ago. Warner called laws outlawing same-sex marriage discriminatory and Rockefeller talked about the generational movement toward inclusivity.
"Like so many of my generation, my views on allowing gay couples to marry have been challenged in recent years by a new, more open generation," Rockefeller said in a statement. "Churches and ministers should never have to perform marriages that violate their religious beliefs, but the government shouldn't discriminate against people who want to marry just because of their gender.

"Younger people in West Virginia and even my own children have grown up in a much more equal society and they rightly push us to question old assumptions –- to think deeply about what it means for all Americans to be created equal. This has been a process for me, but at this point I think it's clear that DOMA is discriminatory. I'm against discrimination in all its forms, and I think we can move forward in our progress toward true equality by repealing DOMA and leaving the definition of marriage to the states."
"I know there are strong feelings on both sides, and I have a great deal of respect for their opinions," Hagan told the News & Observer. "But after much thought and prayer on my part this is where I am today."
Her statement brings the number of Democratic senators who do not publicly back gay marriage down to nine.
This piece originally included a mention of Sen. Debbie Stabenow (D-Mich.), whom HuffPost noted had signed the Supreme Court brief opposing DOMA. Stabenow's office had not yet responded to our request for comment on her position at time of publication, but her office has since responded and said she is and has been supportive of marriage equality, including by indicating her backing of the issue on the Human Rights Campaign questionnaire in her 2012 campaign.
Before You Go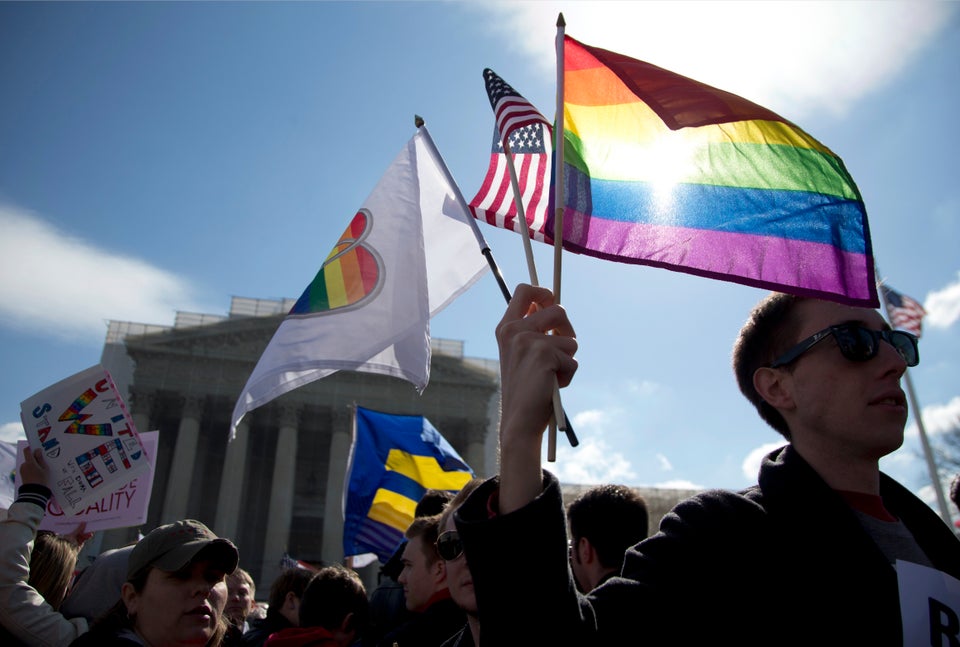 Supreme Court Proposition 8 Case
Popular in the Community