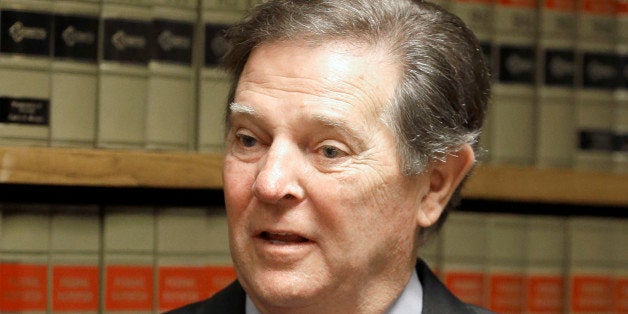 WASHINGTON -- "Homosexuality is a behavior. Not a civil right." So argues Restrain the Judges, a conservative coalition that has sponsored billboard ads proclaiming this message.
The group, which is pushing Congress to prevent federal judges from ruling in favor of same-sex marriage, has attracted attention for its ads' controversial comparison of people "born" black, Asian or Latino with gay people "not born this way." Less well-known is the fact that the group is advised by a man once among the most powerful in Washington: former House Majority Leader Tom DeLay (R-Texas).
Same-sex marriage is now allowed in 37 states and the District of Columbia, and many legal experts believe the U.S. Supreme Court will rule in favor of nationwide same-sex marriage in June. But DeLay, who left Congress in 2006 and spent much of the next decade successfully fending off money-laundering charges, isn't ready to concede defeat.
States won't abide by an "illegal ruling by the Supreme Court" like Roe v. Wade, DeLay told HuffPost, referring to the landmark 1973 decision establishing a limited constitutional right to abortion. "There's been several examples where the Supreme Court has ruled and the executive branch and/or the legislative branch has chosen not to enforce it," he added, citing Dred Scott v. Sandford, the 1857 decision holding that African-Americans could not be citizens, which was eventually overturned by the 14th Amendment.
In addition to the billboard campaign, Restrain the Judges rallied on the Supreme Court steps last month as the justices heard oral argument on marriage equality. But the centerpiece of the group's campaign is an effort to push Congress to strip federal courts of jurisdiction over marriage issues. To that end, the group sends faux restraining orders -- 350,000 of them so far, according to Janet Porter, who started the coalition -- to Supreme Court justices and members of Congress asking lawmakers to "restrain federal judges from ruling on marriage."
Porter, who successfully lobbied for passage of the first "partial-birth" abortion ban in the United States and once started a short-lived social network called ReaganBook, said she launched Restrain the Judges with help from DeLay, activists Phyllis and Andy Schlafly, and other conservative leaders. Other members of the coalition include Vision America Action, which contends that outside marriage, "sexual activity becomes nothing more or less than the selfish manipulation of another human being," and Steven Hotze, a conservative doctor who has said gay rights will lead to child molestation.
"We are calling on Congress to ... remove jurisdiction from Federal Courts and appellate jurisdiction from the Supreme Court to rule on marriage," Porter told HuffPost in an email.
Occasionally, DeLay has reached out to lawmakers to advance Restrain the Judges' agenda. He said he encouraged Rep. Steve King (R-Iowa) and Sen. Ted Cruz (R-Texas), via Cruz's staff, to introduce bills last month that would restrict federal judges from weighing in on same-sex marriage. (Cruz was already working on this legislation on his own, DeLay said.) The bills will be "catalysts for people to rally around" whether they pass or not, DeLay added.
Cruz and King did not respond to requests for comment.
Asked whether his advocacy is focused right now on same-sex marriage or if he is looking at broader issues, DeLay complained that it was a loaded question akin to asking when you last "beat your wife."
He said, "I'm involved in a lot of different things." He's "activating pastors" and "doing speeches on spiritual revival." He helped organize a declaration to the Supreme Court signed by at least 40,000 people who say they "will not accept" a decision in favor of same-sex marriage.
"I'm trying to provide leadership to the conservative movement," DeLay said. "I'm very busy."
Before You Go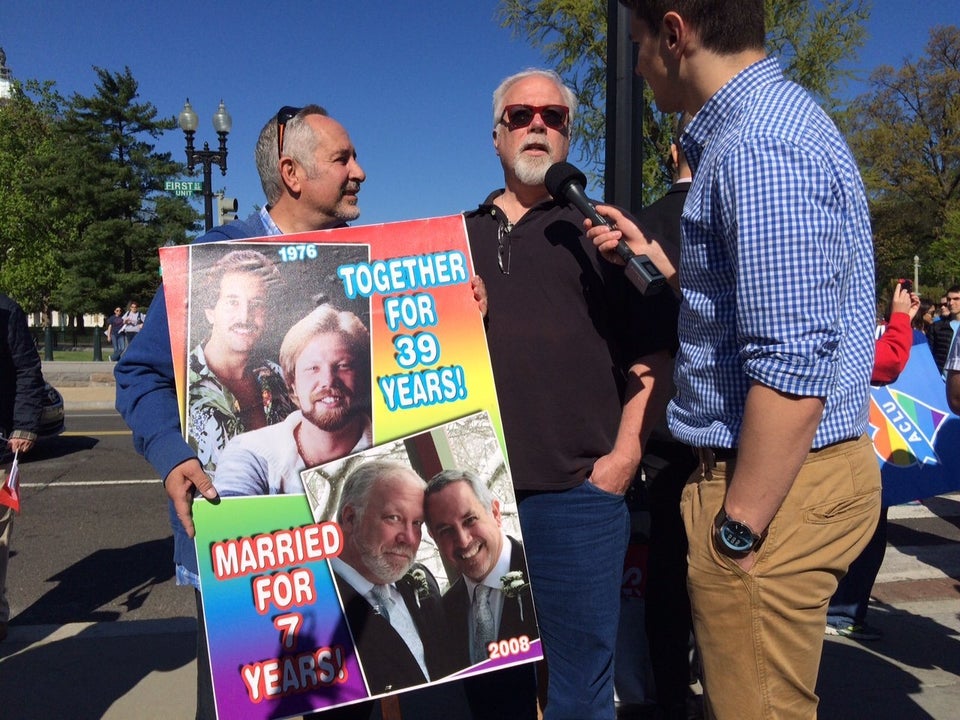 Gay Marriage Protests Outside SCOTUS
Popular in the Community