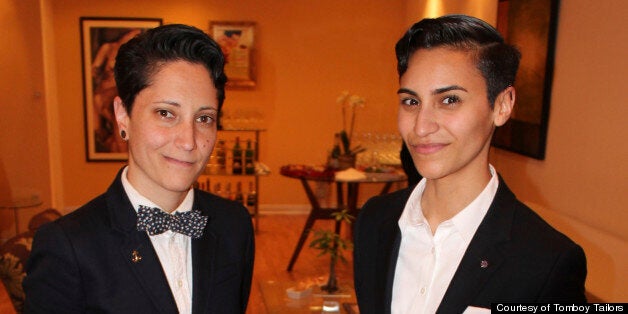 Like many new brides, Bernadette Coveney Smith spent months hunting for the perfect look for her wedding day. Smith, who was married four years ago, didn't want a gown. She envisioned instead a perfect white pantsuit. The clothes she found, however, were more boardroom than ballroom.
"The fabric is off in a lot of ways," said Smith, 36, who is a wedding planner in New York City and specializes in LGBT weddings. "A lot of the pantsuits are more work-related, versus the fun stuff you would wear to a party or a wedding."
Smith finally choose a white Banana Republic suit for her own nuptials. But to help other women avoid the long hunt she experienced, she launched her own business, Fourteen. The line offers tailored pantsuits for brides and partygoers "whose identities lie outside the fits and styles of traditional women and men's clothing."
Smith's business is one of a handful of new retailers that are specializing in ready-made and custom suits for women who don't want to wear a gown walking down the aisle. As an increasing number of states legalize gay marriage, the bridal fashion industry is stepping up to the plate to give women the look they want for their big day.
San Francisco's Tomboy Tailors, which makes made-to-measure suits for women, opened in February with an eye to the wedding industry, said founder Zel Anders. From the outside, Tomboy looks like a high-end men's store like Brooks Brothers -- showcasing fine Italian wools, samples of tailored shirts, racks of silk ties and rows of hand-burnished leather Oxford shoes. But step inside, and the store is very much for women, with female haberdashers ready to take measurements.
Anders also said the idea to start the store came from own tribulations finding a good suit to fit her body. "Off-the-rack made me look like a bad drag queen," said Anders.
The women's pantsuit has existed for decades, but the look is still mostly relegated to the work wear sections of stores and catalogs. In addition to stepping up the game for women's pantsuits, offering more festive and tailored options, these clothiers also aim to make the experience of buying pantsuits better for women.
Anders, 49, has been wearing suits herself for more than two decades. She said walking into a place like Men's Wearhouse was just downright uncomfortable. It's an experience that many women in the market for tailored formal wear share.
"It's awkward. You can't even find a dressing room because it's the men's department," newlywed Alicia Gile, 35, recalled about her hunt for the perfect wedding suit at department stores in Boca Raton, Fla. Gile ended up having a custom suit and two shirts made for $800 for her 2011 wedding.
Kate Kendell, the executive director of the National Center for Lesbian Rights, said gay marriage has helped widen acceptance of gender-bending dress code rules for women. "Greater consumer choices are emerging at the same time as there is greater cultural awareness," she said.
Mary Going, founder of Saint Harridan, another line of ready-to-wear women's suits that is currently in development, said she sees the rise of women-specific suit-makers as a natural progression of the gay rights movement.
"We had to have basic needs met before thinking about what to wear," she said. "We are much safer now, and now we can look at things higher on the hierarchy of needs."
It looks like the idea is starting to take off. Anders said that within the first month of opening, she had an inquiry about whether she would franchise her brand. So far, she said, the shop has made around 150 custom suits, which sell for between $650 and $1,500 depending on fabrics and embellishments.
The popular success of Tomboy is only part of the payback, Anders said. "What has surprised me most," she said, "is that parents come in and the parents give me a look, 'Thank you for understanding.'"