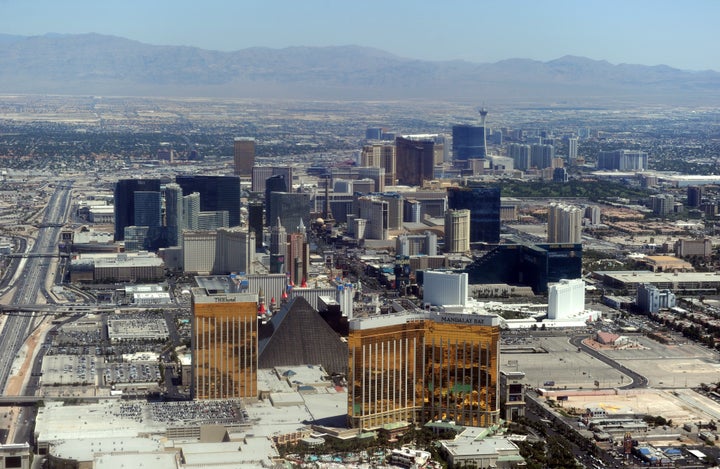 LAS VEGAS -- Just weeks after gays and lesbians celebrated the repeal of the Pentagon's "don't ask, don't tell" policy, more than 200 active-duty military personnel, cadets and midshipmen, veterans and civilians are gathering here this weekend for the first professional conference of openly gay service members.
"Until September 20, we could not have conversations at all. There was silence, official silence, on this issue, silence under threat of discharge," said OutServe spokeswoman Sue Fulton, a member of the first West Point graduating class to include women and a recent Obama appointee to the U.S. Military Academy Board of Visitors. "Now that we can talk, we want to have as many conversations as we can. We're providing one venue where we can have all of these conversations that have been pent up for decades."
According to the most recent estimate by the Williams Institute on Sexual Orientation Law and Public Policy at UCLA, 71,000 U.S. service members are gay, lesbian or bisexual. That includes nearly 13,000 serving on active duty.
Summit organizers, who were unsure how many people would come out for such a high-profile event, reserved 215 places at the New York-New York Hotel & Casino in Las Vegas. The conference sold out shortly after DADT repeal became official. Fulton said participants, equal in number to a large Army company, are expected to attend in civilian clothes. While active-duty gay service members have been out and about in their military uniforms, the summit is not an official Pentagon-sponsored event and most of those registered are taking personal time to attend.
Twenty years ago, Las Vegas hosted another, more infamous convention that also marked a milestone in the military's still-evolving attitude toward sex and gender. It was here after the first Gulf War that more than 100 drunken naval aviators assaulted or harassed women at the Tailhook convention. The episode forced the male-dominated Navy as well as the other services to expand career opportunities for military women.
Social conservatives still aren't over it. The Right Truth blog asked, "Will the Pentagon enforce rules of personal conduct, which apply on- and off-base, 24/7, when the party-goers are LGBT activists and friends gathering in Las Vegas for a military 'Malehook Convention?'"
Fulton said critics expecting a "rogue event" will be disappointed. "OutServe is going to enforce the rules of personal and professional conduct," she said. "We expect our members to act with professional decorum as is appropriate for members of the military."
Participants know they'll be under a microscope. Despite the demise of policies that kept gay service members in the closet, Republicans in Congress and on the presidential campaign trail remain in denial. Rep. Buck McKeon (R-Calif.), chairman of the House Armed Services Committee, said recently he would rather fail to pass a defense authorization bill than see military chaplains perform same-sex marriages as the Pentagon has said they may.
Rep. Michele Bachmann (R-Minn.) said she would reinstate DADT if elected president. During the Sept. 22 GOP debate, former Sen. Rick Santorum said he also would turn back the clock in response to a question from a gay soldier in Iraq, who was booed by some in the right-wing audience.
The military, for its part, is moving on. It's sending a representative to the summit to gather feedback on repeal. Douglas Wilson, the assistant secretary of defense for public affairs and the highest-ranking openly gay official at the Pentagon, is scheduled to give the keynote speech at a dinner Saturday night.
Wilson told The Huffington Post via email that he will talk "about the road to repeal from the perspective of one who was involved deeply in it at the Pentagon over the past 18 months -- and about several broader issues facing both gay and straight American men and women in uniform and their families."
The conference will offer workshops on many of those issues. Among them: continuing disparities in partner and family benefits for straight and gay service members because of the federal Defense of Marriage Act, alternatives to conservative Christian interpretations of scriptures and homosexuality, advice for gay officers on being out and out-front as leaders, and lessons from Israel, Australia and New Zealand on how those military allies opened their ranks to openly gay service members. The Central Intelligence Agency and Amazon.com will host a session on post-military career opportunities.
Organizers are nervous about at least one session dealing with transgender service members. The repeal of DADT does not apply to those who have had genital surgery or who otherwise identify as transgender, and they are still barred from service. Fulton said there is still debate on whether the workshop, which could include clandestinely serving transgender personnel, will be open to the media.
"The workshops are designed not for advocacy but for information," she said. "There will be a lot of questions."

REAL LIFE. REAL NEWS. REAL VOICES.
Help us tell more of the stories that matter from voices that too often remain unheard.