A gay Mormon who became famous for his mixed-orientation marriage has announced that he's divorcing his wife and hopes to fall in love with a man.
Together, the pair also apologized to queer Mormons for the way their story "has been used to bully others."
"We're sorry for any degree that our existence, and the publicity of our supposedly successful marriage made you feel 'less than' as you made your own terribly difficult choices. And we're sorry if our story made it easier for people in your life to reject you and your difficult path as being wrong," the Jan. 25 blog read. "If this is you, we want you to know: you were right."
"You listened to your gut and to God and did a brave, brave thing. Now I'm following your example."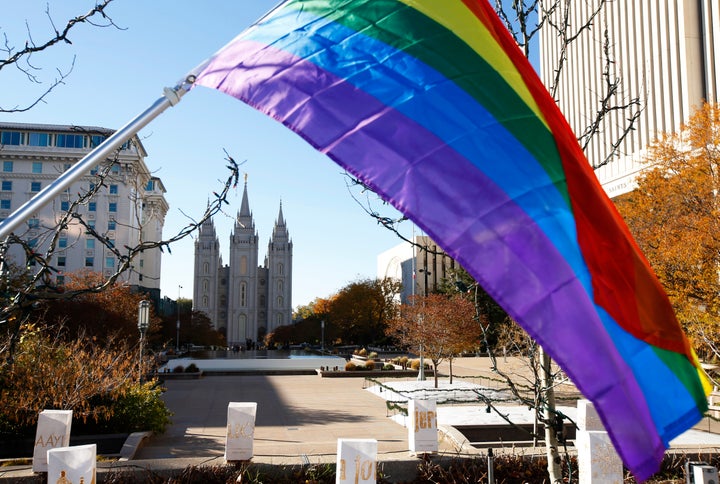 In 2012, Josh Weed wrote a viral blog post in which he came out as a gay Mormon who was "very happily" married to a straight woman. He wrote that his wife, a childhood friend, knew about his sexual orientation before they were married and that he decided to marry her because he believed in the doctrines of the Mormon church, wanted to have a traditional family and genuinely loved his wife.
The story attracted a flurry of media attention, leading to features on ABC's "Nightline" and the VH1 reality television show "I'm Married To A..." 
Now, he says his former approach toward queer sexuality was a "manifestation of lingering internalized homophobia." While he believes his marriage was beautiful and he still thinks of his wife as his "very best friend," the relationship contained an "undercurrent of pain" the pair were not able to see clearly for years, he said.
He also wrote that he had always thought of himself as a "broken straight person" ― someone who was meant to be straight and whom God would one day fix. But he realizes now that viewing himself as "fundamentally broken" has led to overwhelming sadness in his life and at times, to suicidal thoughts, he added. 
"The things I talked about in my coming out post in 2012 weren't false. The joy I felt was real! The love I felt was real, but something in me wanted to die," he wrote. "It's the thing that wants to die in all of us when we don't have hope for attachment to a person we are oriented towards."
After about 15 years of marriage, the idea of going for decades more without experiencing authentic romantic and sexual attachment was finally too great a burden to bear ― for both of them, the couple said. 
In the post, Laurel Weed wrote about how being married to her husband had brought her both immeasurable joy and pain. There was a "void" in their connection, and it wasn't just about sex, she wrote.
"Platonic love is simply not enough, no matter how much we hoped it was," she said. "God designed us to need and want romantic attachment."
The pair also wanted to acknowledge how their story had caused pain for others in the queer Mormon community. 
When they went public with their story in 2012, Josh Weed said that he and his wife had "very little exposure" to gay people. But not long after their post went viral, they began to receive messages from queer Mormons about how the Weeds' mixed-orientation marriage had been used as an impossible standard. 
Kathy Carlston, a queer Mormon from Syracuse, Utah, told HuffPost she feels the Weeds have often spoken against their story being used as an example for other queer Mormons. Still, she said that didn't prevent straight Mormons from holding it up as a standard and implying that, "if they can do it, so can you."
Carlston said she had been publicly out of the closet for about a month when the Weeds' original blog post went viral in 2012. At least 10 different members of her church sent it to her "as if they had given me the panacea for my gayness," she said. 
"I personally felt insulted and unheard, as none of those who had sent me the link had taken time to ask me what my experience had been like as a queer Mormon," Carlston said. "Admittedly, the experience at the time was a bit humiliating. I had never found myself to be a lightning rod for folks to unleash their evangelizing before. It showed me a bit of what would lie ahead for me in the church: people who were uninformed or unconcerned about the realities and direness of the queer Mormon experience."
In November 2015, the Mormon church clarified its approach toward same-sex relationships with a series of policy changes. Mormons in same-sex relationships were declared apostates. The church also resolved that the children of these couples would not be allowed to be baptized until they were 18, at which point they would need to move out of their parents' home and disavow their parents' relationship to be considered for membership in the church.
The church made its position on queer sexuality even clearer in 2016, when it updated a web page meant to serve as a resource for gay and lesbian Mormons and their allies. The website emphasized that the church believes it's OK to be Mormon and gay ― as long as members don't act out on what the church calls "same-sex attraction." The page shares the stories of Mormons who identify as gay but have pledged to pursue a life of celibacy or who have committed themselves to mixed-orientation relationships. 
"Entering into a mixed-orientation marriage or remaining celibate were held up as the only acceptable goal to achieve throughout my youth and young adult life, and continue to be held up as the standard," Carlston told HuffPost.
In his post, Josh Weed wrote that this conservative religious approach toward queer sexuality was both cruel and dangerous. He said the church's stance can fill queer Mormons with "self-loathing and internalized homophobia."
"The thing that is most cruel to religious LGBTQIA folks is not the lack of partners, but the lack of hope for a partner—that is the thing that makes them want to die," he wrote. "Not the loneliness, per se, but the decades and decades before them with no hope of attachment." 
"It is for this reason that comparisons of gay people to simply single people who have not married yet are so woefully lacking in nuance. I once heard the difference between these groups stated this way and it's always stuck with me: single Mormons go to bed every night pleading with the Lord that they will fall in love with someone tomorrow; gay Mormons go to bed every night pleading with the Lord that they will never fall in love with someone."
He said that he and his wife have felt that God is calling them to separate from each other and pursue true love. They hope to continue raising their children together. The plan is to acquire a property that will accommodate their family and "the addition of future partners if that time comes."
He also said that he isn't sure whether the Mormon church will continue to accept him or allow his two youngest children to be baptized if he ends up in a same-sex relationship. Still, he said he would like to be a part of the church, "though the institution itself might consider me an outsider," he wrote. 
Five years ago, he said, he believed that a gay person could choose to live the life of a straight person. But now he knows that isn't possible without serious consequences to mental health.
Instead, he said he's focusing on the things he can choose. 
"I can choose to love Lolly with every ounce of love a gay man can have for a woman. And I can choose to find a partner and love him as well, adoring him and attaching to him in the beautiful way I was always intended to."
Calling all HuffPost superfans!
Sign up for membership to become a founding member and help shape HuffPost's next chapter
BEFORE YOU GO
PHOTO GALLERY
Joseph Smith's Plural Wives, Vividly Imagined By A Faithful Mormon