A gay Staten Island man is set to file a $25 million federal lawsuit Tuesday against four New York City police officers who he says beat him in his front yard while calling him homophobic slurs after threatening to kill his dog.
Louis Falcone, 30, says officers called him "fag" and "faggot" during the June 19 assault, which was caught on camera by a neighbor across the street.
Cops had responded to Falcone's Midland Beach house, which he shares with his 66-year-old mother, after he and his brother had gotten into a loud argument. At a press conference Tuesday, Falcone says his brother had showed up at the house intoxicated around 4:30 a.m.
But by the time four NYPD officers showed up an hour later, the argument had ended, and Falcone, who works as a cook, says he was just trying to get to sleep.
"They said, 'Good morning, we're here about a noise complaint,' and I said, 'Me and my brother had an argument about an hour ago. He already left. Everything's OK,'" Falcone told reporters Tuesday.
When officers then asked Falcone, who was standing behind a screen door, to step outside, Falcone says he asked, "For what?"
"They continued to say 'Come outside now,' and my dog, Looch, started barking," Falcone said. "And one of the cops said, 'Shut the dog up or I'll f**king kill it.' And as he did that, he reached for his gun."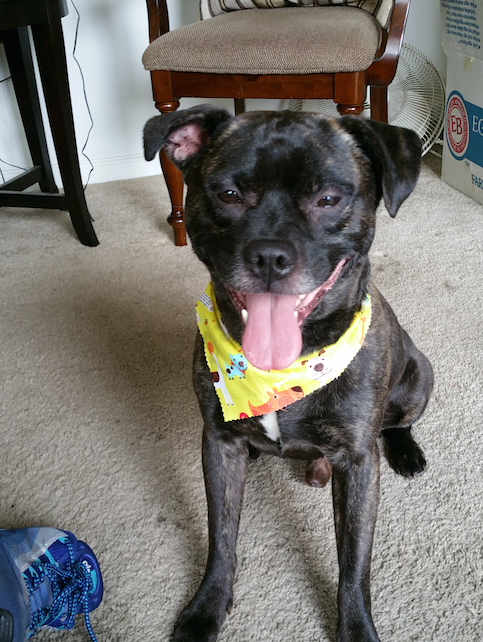 Falcone says he then tried to shoo Looch -- a pit bull-terrier mix -- away from the door.
"That's when they opened the door and tried to yank me out, and they succeeded to pull me out onto the concrete in front of my house," Falcone said.
Falcone, who was wearing a surgical boot during the incident, says he screamed at the officers to be careful because he had recently had corrective surgery on his foot.
"In the video you can see I'm trying to move my leg out of the way," he said. "They picked me up and body-slammed me to the grass in front of the house. That's when they started piling on top of me. One drove his knee into the side of my neck. One tried to restrain me."
"My mother's screaming, 'He just had surgery!' and that's when they started to step on my ankle and my foot, which had the boot on, and then, as they had me on the ground, I was just trying to move my face so I could breathe, 'cause my face was in the mud."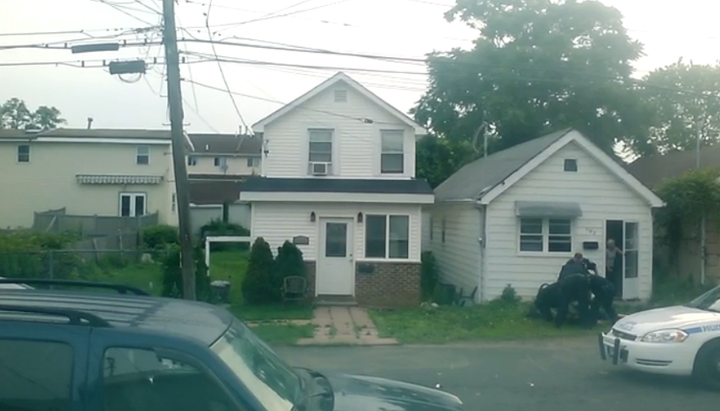 "I had mud and blood on my face, blood gushing from my nose and mouth," Falcone continued. "I tried to clear my airway, spit some mud out, and that's when the officer said, 'Don't let him get it on you. The faggot probably has AIDS.'"
Ironically, in the video Falcone can be heard screaming "Call 911!" -- while the four police officers have him pinned to the ground.
Falcone was taken into custody and says he lapsed in and out of consciousness before waking up in an ambulance. He spent 15 hours at Staten Island University Hospital, where he was treated for a broken nose, two black eyes and multiple cuts. He also needed more foot surgery, and was told by doctors that he might require surgery on his spine as well.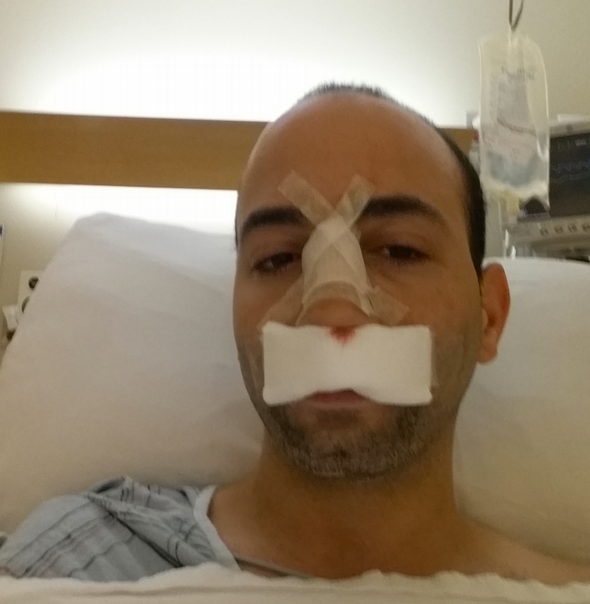 Louis Falcone At The Hospital
An NYPD spokesperson told The Huffington Post Tuesday that police had responded to a 911 call from Falcone's mother, Catherine Falcone, who said her sons were tearing up the house.
"When police arrived they determined that Falcone was punched in the face by his brother who fled the scene," the spokesperson said. "Falcone was acting irrational and spit in a PO's face while he was being taken into custody. He was taken to SIUN for evaluation."
Falcone called the NYPD's version of events a "complete lie."
"My brother would never put a finger on me," he said, disputing the officers' claim that he had been punched. Also, Falcone added, he never spit in an officer's face.
"I would never do that," he said. "Even me spitting in the street -- I'm disgusted."
His lawyer, Eric Subin, added that the NYPD's story is "ridiculous."
"[Falcone's] 5'5", 150 pounds," Subin said. "There are four officers each twice his size. He's in a surgical boot with his pajamas. To spit on an officer's face -- and for that to start a giant, savage beating, is an impossible pill to swallow."
Plus, Subin said, Falcone was never charged with any crime.
The video, a copy of which was obtained by The Huffington Post, does not catch much audio from the fracas, but Falcone said Tuesday that his mother heard the officers call him the homophobic slurs.
"I can't even walk outside of the house without her saying 'Be careful, please do not do nothing,'" Falcone said of his mother, adding that she's been a "nervous wreck" since the incident.
While his attorneys played the video for reporters Tuesday, Falcone was visibly upset, turning his face away from the screen.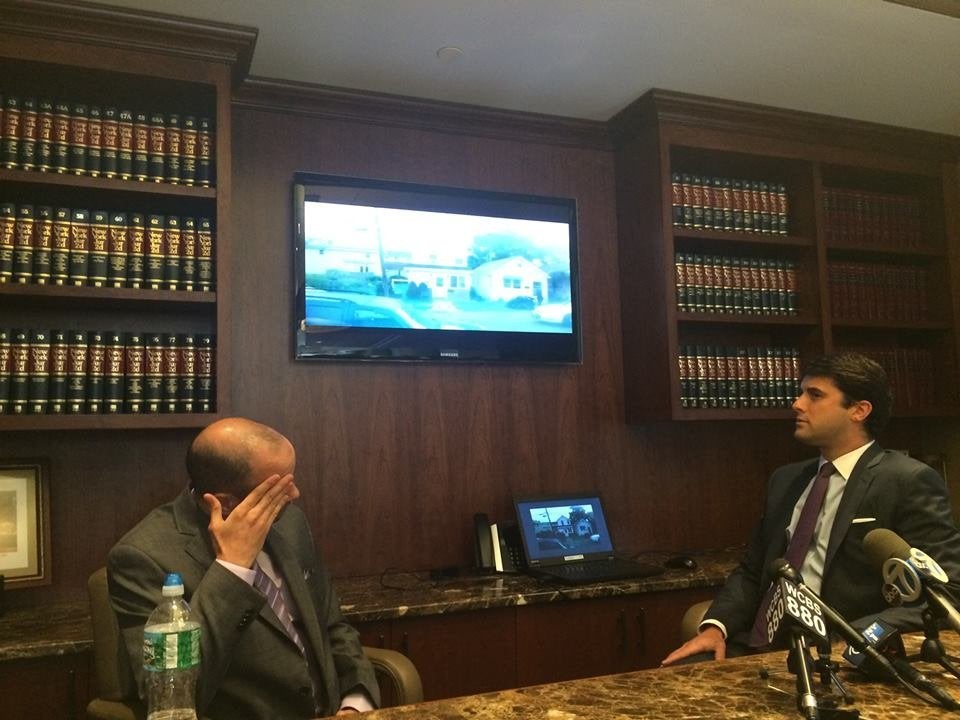 Louis Falcone
"I'm disturbed," Falcone said. "I'm disturbed as a person, as a gay man, as a human being -- just to see this happen to somebody, even if it wasn't me. It's just crazy how these cops act. I can't go to work. I can't stand for long periods of time. I can't sleep."
Subin, the attorney, said officers from NYPD Internal Affairs were set to meet with him and Falcone Tuesday afternoon, and that the names of the officers would be revealed.
Subin said the federal lawsuit -- which will name the four officers, the NYPD and the city of New York as defendants -- will be filed Tuesday afternoon in the U.S. District Court for the Eastern District of New York. It seeks $25 million in damages for civil rights violations, police brutality and excessive force.
Subin added that once the names of the officers is received, he will also be in touch with the Staten Island district attorney's office.
"These guys are criminals," Subin said. "They should be in jail."
A spokesperson for the Staten Island district attorney said the office had "no comment regarding possible/pending investigations."
The NYPD's internal affairs department said it has launched an investigation into the incident to determine if any disciplinary action is warranted.
Meanwhile, anti-LGBT attacks have dropped 20 percent this year, according to NYPD data. There have been 43 attacks through July 26, down from 54 during the same period last year.
Popular in the Community