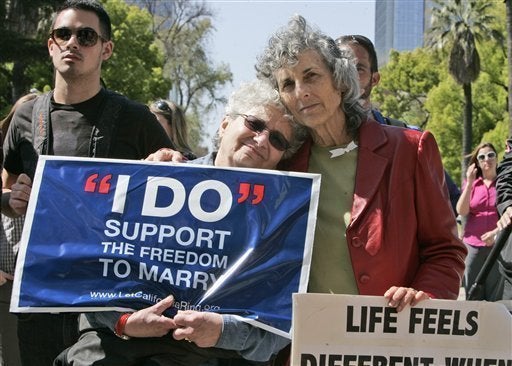 My 8th grade nephew won a "Metropolitan Mayor's Top 20 Outstanding Students Award" a couple weeks ago in Denver, CO. He's now going into a prestigious High School program for gifted college bound students. I'm very proud of him, and he is exceptional, but this wouldn't be big news were it not for the fact that he never would have accomplished this if my gay brother and his partner had not adopted him.
Just a few short years ago, their son was a bright student, struggling in school because his Meth addict mom got them evicted from their apartment. He and his sister could have slipped through the cracks of society and been left to languish in "the system" if not for my brother and his partner. Their son is today on the academic fast track, with a great social life, sports and now, girlfriends! His sister has grown from a withdrawn, young girl into a confident and popular teenager, an avid reader, and a varsity letter swimmer with a lifeguard job.
While here in California the Mormon Church lead a huge campaign to overturn gay marriage legalization, in other places evangelicals are leaving behind such divisive politics. Recently Iowa overturned their state ban on gay marriage. With a similar law being reviewed by California's Supreme Court, the gay marriage civil rights issue is far from over.
One of the greatest legacies of Harvey Milk's thinking was the concept that just knowing gay people in your community will make a society more tolerant. During the last forty years, our country has made great progress in getting past stereotypes and discrimination, yet the idea of gay men or lesbians being parents and living in marriages is still difficult for many Americans. So let me make it a little more comfortable, by letting you get to know two great parents.
My brother and his partner met their future son and daughter when they came to their house looking to earn money through odd jobs and chores. They have a 2-acre spread with horses, pool, and kennels for their show dogs. They were impressed by the industrious efforts of the kids and they could tell that they had a rough home. They offered to pay them to come over once a week to help with chores.
The kids started showing up every Saturday at the crack of dawn. They had fun washing the dogs and cleaning out horse stalls. While their future son was always gregarious and talkative, their daughter was very shy at this point. She wore baggy clothes and dyed her long hair dark -- it covered her face, hiding a secret of sexual abuse by her biological father-now in jail, and verbal abuse from her mother. It was the dogs with their unconditional love, wagging tails and face licking that first brought her out of her shell.
The kids were always dressed in dirty clothes when they got to the house, and they got even dirtier doing their chores. My brother and his partner used it as an excuse to wash their clothes and let them shower. They gave them baggy tee shirts and sweats to wear while their clothes are being washed. There was always something good cooking and they would all relax and eat in the comfortable family room by the fire, and over time, it started to feel like a family.
Then one freezing Friday night in December my brother and partner pulled in their driveway. There sat the young boy and his older half brother, (who was not adopted by my brother) shivering on the patio waiting for them. It was dark out and about 15 degrees. Their mother sent them over to get paid in advance for working that weekend. There hadn't been food in their apartment for days. My brother and his partner took them to the grocery store and bought them enough food to make some meals. The kids kept bugging them to get their mom some cigarettes and pop too, but they wouldn't do it. They dropped the kids off at their apartment with the groceries, thinking that they had done the right thing. However, their mother went back to the grocery store herself, returned most of the food and bought herself cigarettes and vodka instead.
Not long afterwards the kid's mom and her drug dealer boyfriend got evicted from their apartment and things went into a downward spiral. She moved them to a weekly rental motel, and made them ride two hours on city buses each way to school to keep their teachers from becoming aware of their situation.
They didn't hear from the kids until three months later, when they had finally been removed from their mom and put into foster care. The couple realized this was a good time to make a life change, and that sometimes the decision is obvious. They had been together over twenty years, and were slowing down from their fast paced socializing lifestyle. They contacted County Social Services. Even though the kids could only legally be adopted in one of their names, the foster care system was so overwhelmed with kids in need because of the Crystal Meth epidemic, that being gay men was not much of an issue.
But there was the interview and home inspection process. The couple didn't know what to expect. They worked on the yard, had cut flowers everywhere, and invited the caseworker to have lunch on the patio. My brother fixed grilled shrimp on salads and made a tart from peaches bought at the farmers market. When they finally got the written evaluation, the caseworker spent about three paragraphs describing lunch and the gardens, and then a cursory one paragraph that said "And oh, by the way, they would both be great parents and any kids would think they had died and gone to heaven to live there"!
Finally, the kids moved in. It has been over 4 years now.
The lives of these two men were turned upside down with the new family, and they love it (well, most of it -- not those expensive text messaging bills -- over 10,000 texts in one month!) They make sure homework is done, show up at every school function, and are at the school within minutes if a teacher calls, much to the surprise of the kids, who constantly checked the Dads at first to see how gullible they were.
At first some of their kid's teachers were very skeptical of these new parents, giving them the once over and "what is this?" look. But after a few months, even the teacher who disliked them at Parent Night was won over. These Dads were obviously committed, and the kids were performing much better. The school was so impressed with the improvement that the teachers all got together and bought them a family photo for Christmas.
My brother and his partner beam proudly when the kids call them Dad. The people who know them well continue to be impressed. One of his son's teachers wrote them this note after the Mayor's Award, "You guys should be proud of how your son turned out. Without your guidance he would not be the great guy that he is. I talk about you guys all the time and brag about how wonderful you both are. Then after seeing your daughter, I was convinced. The both of you are the most wonderful, thoughtful, sincere people that I know. I am a better person and teacher because of all of you".
These two Dads have become amazing parents and proven, that investing in people with love and support has benefits for all sides. It's a lesson America needs to remember right now.