Metro areas with the highest percentages of same-sex couples who are raising children are located in socially conservative states with constitutional bans on marriage equality in place, officials at the Williams Institute at the UCLA School of Law point out in a press release.
The following infographic was created as part of the new study: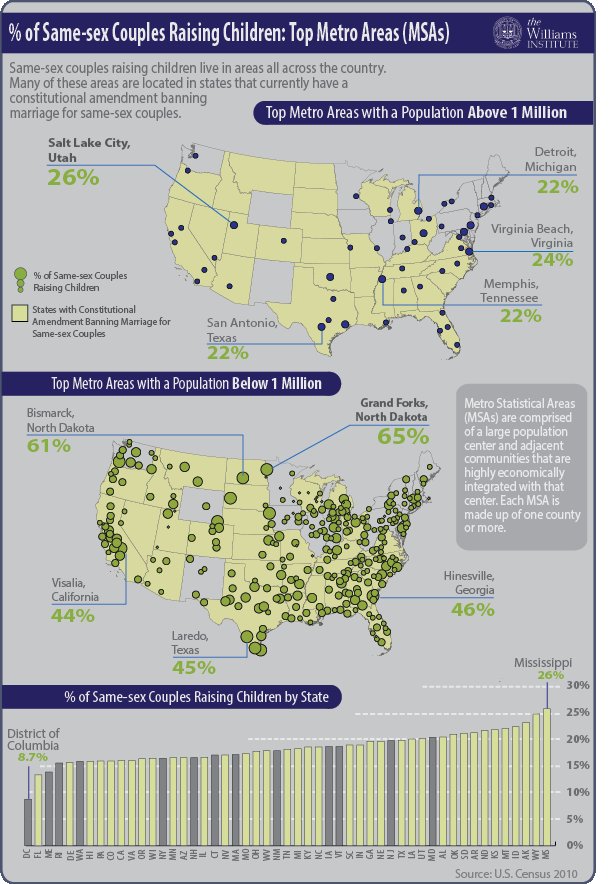 At 26 percent, Salt Lake City, Utah topped the list of large U.S. cities with the highest percentage same-sex couples raising children, while at the state level, Mississippi had the highest percentage, also with 26 percent. Following closely behind were Virginia Beach, Va., Detroit and Memphis, Tenn.
Interestingly, smaller cities showed even higher rates of same-sex parents. More than 60 percent of same-sex couples in the North Dakota towns of Grand Forks and Bismarck were raising children.
"LGBT people in socially conservative areas likely come out later in life and are more likely to have relationships with different-sex partners while they are young that sometimes produce children," Gary J. Gates, the researcher behind the study, told MSN News. "It's also unfortunate that so many of these families live in places with limited legal protections that can make their lives more difficult."
Though the list may seem surprising, researchers told the Los Angeles Times that LGBT couples often opt to have children in unlikely locations due to family ties.
"When you ask, 'Why are you living here?' they almost always say family," Abbie Goldberg, an associate professor of psychology at Clark University in Worcester, Mass., who has studied gay and lesbian parents in rural areas, told the publication. "It shouldn't really be surprising. They value family — and now they're creating families of their own."
One person who isn't surprised by the result is Salt Lake City resident Keri Jones, who tells the Salt Lake Tribune she's witnessed what she describes as the city's "gaby boom" over the last dozen years firsthand.
"Where my daughter goes to school, there are another six or seven kids who have same-gender parents," Jones is quoted by the Tribune as saying. "It doesn't have the same kind of stigma it used to."
CORRECTION: The original version of this article has been amended to clarify it was highest percentage per overall population, rather than the highest number of same-sex couples.
Popular in the Community