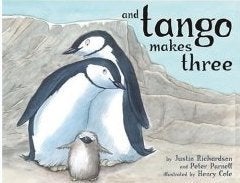 A children's story, 'And Tango Makes Three,' about gay penguins who together raise a female chick penguin has once again topped the list of books most objected to in public libraries and public schools:
"The complaints are that young children will believe that homosexuality is a lifestyle that is acceptable. The people complaining, of course, don't agree with that," Judith Krug, director of the ALA's Office for Intellectual Freedom, said in an interview with The Associated Press.

A "challenge" to a book is defined by the organization as a "formal, written complaint filed with a library or school requesting that materials be removed because of content or appropriateness," AP reported.
Gay penguins are not the only theme that will get you high on the most objected books list. Another book that received a high ranking is 'The Golden Compass,' which many found to be pro-atheism.
Parent dish reported on how the book about gay penguins was pulled from library shelves in 2006.