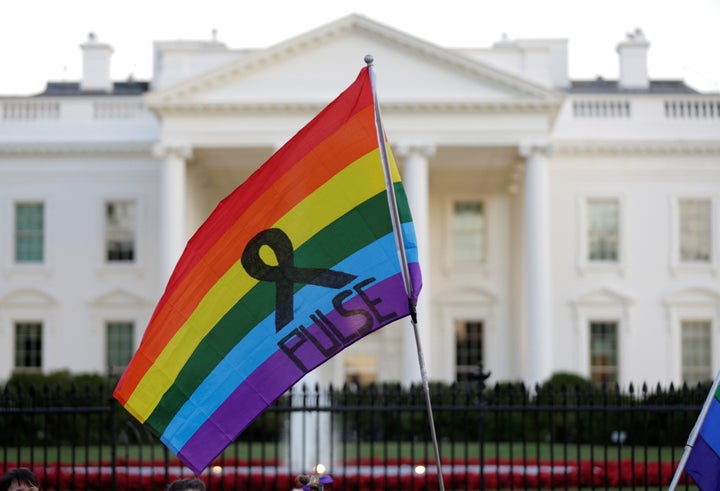 Sunday may have marked the deadliest shooting in U.S. history, but that is not where many of the nation's prominent LGBT politicians want the story to end.
Rep. Jared Polis (D-Colo.) released a statement calling the shooting "a direct attack on equality, diversity, and freedom; It was an act of terror against all Americans."
Polis, the first openly gay man elected to Congress as a freshman and the co-chair of the Congressional LGBT Equality Caucus, went on to decry the FDA's ban of sexually active gay men from donating blood. He asked that donors be judged by their behavior — including drug use and unprotected sex — and not their sexual orientation.
"Don't let anyone tell you that we have full equality in this country. LGBT people are not political wedge issues – we are human beings and we are entitled to full equality under the law," he said in a statement. "I hope that, in the aftermath of this horrific shooting, our country will move towards greater love and acceptance of all Americans."
"It just should not be this easy for someone to walk into a gun store and walk out armed with a weapon of war that is designed to kill as many people as quickly as possible," he stated.
"It is my hope that our first response will be to remember our common concern for the victims and those who love them," he stated.
Maloney asked that the public view the survivors of last year's Charleston massacre, which left nine black parishioners dead, as examples of how to move forward.
"They did not allow themselves to be defined by the hatred of their attacker and neither should we," he said.
He went on to ask for "a serious and rigorous conversation about gun violence, terrorism and anti-LGBT hatred in the coming days."
Rep. Mark Takano (D-Calif.) responded to the horror with pride and unity, stating: "I will always be a proud member of the LGBT community and I will always feel proud to live in a country built on the principles of freedom and tolerance. No person or group can take that away."
He noted on Twitter: "Pride Month is a celebration of love & compassion. That is what will prevail."
"This was not only a horrific attack on the LGBT community, it was an attack on the freedoms we all hold dear," she said in a statement. "The question now for America is are we going to come together and stand united against hate, gun violence and terrorism?"
"Unfortunately, this body is too chicken to address the epidemic of military-style assault weapons because that would upset the gun manufacturers and special interests," he brazenly said in a statement.
"In the end all we will do is have yet another moment of silence, rather than a moment of action," he stated. "That disrespects the lives of the people who were killed not just yesterday, but every day by gun violence."
Calling all HuffPost superfans!
Sign up for membership to become a founding member and help shape HuffPost's next chapter
BEFORE YOU GO
PHOTO GALLERY
Orlando Shooting Newspaper Covers