WARNING: This post contains sexually explicit language. Please read on at your own discretion.
Does too much sex kill? Well, not directly, but the rash of deaths within the gay porn world seems to suggest otherwise. Some were health-related, while others were undisputedly self-inflicted. But sadly, they are gone. They were big players in the scene, and they were my friends. Being a recognizable face in this industry, many have asked me, "Johnny, how did they die?" or, "Johnny, what's going on in that world of yours?" Then, most recently, writer and friend Brett Edward Stout asked me, "Johnny, how did you survive?" I was speechless. I had no answer.
How did I survive? We all faced the same challenges, so why am I still here when my friends are not? Even after taking days to think about it, I still can't totally explain why I survived. Maybe it's because my family supported me, or maybe it's because I made good or lucky choices.
I never wanted to be a porn star. In fact, I never even knew such a thing existed. My exposure to porn had consisted of three VHS tapes from the early '90s that I'd watch on repeat. When I showed up for my first gig, I did it because I was bored. I wasn't thinking about fame, fortune, or perks. I thought it'd be fun to do once or twice. Little did I know that that decision would lead to a life-changing role that forever defined the way I fit in the gay world.
Most of my career was blessed. Though I was young when I started, I wasn't naïve -- quite the contrary. I knew what I wanted in life. I wanted to buy property, pay off student loans, and have a separate career. In addition to the goals and aspirations, I inherently possessed two qualities that made my job and working with me very easy: I was able to get hard instantly and cum on demand.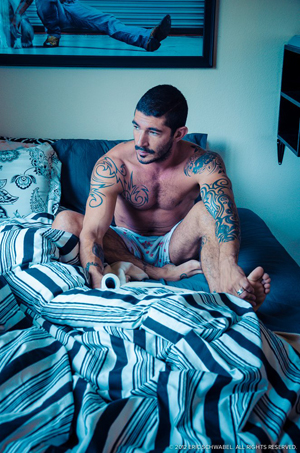 Within minutes of completing my first scene, I was signed as an exclusive to Chi Chi LaRue's Channel 1 Releasing. At the time C1R was the top producer and distributor of gay porn in the world, and I was made the face of the brand for the next eight years. All I had to do was fasten my seatbelt and enjoy the ride. I did have responsibilities too, but I had tremendous support from all directions. For a long time I just thought I was a porn star showing up to the office and doing my job. I did my best to take care of myself, I maintained another job, and I had goals, but still, I was oblivious to the commercial aspect of it all.
They don't prepare you in some "Porn Star 101" course about what is going to happen to you personally when you are crowned a "porn star." Things change that are permanent and not always for the best. Not that I walk around feeling all "poor me," but, yeah, it isn't all great and glorious. Men think that I will sleep with anybody, including them, that I have no tastes of my own and fuck as much as I breathe. Autonomy is a thing of the past. I cannot go to clubs or bars alone, because there's always somebody wanting to talk to me about this movie, this actor or this scene. That's not to say I don't appreciate that I have fans -- I do -- but that doesn't mean I like to talk shop all the time. People also feel entitled to put their arm around me or grab my bicep, my shoulder or the back of my neck when engaged in conversation. I don't like it, but after a while it became simply a nuisance that was par for the course. You'll probably roll your eyes at this, but it's true. The impact of my work has made it so that I can't get a decent date to save my life, either. Are you finished rolling now?
If somebody had sat me down and laid out exactly what was going to happen to me, would I have thought more about this new life? Probably. Would I have still done it? Probably. Aside from the "problems," I made tons of money and bought a house and my truck (although I lost the house in the crash in 2008 and filed for bankruptcy shortly thereafter). Porn, for me, was a good experience. I wish it were as good for everybody, but it clearly is not. They say luck is when preparation meets opportunity. I find truth in that. Aspiring porn stars often ask me if I have any advice for them. I tell them, "If you're looking to scratch something off your bucket list, do it! If you're looking to make tons of money or be 'the next big thing,' keep your day job or go back to school, because those days are done, son."
There are no "porn stars" anymore. And that could be a huge reason why we are losing some of the "big guys." Many didn't have a way out or didn't have goals for when the title stopped meaning as much. I can relate. You have this title, this crown that acts like currency, like armor. When the money stops, that diminished title is all you have left. Today there are hundreds of boys flaunting the moniker "porn star" but getting paid a fraction of what they were five years ago. The options seem to shrink around you. Do you become a personal trainer? Do you wait tables? Do you do something that feels belittling and not worthy of your royal stature? Inevitably, yes, you do, and it feels shitty. It's painfully humbling and possibly life-threatening. Maybe the only answer to the question of my survival is the collision of the aforementioned preparation and opportunity. Even so, I'm grateful I'm still here, and I miss those who are not.
Popular in the Community