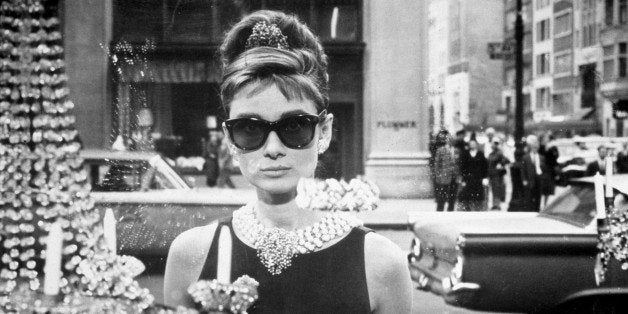 I don't know why it took me so long to come around to the fact that Truman Capote's Breakfast at Tiffany's is the seminal gay book of my youth. When I was encouraged to contribute to "An LGBTQI Book Saved My Life!," a crowd-sourced campaign in conjunction with the Lambda Literary Awards to recognize the life-altering influence of LGBTQI literature, I was stumped because I didn't think any book had actually saved my life from the small town in Texas where I grew up.
The first book that came to mind was Mommie Dearest, which I read in sixth grade. It was my introduction to Joan Crawford. Instead of making me revile Joan, as was the intent of the book's author, Joan's ungrateful adopted daughter, it was the first step in transforming me into a lifelong fan of Joan. I remember staring at the mass-market paperback cover that boasted "The #1 New York Times Bestseller! Soon to be a Major Motion Picture!" And I thought, When?! When?!
Did it save my life? No. Did it change my life? Absolutely. But it couldn't exactly be categorized as LGBTQI literature. I guess it could, just not exactly.
There was The Boys on the Rock by John Fox that I bought four years later in the same Walden Books mall store where I'd bought Mommie Dearest. It was the first GAY book I'd read. I don't remember much about it other than the cover that made me buy it -- a somnolent shirtless boy sunning himself on a rock and bathed in a roseate glow -- and a description of the teenaged protagonist being turned on by an older man as the man dangled his penny loafer from his sockless big toe. I'd already consumed a fair amount of pornographic literature, but The Boys on the Rock was the first book that combined living in the real world with sex seeping in from every crevice. I found that even more titillating than porn. Still do.
But did The Boys on the Rock save my life? No.
I thought of Breakfast at Tiffany's, one of my all-time favorite books. I don't know that it saved my life, but it certainly gave it a sharp left turn. I read it in the early 1980s of my high school youth when I was already practicing the sexual part of homosexual. The living a life as a homosexual I hadn't figured out yet.
But is Breakfast at Tiffany's a gay book?
It doesn't have a gay love relationship, gay sex or even an overt gay character. It does have an overt gay author, Truman Capote. I'd never read a Capote book but I knew he was gay. Even folks in Tulip, Texas knew he was gay. I came to the book through the movie. I wanted to be Audrey Hepburn as Holly Golightly who falls in love with the edible George Peppard. Truth be told, I wanted to be Patricia Neal aka "2-E," George Peppard's sugar mama who was costumed like the Evil Queen from Snow White. That's how gay I already was.
Then I read the book. I didn't dive into it thinking it was a gay book, just that it was the basis for my new favorite movie. There isn't a whiff of romance between Holly and Capote's alter ego, the struggling writer and narrator of the book. I'll call him Tru since he is never named, as Holly's cat is never named. Long before Will and Grace, there was Holly and Tru.
Capote doesn't claim his alter ego's sexual identity, but it's clear that Tru is gay from his infatuation with Holly. She is a girl who welcomes a cavalcade of men into her bed, dresses chicly on powder room change and says things like: "would you reach in the drawer there and give me my purse. A girl doesn't read this sort of thing without her lipstick;" "it's tacky to wear diamonds before you're forty; and even that's risky;" and "dykes are wonderful home-makers, they love to do all the work, you never have to bother about brooms and defrosting and sending out the laundry." She's also the kind of girl who reinvents herself into Holly Golightly of New York City from Lulamae Barnes of Tulip, Texas. Sure, she's the kind of woman straight men fall for. But she's the kind of girl gay men adore.
Holly wants Tru to find himself as a writer, and Tru wants Holly to find herself. Period. I found that sexy.
The book opened a window on life beyond the Tulip, Texas I was living in. It made the New York City I'd seen depicted in movies and TV shows suddenly possible. I saw an adult life that wasn't about marriage and children. In one scene Holly is throwing a raucous madcap party in her brownstone walk up apartment. In another she and Tru are stealing Halloween masks from a Woolworth's. Later in the book they're walking across the Brooklyn Bridge after a chow-mein supper and watching the ships pass.
The book is loaded with deliciously quotable lines, but the one that stuck with me and penetrated a gay nerve the first time I read it is never quoted as far as I know. It's on the last page of the book when Tru is telling the reader what happened after Holly disappeared. "The owner of the brownstone sold her abandoned possessions... a new tenant acquired the apartment, his name was Quaintance Smith, and he entertained as many gentlemen callers of a noisy nature as Holly ever had -- though in this instance Madame Spanella did not object, indeed she doted on the young man and supplied filet mignon whenever he had a black eye."
I tingled with excitement when I read that line. I pictured Quaintance -- whose real name was probably Joe Bob and he no doubt hailed from a town like Tulip -- holding Madame Spanella's raw filet mignon to his blackening left eye and cradling the phone under his right ear as he gesticulated wildly with a lit cigarette: "Darling, I have the most gruesome hangover. Penn Station at rush hour, in August, on Friday doesn't begin to describe it."
I saw two gay men -- Tru and Quaintance -- living the kind of live I wanted to live.
After college I moved to New York. I didn't become Holly Golightly, Tru or even Quaintance, but I dabbled in all three. I moved into a cute apartment on the top floor of a brownstone walk up with a man I met in Central Park. We threw raucous parties and entertained a cavalcade of men. We could have posted a sign over the door like McDonald's: "Billions Over-Served." When I recovered from two decades worth of gruesome hangovers I started to become a writer.
Maybe Breakfast at Tiffany's did save my life; not in the obvious dramatic way that Holly saves Tru's life during a runaway horse incident near the end of the book. It saved my life by planting a fertile seed. It showed me an adult life that was about parties and friends and sex and sparkling wit and messiness and creativity and longing for something outside of convention. It gave me the insatiable appetite to reach beyond my circumstances. It gave me a vista of what kind of life was possible for a homosexual like me.
Popular in the Community