In March 2014, JP Masterson was on top of the world. With a new single blazing up the charts, the out rapper known professionally as Jipsta headed to Greenwich Village to celebrate a relationship milestone with his partner. By morning, however, the Billboard recording artist was a bloodied mess, undergoing surgery in an area hospital.
"It all stemmed from me holding my partner's hand, on our ten year anniversary, at 12 o'clock," recalled Masterson of the violent attack in a New York subway that left him with seven broken bones in his face, effectively ended promotion of his sophomore album Turnt Up and left him too traumatized to record for nearly two years.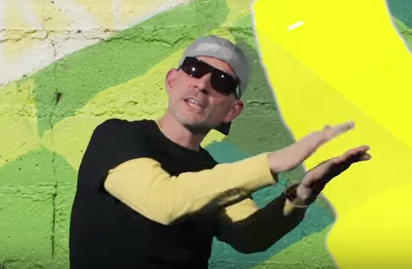 Now fully recovered physically, the emotional healing is still ongoing from the still-unsolved hate crime. The artist acknowledges being almost apologetic about discussing "the incident," since he does not want it to appear he is "milking it."
However, finally returning to the recording studio helped channel the experience in a creative way. With the aid of long-time collaborators DJ Ranny -- with whom he released the 2014 "Body Pop," which reach No. 11 on Billboard Dance Charts -- and Grammy-winning producer Chris Cox, he released third album Ban2oozle earlier this year.
"There's some shit that happened in my life that just poured out," he relayed to Podomatic's No. 1 LGBTQ Podcast. Some tracks from the album, specifically "Breathe," were directly inspired by the incident.
"After that happened to me, I wanted to talk about it," said Masterson, a school psychologist by day and performer by night, "But not have people be like, 'Oh God!'"
In May, Jipsta released a music video for the album's title track and lead single. It is his first official release since the attack, which left physical reminders in the form of scars next to his left eye, and took a significant toll mentally.
"When I went to do this album, and be back in the public eye -- knowing I feel some type of way about my face -- I got to come so correct," said Jipsta of the Cox-produced song and accompanying video, which was primarily filmed last February in the Grammy Award-recipient's Las Vegas home. 
Like much of the album, largely produced by Masterson and Cox, formerly of remix super-duo Thunderpuss, "Ban2oozle" leans more decidedly hip-hop than Jipsta's early work. Breakout hits like "Nasty Boy/Nasty Girl" featuring Inaya Day, "Party of the Year" with Sandy B and the George Michael cover "I Want Your Sex" were all much more circuit-oriented.
"I love those songs, but musically I would have done them differently," said Jipsta, who admits he sometimes "cringes" at the production value of earlier releases. "You progress musically and in the studio, and I almost wish this was my first album, because it is me 100-percent."
WATCH: Jipsta's 'comeback' video "Ban2oozle"
"Ban2oozle is more of what I really, really wanted to do," Jipsta went on to say, "But I probably couldn't do with a first album."
Feeling "rejuvenated," the "hunger" he knew in the early part of public life has returned. Masterson says working with long-time friend Cox was the right move at this point in his career.
"Everybody thinks he just does Whitney Houston, circuit, big room anthems," he stated, calling the producer "gangster," "But he can kill any type of genre.
"The truth is, Chris Cox's origin is in hip hop," Jipsta stated. "He's like a hip hop encyclopedia, and he and I geek out on that."
The harder-edged sound will invariably continue parallels to other New York-based gay rappers, Jipsta recognizes. Throughout his career, he's drawn comparisons to Cazwell, for example, but Masterson says they are "two totally different artists."
"Do I wish I had seven million views on a video?" he asked. "Of course I do, but I also work in an elementary school... I'd love to have dicks just all around me, but I have to make choices."
For Masterson, the decision to teach students "you can't run around acting crazy" easily trumps (so to speak) salacious videos to elicit views or listens. That said, however, he feels "Ban2oozle" speaks for itself -- especially in context.
"In the wake of 'the incident,' the American culture, we do love to tear people down, but we also love a comeback story," he said.
"I wanted to record an album where people could say, 'Damn! That bitch really came back!'" Jipsta concluded. "I do feel that has been the response."
LISTEN: Gay Rapper Jipsta discusses his 2014 gay-bashing, today's political climate, new album Ban2oozle & more on Party Foul Radio. Other recent celebrity guests include Dustin Lance Black, former WWE superstar Melina, Erasure's Andy Bell and more.