NEW YORK ― Luis Mancheno remembers the moment he knew he had to get out of Ecuador.
He was 21, it was 2007, and he was living with his family in the capital city Quito. For 6 months, his evangelical Christian parents had sent him to conversion therapy in an attempt to make him not gay. This destructive form of therapy, of course, didn't "work" ― because it can't ― and one night Mancheno decided to go with a friend to a gay bar.
At the bar, Mancheno says he and his friend were drugged. He woke up with his pants down, in his car, on the edge of a cliff. The car had crashed into a light post. His friend was unconscious in the backseat, also with his pants pulled down.
"And then I realized that [whoever did this] had painted the car ― 'Maricón' ― which means faggot in Spanish," Mancheno recalled. "And the only reason why I was still alive and my friend was still alive is because there was a light post. Because other than that, the car would have rolled down the cliff and we would have died."
Mancheno says he couldn't tell his parents about the incident. "They believe that every, anything bad that will be happening to me will be because I was gay," he said.
And the police weren't any help either.
"I was telling the police officer that I was at this gay bar, he stopped taking notes," Mancheno said. "He closed the notebook that he was using to take notes and he said, 'Uh, I'm sorry. But we don't have jurisdiction over that bar.' And immediately, all of the officers who were overhearing what I was reporting started laughing. And the next thing that he said was, 'You should know better next time to not go there.'"
"And that did it," Mancheno continued. " I knew that I was not going to have the protection from the police ... and next time there might not be a light post to save my life."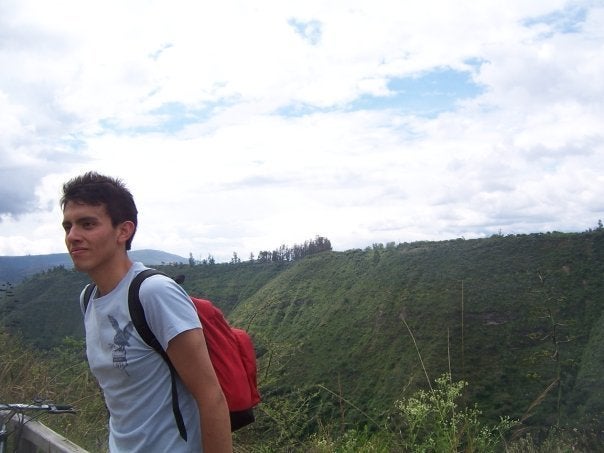 He went to America. First on a student visa to Willamette University in Oregon, where he learned he could claim asylum in the U.S. as a refugee fleeing persecution. (He was granted asylum in 2009.) And then to Roger Williams University School of Law in Rhode Island on a full scholarship, where he became involved in representing low-income clients in immigration court.
Mancheno said that going through the asylum application process taught him what "a huge difference" immigration lawyers can make. (There's no right to a lawyer in immigration court, and immigrants in deportation proceedings are at least twice as likely to be deported when they don't have an attorney.)  
Mancheno said he wanted to "help the next Luis Mancheno that comes down the line, who needs a lawyer, who doesn't have all the privileges that I had."
He eventually moved to New York and became part of the New York Immigrant Family Unity Project, an organization that provides free legal services for poor defendants, and later became a teaching fellow at the Benjamin N. Cardozo School of Law in Manhattan.
In June 2016, Mancheno became a U.S. citizen during a ceremony at the federal courthouse in Brooklyn. His husband, whom he married in 2015, was there to celebrate.
"Becoming a US citizen for me was a very powerful thing because I finally felt validated as having a voice here," Mancheno said.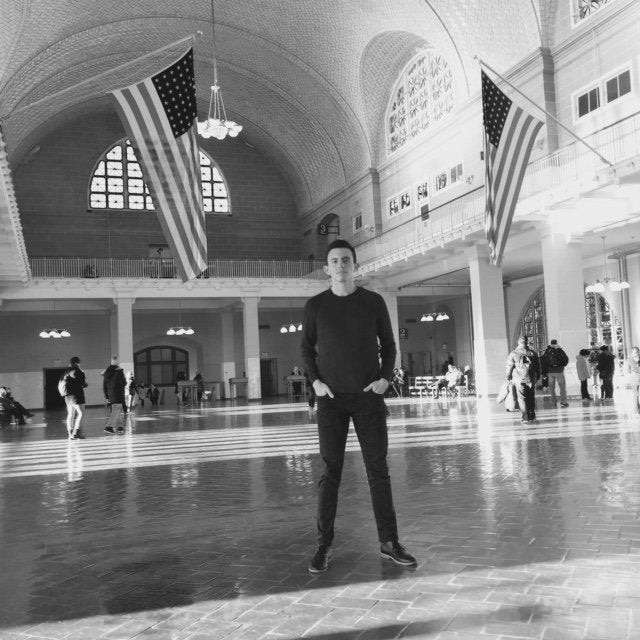 On Jan. 28, Mancheno returned to that same courthouse under very different circumstances. A day earlier, President Donald Trump had issued an executive order that indefinitely banned Syrian refugees from coming to the U.S., shut down the whole refugee program for 120 days, and barred all immigrants and visitors from seven Muslim-majority countries.
The order, a partial fulfillment of Trump's bigoted campaign promise to ban Muslims from entering the U.S., was implemented haphazardly. Terrible stories quickly emerged of immigrants, visitors and refugees being detained or deported ― or, in some cases, both ― by border officials struggling to adjust to the new law.
Mancheno said that although he'd been an American for less than a year, the Muslim ban made him already feel "disappointed and ashamed of being American."
And so he and his colleagues at the Cardozo immigration justice clinic sprung into action. Jacqueline Pearce went to JFK Airport, where she was approached by a woman who said her sister ― a sick and wheelchair-bound middle-aged Syrian woman with a valid U.S. permanent resident visa, or green card ―  was being detained by immigration authorities, and was told she'd be deported to Syria.
Mancheno immediately started drafting a motion for a temporary restraining order ― basically asking a judge to block the Syrian woman's deportation until a court could decide whether her removal from the U.S. was legal.
Mancheno said he was simultaneously putting on a suit while printing out hundreds of pages. His husband proofread the motion and stapled the pages together. Mancheno then rushed to the federal courthouse in Brooklyn to file the motion. Outside, hundreds and hundreds of people were protesting the Muslim ban.
Initially, Mancheno thought the crowd would prevent him from getting inside the court in time to file the motion. But a protester screamed, "He is one of the lawyers!" Mancheno recalled, and "it was like the Red Sea." The crowd parted, and people cheered and clapped and thanked him as he marched into the courthouse and filed the motion.
A short time later at JFK, around 8:50 p.m., Pearce received bad news: The Syrian woman was scheduled for a flight back to Syria at 9:20 p.m. She frantically texted Mancheno and their other colleague, Peter Markowitz, who was in the courtroom where a judge was hearing another challenge to the Muslim ban filed by the American Civil Liberties Union.
Out of desperation, Markowitz passed a note to the ACLU attorney.
"I was just passed a note that the government is literally, as we speak putting someone back on a plane back to Syria," the ACLU lawyer told the judge, according to court transcripts.
"What do you think about that?" the judge asked the attorneys representing the U.S government. When those attorneys demurred, saying they didn't have enough facts to respond, the judge issued a stay ― meaning the government could no longer deport people it had detained under Trump's Muslim ban.
The executive order, the judge stated, would cause "irreparable harm" to the woman if she was sent back to Syria, a war zone.
When news of the judge's ruling spread, thousands of protesters, outside the court and outside JFK Airport, erupted into cheers.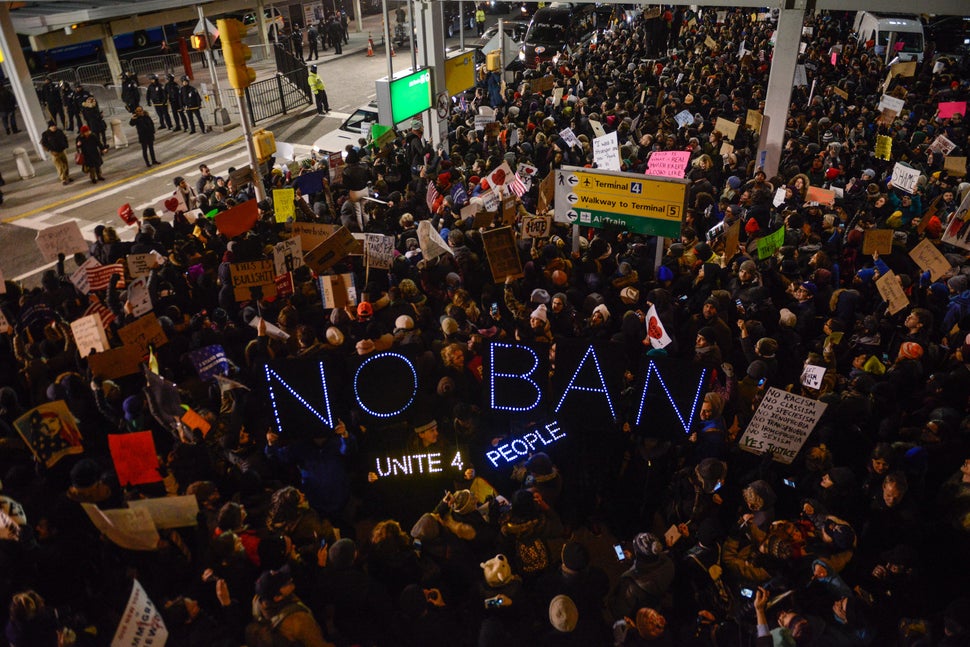 But despite the victory, Mancheno said he and his colleagues still didn't know what had happened to their client.
"I am literally getting pictures of the written decision from the judge and texting them to Jackie so Jackie could show it to the [border patrol] officers there and say, 'It's official. I have the document here and it says that you are supposed to stop. The judge is ordering you to stop her deportation.'"
Then, a grueling hour-and-a-half later, around 11 p.m., Pearce sent him a picture: the Syrian woman being pushed in her wheelchair past customs. She had been released.
HuffPost showed Mancheno a video of the woman being reunited with her crying sister. Tears welled up in his eyes and he said, "I am happy because I feel like we did a good thing. We got the job done."
"But it's so unfair and I'm angry every time that I see that people have to celebrate to see their family members who have an actual legal right to be in this country. Celebrate that they are not being detained just because of where they're from, and just because the president thinks that they're all Muslims [and] should be banned from this country."
"It gives me strength, strength to fight. Every time that I see people suffering, I become stronger and I know that I have to be better. And I know that I have to work harder to fight this injustice."
For now, Mancheno says he and his colleagues are fighting two other executive orders signed by Trump: One that significantly expands which undocumented immigrants are prioritized for deportation and another that expands border security.
On Thursday, Trump's second, scaled-back Muslim ban ― which still bars refugees from entering the U.S. for 120 days ― goes into effect. At least six states have already filed lawsuits challenging its legality.
Asked what the ban means to him as a refugee, Mancheno said: "Closing the door to the people that need help the most is one of the cruelest, anti-American things that this government could have done."
"If I wasn't allowed to come here as a refugee," he said, "I wouldn't be alive today."
The video was produced by Omar Kasrawi. It was edited by Maria Tridas, Ethan Kirby and Chai Dingari. The Director of Photography was Chelsea Moynehan. The video was filmed by Mike Caravella and Dan Fox. 
America does not do a good job of tracking incidents of hate and bias. We need your help to create a database of such incidents across the country, so we all know what's going on. Tell us your story.
Sign up for the HuffPost Must Reads newsletter. Each Sunday, we will bring you the best original reporting, long form writing and breaking news from The Huffington Post and around the web, plus behind-the-scenes looks at how it's all made. Click here to sign up!
Calling all HuffPost superfans!
Sign up for membership to become a founding member and help shape HuffPost's next chapter