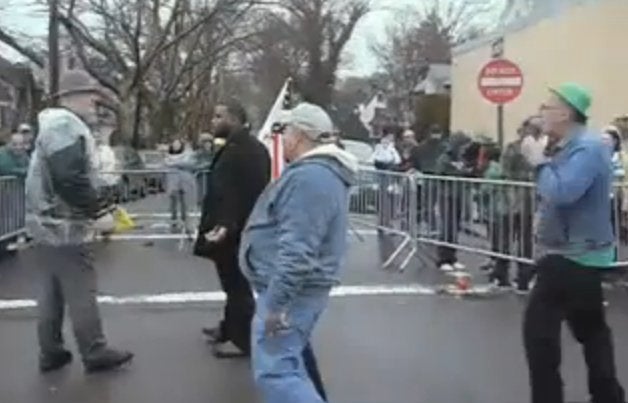 Organizers of the Staten Island St. Patrick's Day Parade allegedly refused to let members of the group Staten Island Pride march in the event.
When Staten Island Pride complained to City Council Speaker Christine Quinn, the group was flatly told it could not participate in the parade.
Quinn, Comptroller John Liu, Public Advocate Bill de Blasio, and Manhattan Borough President Scott Stringer announced they would not march in the parade, in solidarity with Staten Island Pride.
Video footage shows St. Jermaine Endeley, a member of the Young Democrats of Richmond County, walking with the pin on his jacket, when a parade organizer, Dennis McKeon, repeatedly tries to block his path.
"I told him this is America and that I have the right to wear whatever I want," Endeley said. "First, he grabbed my shirt and tried to rough me up. I tried to slap his hands away. Then he tried to rip my ribbon off, and I wouldn't let him do that."
McKeon insists the Young Democrats were trying to sneak gay people into the march and denies pushing Endeley.

"If they weren't gay, what were they doing marching with ribbons?" he said. "[The Young Democrats] chose to bring gays into the march with them. That went against the regulations of the parade."
WATCH footage of the confrontation between McKeon and Endeley:
Popular in the Community