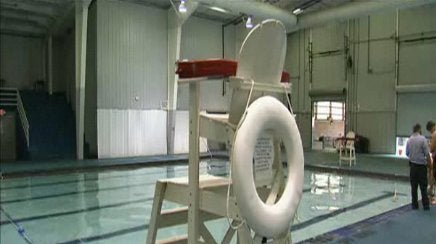 Gay rights supporters rallied on Saturday in Kentucky after two gay men with disabilities were allegedly forced to leave a city-owned pool, according to multiple reports.
In a report released by the city [of Hazard], a lifeguard at the Pavilion alleges the men were repeatedly hugging and kissing. Facility officials say this is inappropriate for both heterosexual and homosexual couples.

However, the Kentucky Equality Federation says the men were only sitting on each other's laps, and they were discriminated against.
Kentucky Equality Federation President Jordan Palmer said the pair "left the facility crying," according to the Associated Press.
"You don't treat people that way, especially someone that is developmentally challenged," he said. "I'm so appalled by that I can't put it into words."
According to the Lexington Herald-Leader, Kim Haynes, an employee of the city, cited the Bible in asking the men to leave the public facility. A release issued by the City of Hazard following the incident indicates that Haynes' actions resulted in a five-day unpaid suspension from work. (See full text of the release below.)
Hazard Mayor Nan Gorman apologized for the situation that unfolded.
"I've had people call from everywhere," she said in addressing the matter last week. "You'd think we've had a murder scene up here, a massacre. ... We're all aware of tolerance here. We're not completely shadowed here by the mountains."
Below, a video report released by WKYT over the weekend on the controversy.
Popular in the Community