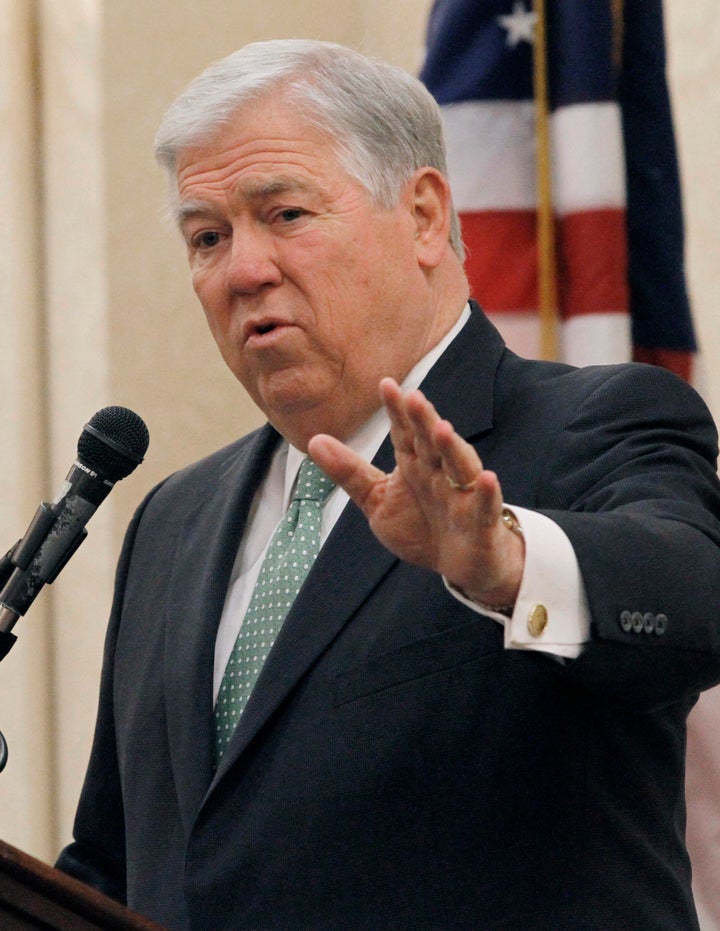 WASHINGTON -- It's become a political truism to say that there is a generational divide with respect to gay rights, as polling data bears out the fact that younger voters, even conservatives, are far more in favor of same-sex marriage than their elders.
But as the 2012 election, particularly the Republican presidential primary, takes shape, that divide -- even between some presumptive candidates and their younger staffers -- has been drawn more sharply into focus.
Over the course of the past week or so, James Richardson, who served as online communications manager for the Republican National Committee in the 2008 cycle, was signed up by Gov. Haley Barbour (R-Miss.) to serve as a communications adviser for his Political Action Committee and, likely, his presidential campaign. A well-respected operative within GOP circles, Richardson had run a personal blog in between those two stints. And at some point in time -- more than two years ago -- he argued that the Republican Party should embrace the philosophical concepts (and political benefits) of gay adoption and gay marriage.
"[T]he Republican Party is at a defining crossroads," Richardson wrote on his site. "Now is not the time for an echo chamber. And homosexual demagoguery is not the answer to the Party's woes, particularly when gay men and women represent the only demographic in which John McCain bested President Bush (27% to 19% based on exit polling)."
Such musings are increasingly common among younger conservatives. But, a Democratic source pointed out, after Richardson signed up with Barbour -- who has long opposed gay marriage -- his post was removed, replaced with a "no results found" message.
Richardson declined to comment for this report, but stressed that he took the site down of his own volition, not at the behest of anyone in Barbour's orbit. He could have kept it up, but that would have produced the awkward specter for a candidate and a top staffer arguing opposing sides of a prominent social issue. Communications aides, after all, are supposed to be the messengers, not the message.
Of course, it's not groundbreaking that a campaign hand has a policy disagreement with the boss. But the removal of Richardson's post underscores a far more telling feature of the modern Republican Party: A large chunk of the GOP operative class has no problem with expanding gay rights, but those staffers nonetheless work for candidates who are principally opposed to such moves.
Steve Schmidt, who managed John McCain's presidential campaign in 2008, waited until after the election to announce that he not only supports gay marriage but also believed the Republican Party would be better off supporting it in its platform. Ken Mehlman, who served as the campaign manager for the 2004 presidential reelection campaign of George W. Bush -- in which the prospect of gay marriage served as a key, divisive social issue -- came out of the closet only after removing himself thoroughly from politics.
Below campaigns' top tiers, such ideological differences are even more common. Liz Mair, who worked alongside Richardson at the Republican National Committee and helped the McCain campaign, joined the firm Hynes Communications after the 2008 election. While at that post, she shifted between the worlds of commentary, campaign consulting and issue advocacy -- the latter of which landed her a gig on the advisory board of the Republican group GOProud, which supports expanding gay rights.
For Mair and other operatives, such juggling has its benefits, not least of which is the sense of ideological liberation that comes from being off the trail. But it also has a self-censoring effect -- essentially discouraging so-called "campaign gypsies" from divulging personal political beliefs lest they be used to haunt their next candidate employer.
"I'd love to live in a world where my political views corresponded 100 percent with those of any given candidate out there, but the reality is, the best-case scenario is that as an operative, you agree with your candidate on 90 to 99 percent of the issues, and 100 percent on those that matter most to you," Mair told The Huffington Post. "I don't think there's ever a situation where someone agrees 100 percent on everything, though. Certainly, I've never been lucky enough to identify a candidate with whom I do agree 100 percent."
Indeed, so far only a few candidates in the prospective Republican presidential field have even hinted an openness toward gay marriage. Former Utah Gov. Jon Huntsman endorsed civil unions in his state, and more recently, former Louisiana Gov. Buddy Roemer said he was fine with states legalizing gay marriage, though he still supports the federal policy that defines marriage as between a man and a woman.
To a lesser extent, the same dynamic that Mair and Richardson face is true on the Democratic side of the aisle. Chris Kofinis, a longtime operative who helped encourage the retail giant Walmart to embrace policies of equality towards gay employees, now serves as the chief of staff to Sen. Joe Manchin (D-W.Va.), the only Democrat vote against a repeal of the army's "don't ask, don't tell" policy.
A number of White House staffers, meanwhile, admit in private that they support gay marriage -- a position that President Barack Obama has kept at arm's length. Steve Hildebrand, Obama's openly gay former deputy campaign chairman, has walked a fine line with respect to urging the administration to be bolder in its gay rights agenda and openly criticizing its meekness.
"[T]his is a bipartisan issue," Mair said, "but it's also an issue that has arisen because of the kinds of functions that must be performed in campaigns these days, and the fact that for various reasons, operatives are more in the public eye as personalities in their own right than perhaps they once were."

Popular in the Community