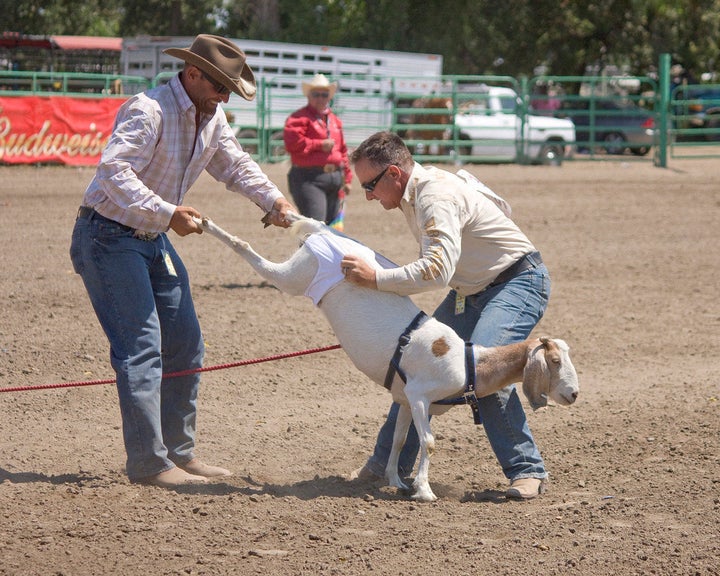 There's trouble brewing over at the gay rodeo, but it doesn't have to do with the sexuality of the participants.
Instead, an animal rights group called LGBT Compassion is protesting the Best Buck in the Bay rodeo, which is held annually near San Francisco, for what it deems the inhumane treatment of the rodeo's animals.
Among other issues, the group doesn't like that rodeo involves an event where goats are forced to wear panties.
LGBT Compassion founder Andrew Zollman is urging the rodeo to abandon practices his group feels are cruel, and has threatened to protest a series of fundraisers leading up to the 20th anniversary of the event this September.
Zollman's threats seem to have been effective as the rodeo has cancelled some of the scheduled events--including one at the Most Holy Redeemer Catholic Church in San Francisco's Castro neighborhood that would have also benefited a non-profit group that delivers meals to AIDS patients.
Church business manager Mike Poma told the Bay Area Reporter that Zollman had threatened to protest both the fundraisers as well as masses held at the church, "and finally we said, 'Fine, we won't do it.'"
Poma said that, despite the fundraiser's cancellation, the church is still donating $1,000 to the AIDS group.
While LGBT Compassion admits that Best Buck in the Bay has notably higher standards for the treatment of its animals than do traditional rodeos, Zollman still points to many of the rodeo's practices, such as "goat dressing," where the animals are restrained and have panties forcibly shoved over their hind legs, in addition to traditional rodeo activities like bucking bull and bronco competitions.
The rodeo's organizers have defended their record of handling the animals involved in the event.
"I respect people's opinions and respect what they have to say," rodeo director Paul DuBray told the San Francisco Examiner. "At the same time, they also have to afford us the same opportunity to do what we feel passionate about. We have put things in place to keep the safety of the animals at the upmost."
He noted that, in his experience, the goats don't appear especially perturbed by the panties. "They just sort of stand there...I don't really know. I don't speak goat."
A coordinated effort by LGBT Compassion previously pushed San Francisco to ban the sale of live chickens at the city's farmers markets.
Gay rodeos have a long history stretching back to a fundraiser held at the Washoe County Campground in Reno, NV in 1976. Gay rodeos quickly arose in states ranging from Texas to California, and the International Gay Rodeo Association was founded in 1985 with 25 affiliates in the United States and Canada.
Check out this slideshow of photos from Sierra Stampede gay rodeo in Rio Linda, CA:
Calling all HuffPost superfans!
Sign up for membership to become a founding member and help shape HuffPost's next chapter
BEFORE YOU GO
PHOTO GALLERY
Gay Rodeo Photos