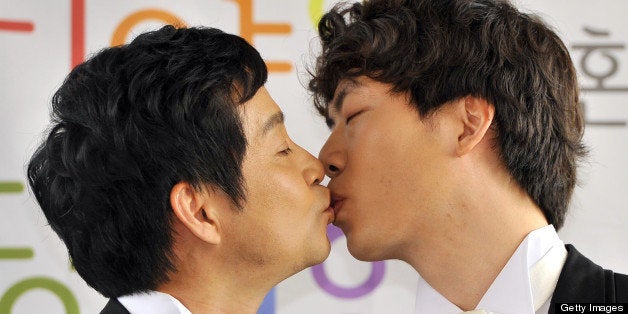 SEOUL, May 15 (Reuters) - A gay South Korean film director is set to symbolically marry his long-term partner, saying he aims to pry open the closet in this conservative Asian country where homosexuality is still taboo and gays have been subjected to hate crimes.
Kim Jho Gwang-soo announced plans to marry his partner of nine years on Wednesday, becoming the first South Korean show business personality to do so and only the second to ever come out. The other, an actor, now says he regrets his decision.
"We wanted to convey the message that all sexual minorities should be given rights equally in a beautiful way," the 49-year-old Kim told a news conference in the South Korean capital of Seoul as he sat next to his partner, Kim Seung-hwan.
The two then kissed in an unprecedented display of affection for a same-sex couple in Korea, where traditional Confucian and Christian values remain strong.
Kim has directed a handful of films that were well received by domestic audiences and came out in 2005 during a screening for one of them. When not producing movies, he works for LGBT (lesbian, gay, bisexual, and transgender) rights advocacy.
The two will marry on Sept 7, a symbolic move since Korea remains far from legalising same-sex unions despite a wave of such approval in Europe and the United States. On Tuesday, Minnesota became the 12th U.S. state to allow them.
Homosexuality is not illegal in Korea, but like elsewhere in Asia the pressure to marry someone of the opposite sex to continue the family blood line is strong and leads many to hide their homosexuality.
In 2000, actor Hong Seok-cheon became the first celebrity in this idol-obsessed culture to come out. But work dried up and he has since said he regretted the move.
Kim has been subject to less social opprobrium due to his role behind the camera rather than in front of it, but Korean gays doubted the announcement of his marriage would do much.
"I support his personal choice, but I don't think it'll change anything," said Yu Sang-geun, a 25-year-old gay Seoul student and activist with Solidarity for LGBT Human Rights in Korea, the nation's largest LGBT rights group.
"South Koreans' understanding of gays is very stunted," said Yu. "Kim's decision could be the foundation of more things to come, but there is so much to do regarding gay rights."
Gays and lesbians in South Korea have been subject to hate crimes. A gay man was sprayed with hydrochloric acid in 2008 by a friend, while one of Yu's acquaintances was raped while doing his compulsory military service.
Some South Korean lawmakers have pushed the country to adopt a comprehensive anti-discrimination law that would embrace gay rights, but amendments have foundered due to conservative Christian legislators who oppose recognition.
(Editing by David Chance, Elaine Lies and Michael Perry)

Before You Go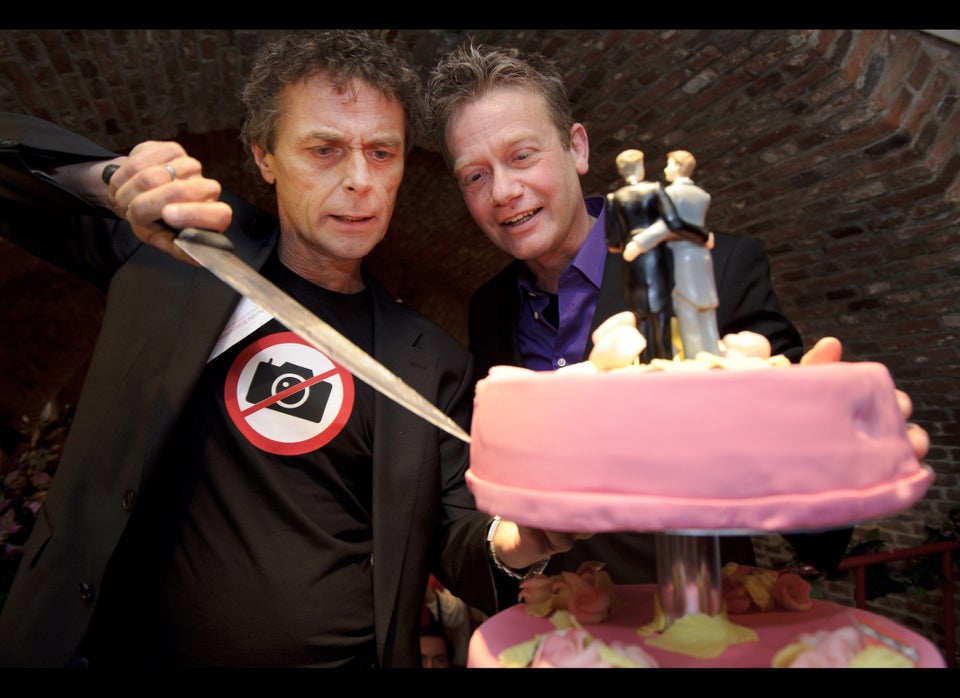 Gay Marriage Around The World
Popular in the Community