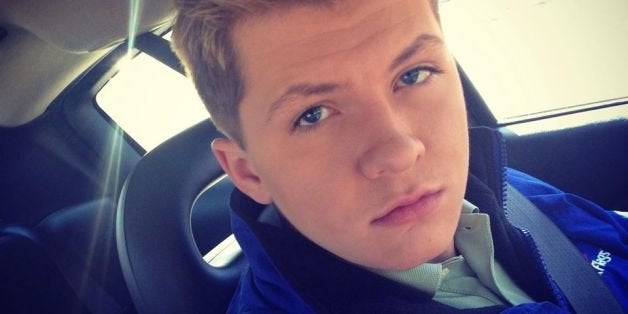 A Missouri student says he was rejected admission to a Christian college after he came out as gay.
Chase Martinson, a 20-year-old from St. Louis, says he withdrew from Hannibal-LaGrange University (HLGU) last October due to illness, but he reapplied and was readmitted to the school in January for the fall of 2014, KHQA reports. However, last week, Martinson received a letter from the Office of Admissions that states his application is now inactive and under consideration.
He said no reason was specified, but noted the letter referenced pages about morality from the school's guidelines manual.
"I asked to speak to the man who wrote me the letter. He said that I had received it because I was outside the moral guidelines, and in the letter, it said two specific pages in the student handbook, pages 20 and 27, which deal with sexual misconduct, premarital sex acts, extramarital sex, homosexual acts," Martinson told KHQA. "I was told I couldn't come back unless I petitioned to the president or I wrote a statement that I would adhere to the moral guidelines and basically not be gay anymore."
"I'm gay. Just so everyone knows for sure. It's official," he wrote at the time. "And yes, I'll still see you guys in heaven. And no my status wasn't hacked."
He says he believes this is the reason HGLU turned over his re-admission.
HLGU is a private Christian college located in Hannibal, Mo., about 100 miles outside of St. Louis. The student life handbook includes a section on standards of sexual conduct that reads:
Hannibal-LaGrange University upholds the traditional biblical view that it is God's intent that heterosexual union is the only acceptable expression of sexuality and must be reserved for marriage. This expression of a self-giving love is viewed as a gift from God. All members of the university community should abstain from behavior which may lead to a violation of God's standards on sexual activities. Misuses of God's gift will be understood to include, but will not be limited to, sexual harassment, sexual assault, and sex outside of marriage. Sex outside of marriage, as defined by the State of Missouri, is prohibited.
A representative for HLGU's Office of Admissions was not immediately available for comment when contacted by The Huffington Post.
The incident was mentioned on an "HLGU Problems" Twitter account.
Popular in the Community