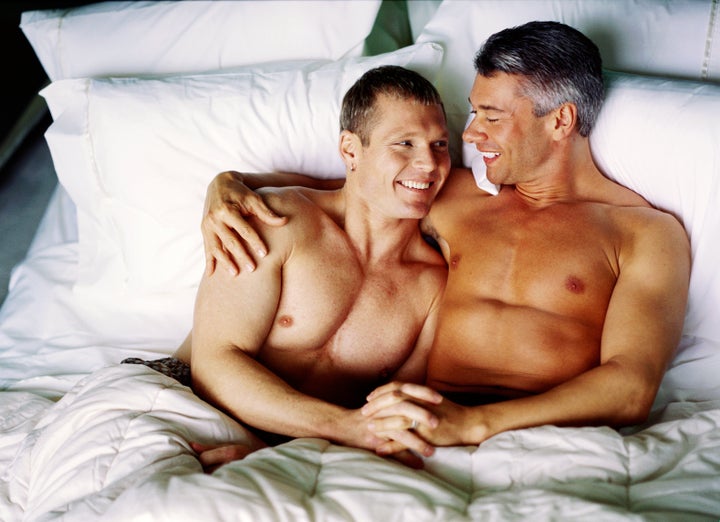 NEW YORK -- Three years ago, during his junior year at New York University, Kirk met with a financial aid officer to plead a familiar case: his inability to manage the yearly payments on his $50,000 tuition bill.
Once again, the school official reminded Kirk that in order to register for next semester's courses, he needed to come up with another $8,000 -- or risk expulsion.
Kirk nearly divulged his secret to the loan officer, finally letting her know exactly what he had resorted to in a desperate attempt to finance his education. Midway through college, Kirk had begun turning tricks in order to pay for school.
"Once and for all, I just wanted her to understand what the expense of NYU was really costing some of us," says Kirk, now 23, who graduated a little more than a year ago with a degree in theater and film. "I felt like telling her: You really have no idea what some of us do in order to stay here."
And the escort work didn't end when Kirk left NYU. He has continued selling his wares on what he describes as "virtual street corners" -- websites where young gay men seek out the companionship of wealthy older suitors.
After personal ads on Craigslist drew little in the way of reliable income, Kirk went on the hunt for a "sugar daddy." He currently has a profile on a website called SeekingArrangement.com. Kirk's lithe, bare physique figures prominently in most of his profile photos, while others showcase his dark, chiseled features. He describes himself as a bachelor's degree-holding non-smoker and social drinker who's on the hunt for a "patron/daddy/boyfriend." While the price of Kirk's companionship is listed as negotiable, he generally charges about $200 an hour.
But the willingness to date for money is not limited to beleaguered young women struggling to pay off debt. An increasing number of gay male students have also taken to the web in the past several years searching for wealthy benefactors. While young gay men exchanging sex for money certainly predated the financial collapse, recent events have pushed some students to consider engaging in risky behavior that in more robust economic times might have been unthinkable, according to several owners of websites that broker such hook-ups.
The rise in the number of straight and gay college students moonlighting as "sugar babies" occurs at a time when the life plans of many 20-somethings have taken a brutal detour. Earlier this summer, the U.S. Bureau of Labor Statistics reported that half of recent graduates are underutilized -- whether they are jobless, working part time, or working in a job that doesn't require a college degree and therefore tends to pay less.
The Federal Reserve Bank of New York's quarterly report on debt recently found that delinquency rates for student loans are on the rise, with 11.2 percent of borrowers more than 90 days past due, compared with 9.5 percent of student loan borrowers during the same quarter in 2009. Further, between the first quarter of 1999 and the first quarter of 2011, student loan debt increased by a whopping 511 percent, with borrowers under the age of 30 bearing the biggest financial brunt.
While many 20-somethings embarked on their dream of a college education when a decent-paying job was virtually guaranteed as part of the package, the rules have now changed -- and a new generation is coming of age during an era of limited options.
Gautam Sharma, the 39-year-old founder of SugarDaddyForMe.com and GaySugarDaddyFinder.com, estimates that between 60 to 70 percent of his sites' sugar babies are either currently enrolled college students or recent graduates. Of Sugar Daddy For Me's 3 million members, Sharma says that about 2 million are sugar babies. Men seeking a gay sugar daddy account for about 80,000 of the site's members and of these, about a quarter list some combination of "school," "college," "university," "money for school," "student debt," "college debt," "tuition," and "college expenses" in their profile.
Another site, SeekingArrangement.com, which boasts over 800,000 members, has seen a sharp increase in users that it defines as "college sugar babies." The site's 41-year-old founder, Brandon Wade, estimates that about 35 percent of its members are college students and 90,000 are gay male sugar babies. In 2007, the site said it had 5,239 gay male sugar babies who were also enrolled in college. Today, that figure stands at 35,682.
Kirk tries to abide by a few basic ground rules when getting sex for money: he refuses to perform oral sex, always wears protection, and will only have sex as a top, never a bottom. Whenever possible, he tries to avoid having sex with supposedly straight, married men looking for a "discreet" hook-up.
"I don't want to feel objectified because of an exchange of money for sex. I want to feel equal and empowered, but I'm also really explicit that I'm just there for the money," says Kirk, who estimates that he's received money for having sex with more than 100 men in the last few years.
Kirk acknowledges that he's benefited from the largesse of his various encounters. One sugar daddy paid for two years' worth of rent on an apartment in Williamsburg, Brooklyn, while another cosigned an additional loan for school. A recent hook-up yielded a new iPhone.
For the time being, Kirk says he sees working as a part-time prostitute as a practical solution to climbing out from beneath a mountain of student debt. Kirk also works as a server at a Manhattan restaurant four nights a week and auditions for theater and film work during the day. On free nights, he regularly trawls the web, looking for a generous sugar daddy willing to take on the burden of helping him pay off his hefty loans.
But with tuition money due each month, and an endless stream of voice mails from student loan creditors, sex work is starting to feel like something Kirk can't afford not to do. The clock is ticking and Kirk knows that he won't be young and gorgeous forever.
"IT'S PASSION ALL NIGHT LONG"
"How many of you sugar babies are hungry, but not for food?" the emcee croons to a packed crowd of hundreds at the Hudson Terrace, a rooftop lounge on 46th Street in Manhattan's Hell's Kitchen. "Remember, guys: You've got to be generous. You've got to make it happen. It's passion all night long."
Seeking Arrangement regularly sponsors parties for sugar babies and sugar daddies to come out from behind their laptops and reveal themselves in open-air mixers. Seeking Arrangement, which Wade says has about 100,000 members in the New York City area alone, received about 400 RSVPs for its latest fete, a mid-August party called "Midsummer Night Affair." The party's promoter, Alan "Action" Schneider, says that more than 500 have shown up -- with men paying an entrance fee of $80 and women forking over $40.
At first glance, the crowd resembles one that could be found in any standard Midtown nightclub. The men are in suits and the women wear skintight, brightly-colored dresses. Crystal chandeliers dangling above the dance floor emit a dark, ruby light and the bar is packed, often four people deep.
But the average age of most of the men is 50 -- or older -- and they are gray-haired and balding. Most have a tubby roll of flesh around their midsections. The women, mostly black and Latina, appear to be in their mid-to-late twenties, and none look much older than 35. Many of them say they're in college.
Stephan Smith, who helps run Seeking Arrangement, says a majority of the "higher caliber" people in terms of both looks and wealth haven't come out tonight. "The daddies didn't come because of the public exposure," Smith explains. "And some of the babies didn't come because they knew the high caliber daddies weren't coming."
Wade, Smith's boss, regards gay men as the site's pioneers. "The gay community were really the first to embrace the sugar lifestyle, even more so than the straight community," Wade says. On Seeking Arrangement, individuals don't explicitly identify as gay, but merely say what they're looking for -- be it a sugar daddy or a far smaller universe of sugar mamas. "You identify your sex, you say what you're looking for, but you never have to come out and say, 'I'm straight or I'm gay.' That's been a very vital and very successful component of our site."
Career counselors and those offering discounted plastic surgery lurk at the edge of the nightclub. Sharma, Wade's competitor and the founder of Sugar Daddy For Me and Gay Sugar Daddy Finder, is standing nearby. An Indian man who speaks in accented English, Sharma wears a tuxedo and smokes a cigar. Sugar Daddy For Me also helped promote the event.
While the party skews toward straight men and women, a few young gay men are also on the prowl. Sharma says he created his sites partly because of what he describes as the "social stigma of being gay."
While there are more than 80,000 gay sugar babies on Sugar Daddy For Me, there are only about 11,000 gay sugar daddies on the site. It's partly an issue of supply and demand, Sharma says. Some of the gay sugar babies seek out the companionship of older, supposedly straight men because there don't seem to be enough gay sugar daddies to go around.
Schall mentions the tendency of older, straight men to pursue relationships with younger, gay men. "I think it's more common than people would like to believe," Schall says. "From the sugar babies that I've spoken with, the more money and the more power these older men have, the more comfortable they are flaunting their closeted homosexuality -- especially in D.C., where you have a lot of people doing things secretly and behind closed doors."
Wade concedes that men who are married and identify as straight are drawn to his site partly because of the level of anonymity it provides. "Sometimes they have a career they want to protect, or perhaps in their public life they are straight but in their private life they are perhaps gay," Wade says. "I guess I think of it as a way for people to display their true self, their true colors."
Noel Biderman, the 39-year-old founder and CEO of Avid Life Media, a social entertainment company, runs a handful of arrangement-seeking websites. One of Biderman's more successful ventures is AshleyMadison.com, a site for married people looking to have extramarital affairs. While none of his sites specifically target gay men, Biderman does operate an offshoot called DownLow.AshleyMadison.com, where married men can hunt on the "down-low" for affairs with men instead of women. Biderman says that 4.2 percent of this site's young male users, or 618 men, identify themselves as students.
Based on a written survey of 100 sugar babies in New York, Schall concluded that in both good times and bad, sugar babies seek out the companionship of sugar daddies -- gay or straight -- because they want to be able to afford a certain lifestyle.
"A lot of the people I surveyed in the gay scene were students but they weren't necessarily using the money to pay off their student loans," says Schall, who found that most of the gay respondents hailed from middle-class or even wealthy families. "Rather than paying off debt or basic expenses, most used the money to afford the extravagant and often lavish gay lifestyle. And many later found it a tough habit to break."
"In the gay scene," Jake says, "all you really have is your age or your money."
Miidway through college in Washington, D.C., Jake met his sugar daddy through a friend of a friend. He asked for anonymity to preserve his privacy.
Jake says he didn't really need the money his sugar daddy paid him, but his tastes quickly adjusted to accommodate his new lifestyle. The biggest high generally came after he spent time with his sugar daddy, when he'd walk home with bags full of newly-purchased designer clothes and expensive shoes. His pulse further quickened when he'd stop at an ATM to deposit a huge wad of cash, stunned as his previously overdrawn bank account suddenly showed thousands of dollars at his immediate disposal.
"It was such a great feeling. It gave me such a sense of independence," says Jake, who took up with a 60-year-old straight married man who he says worked in a "lofty position in the D.C. political scene." ("Jake" is not his real name, but a pseudonym he uses when meeting older men.)
Over the course of two years, they met up once or twice each month to spend long, luxurious weekends at fancy hotels in major cities. Sex was often involved, but it was not uncommon for the two to meet up for quiet, midweek dinners on Capitol Hill. In total, Jake says he made between $35,000 to $40,000.
Eventually, though, the relationship started to feel like nothing more than a transaction, with Jake seeing only dollar signs whenever the two spent time together. Growing less enamored of his sugar daddy (the two no longer speak) and with graduation looming, Jake started budgeting his money. He now uses what's left of the money to pay for basic living expenses like rent and utilities, while he continues to search for a job.
Jake says explaining his extravagant purchases to his parents, who often wonder where the money comes from, has created an unforeseen challenge. Recently, when an expensive pair of sunglasses yielded particular suspicion, Jake brushed off their accusations, saying that a close friend had loaned them to him.
While his parents paid for college, Jake has considered selling sex again in order to pay for graduate school. "Once that bank account diminishes, you start to worry," says Jake, who arranges his dark brown hair in a disheveled mohawk. He sports a scruffy beard and has brown eyes.
"Even if you hate going to your sugar daddy, the money is great so you do it. But at a certain point you start to question: Exactly how much is my soul really worth?"
Unlike in the straight world, many say they find working as an escort on the gay scene to be an accepted, even applauded practice. While none of the nearly dozen men interviewed had told their parents about their sugar daddies, nearly all had discussed them with their friends. And unlike the young women engaged in similar behavior who reported feeling great shame and remorse, the men generally seemed less traumatized by their decision. In fact, they often felt emboldened by the money they were able to earn, rather than shamed by the stigma.
Christian Grov, an assistant professor of public health at Brooklyn College and co-author of "In the Company of Men: Inside the Lives of Male Prostitutes," attributes the rise of young gay men engaged in sex work as part of a growing sense of social acceptance. Gay men engaged in sex work often face far less of a stigma than do straight women, he says. Generally speaking, Grov finds the gay culture more accepting of one-night stands and casual relationships.
In his research, which included an Internet-based sample of gay sex workers in New York City, Grov found that a significant number of gay male escorts were looking to put themselves through school. Most saw it as a temporary means to an end, rather than work they considered pursuing for the long haul. "Working as escorts allowed them to be in school and be a full-time student and also afford a halfway decent life," Grov says. "Essentially, they could be going to school and living deep in Queens, or have an apartment in Chelsea and a fancy gym membership and still live a nice life."
While Jake reports having earned vast sums of money from his sugar daddy, Grov says the going rate for men tends to be far less than for women. "It's the only profession where women can make more than men, dollar for dollar," explains Grov, who says the going rate for gay sex in New York City is about $250 an hour, though many gay male escorts charge far less.
Grov says he sees debt-strapped young men as particularly vulnerable and likely to consider sex work, especially when they can't find jobs out of school that pay a living wage. "The danger is that for some, the money can seem really easy and they worry they might become accustomed to that kind of lifestyle."
This past summer, Alex, an 18-year-old freshman at the University of California, Riverside, started looking for a sugar daddy to help pay for school. In the short term, he wanted help with $500 for books. In the long term, he must pay down about $25,000 in student loans.
Alex, who is not openly gay, has kept his behavior secret from both friends and family, fearing their reaction. His mother works as a homemaker; his father as a gardener. So far, he's met up with one man in his forties he found on Seeking Arrangement. Though the two never had sex, Alex made $300. He immediately deposited the money into a separate savings account he created for school expenses.
"I'm not using it to go out and drink or party," Alex says. "I'm using it to pay for my education. I guess I'm willing to do whatever it takes."
Alex's parents emigrated from Mexico to make a new life in California's Central Valley. But school's on him, and sometimes the pressure to afford it feels like too much.
"Everyone I know is in crisis. There are no guarantees that I'm even going to graduate and get a minimum-wage job," Alex says. "I see this as a fast, easy way to get money. Older guys are into younger guys, so I'm going for it."
Grov affirms that gay men in their twenties can typically charge the highest prices. "It's definitely a market for younger, attractive, fit men," he says. "But the window is narrow and eventually, well, gravity takes over."
In 2000, David S. Bimbi, an assistant professor of health sciences at LaGuardia Community College, conducted a study of 50 gay men between the ages of 18 and 50 who participated in Internet-based sex work. Many of the young men purposely kept apartments in Midtown Manhattan in order to meet up with businessmen before, during and after work, which freed them to go to school during the evenings.
"It allowed them to afford the lifestyle and luxuries, while living in a manner to which they'd like to become accustomed," says Bimbi, who interviewed several young men who used money made working as escorts to put themselves through school. Bimbi says a good portion of the men weren't embarrassed about what they did, seeing it as a practical, even necessary way to make ends meet. Bimbi describes a split personality when it comes to the culture of gay males involved in sex work: "Yes, they're deified like gods and models, but they're also looked down on like dirt."
Bimbi says young men look for sugar daddies as a way to avoid the stigma that would come with becoming full-time sex workers. "What they don't realize is that full-on escorts are getting paid $1,000 to $2,000 a night, not $200 an hour," says Bimbi, who sees young men resorting to sex work, whether as prostitutes or sugar daddies, with increasing frequency, especially in a down economy when affording even a basic standard of living in an expensive city can seem like an impossible task. "But this added debt thing, it's a huge motivating factor."
Adam, 22, attends Augusta State University in Georgia, where he majors in communications. Three weeks ago, he created a profile on Seeking Arrangement. Since then, he says he's received a lot of naked, "creepy" pictures, but not much else.
Adam readily admits that were it not for his debt, he would have never joined the site. He has already amassed $16,000 in student debt, and still has one more year of school, and $7,000 in tuition, to go.
"I guess I'd say this is a last resort kind of option. I mean, the amount of debt I'm accumulating is so overwhelming, I have no idea how I'm ever going to get rid of it," says Adam, who works during the day as an assistant manager at a local drugstore. "From when I started college until now, the cost of tuition has more than doubled."
Even once he gets his degree, Adam fears that he'll be unable to secure a better job. In some ways, he says he feels as though he's being set up for failure.
"You do what you need to do and I guess that's the scariest thought," Adam says. "Suddenly, having sex for money doesn't seem like such a terrible thing. But where does this all end?"
Andrew Lenoir contributed reporting.
Related
Popular in the Community