The wealth of movies exploring LGBT experiences is especially rich at this year's Sundance Film Festival, which kicks off today, Jan. 17, with a diverse, star-dusted lineup of world-premiere queer movies. Glee's Jonathan Groff (known offscreen as Zachary Quinto's boyfriend) is the star of C.O.G., the first cinematic staging of a David Sedaris work, written and directed by Kyle Patrick Alvarez. Achieving gay-trifecta status following his roles in Milk and Howl, James Franco co-directs and stars in Interior. Leather Bar., a reconstruction of the alleged S&M footage cut from Al Pacino's controversial 1980 sex thriller, Cruising.
With a different kind of nostalgia, Daniel Radcliffe reimagines a young Allen Ginsberg brought together with Jack Kerouac by a 1944 Columbia University murder in Kill Your Darlings. Add to that a documentary about Pussy Riot, an animated John Cameron Mitchell short, a chronicle of Jim McGreevy's journey from New Jersey governor to gay priest and even a movie called Kink, and you've still only tapped a trickle of what's in store from queer directors, writers, characters and performers at Sundance 2013. Here, festival director John Cooper, a gay father and former Outfest programming director, offers his take on the coming year's achievements in queer cinema.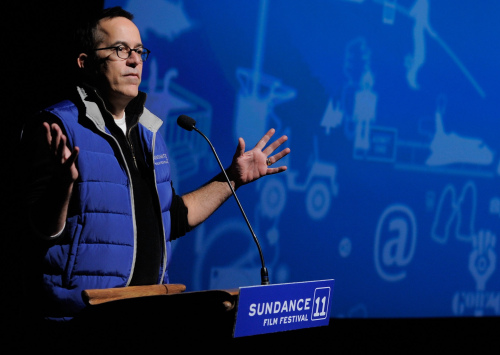 Phillip B. Crook: What is your first memory of encountering a queer story onscreen?
John Cooper: Captain Kangaroo and Mr. Rogers don't count, right? (They were always questionable to me.) There was also Dawn: Portrait of a Teenage Runaway and Adam: The Other Side of Eve, a very controversial TV show. I remember watching it with my parents. The character of Adam was a gay man who had an affair with an older man. I remember feeling very nervous and sweaty. But the first time I remember going to a movie theater and seeing real gay characters was when I saw Making Love [in 1982] with Michael Ontkean and Harry Hamlin.
Crook: What impact did that movie have on you?
Cooper: I think it was pretty profound, actually. There's something about young, gay men where you have a transference with other characters, with other outcasts or with flamboyance in some way. When you think about classic characters that were essentially gay men -- characters in Auntie Mame, for example, or early Fred Astaire musicals -- they were the sissy. They were the effeminate friend. But that moment when those characters went from being very "other" to being main characters is when it felt different to me.
Crook: What role do festivals like Sundance play in the life of a queer film?
Cooper: What's amazing about Sundance in particular is that we've always selected each film on its own merit. I know that's something filmmakers really take to heart. In some ways Sundance is mainstream -- it's not specialized aside from independent film -- so all of the films are competing in a real way to get into the festival. I think that gives power to the films that make it to Sundance, that they compete on a level playing field in the same game.
Crook: As LGBT experiences have become more visible in society at large, do you think filmmakers have felt more freedom to explore queer stories?
Cooper: Doors open, and they don't shut behind us. The films in the festival this year deal with the tapestry of real life and not so much with the "other." That's what I really liked about The Kids Are All Right, that it felt like just another family. They had all the same problems, and it wasn't about queer issues.
Crook: That seems to be a steady trend in queer cinema now, the experience of LGBT people within the larger context of family.
Cooper: Family is new -- notions of queers as families. As the world changes, so do filmmakers' interpretations of it, as well. It's safe now. Places like Sundance have created a safe and engaging place of expression.
Crook: As a father, do you feel that you connect to those kinds of stories especially?
Cooper: Absolutely. There's nothing like kids to teach you how the world really works. My kids have made me think much more modern, too. Sometimes we try to freeze our interpretation of the world. My coming of age is not the same as the coming of age for kids now. Sometimes I think it's much more difficult, but in some ways I think it is more open. In general, a lot of early queer cinema was about learning your own identity. Now, I think it's much more about, just, life -- about living an authentic life in the modern age.
Crook: What differences do you notice between the queer films coming out of the U.S. and those from the rest of the world?
Cooper: A lot of countries are still very oppressed, in a lot of ways, because they don't have the freedoms we have in America. When you think about Britain and most of Europe, we're enjoying the same sort of freedom. But there are parts of the world where people can't tell even close to the stories we can tell in America.
Crook: It will be hard to ignore James Franco this year in Interior. Leather Bar. Do you think our culture still gets worked up over a straight actor playing a gay role?
Cooper: I think most actors are beyond it. James Franco is really thinking about freedom. So this subject is almost like a living metaphor for freedom. He seems to be very interested in how we self-censor ourselves in the culture that we live in -- how, without even knowing it, our perceptions are changed by society. I think that's why he is interested in gay characters.
Crook: Is playing Allen Ginsberg in Kill Your Darlings Daniel Radcliffe's way of continuing to break perceptions of his career?
Cooper: I think so. I don't know him at all -- I've never even met him -- but it seems to me that he was drawn to a character that is well-written. I'm sure he was drawn to being well-directed. He's striving to have a more fulfilling career.
Crook: How do you think documentaries about global, sociopolitical queer issues influence an audience's view of LGBT life?
Cooper: Across the board our documentaries are very immediate and fearless. We're really seeing a very intelligent and deep perception of the society we live in, both good and bad.
Crook: Was there a moment in your history with Sundance when you had a conversation about programming queer stories specifically?
Cooper: Actually, there wasn't. I think that's why I've worked here, proudly, for 24 years. We've never had a conversation. It was just known. That's something [Robert] Redford always instilled in us: There are many kinds of stories. As long as independent filmmakers are being fearless and looking at complications in life, we aren't going to shy away from any subject. If it means something to an artist and it's done in an original way, we are there to support it.
Crook: How does that differ from your experience with programming at Outfest?
Cooper: Well, Outfest serves a community, and it's in Los Angeles, so it's serving that community. To me Sundance has always been about the greater cultural landscape of America. We have a bar at Sundance that films have to be above to make it into the festival. It's a long, hard process. You have to think about who your audience is. The effects of Sundance on the global stage have a bigger footprint than you will find with the community-based festivals.
Crook: Of all the choices at this year's festival, what is the one queer film you wouldn't dare miss?
Cooper: That's a hard question for me, but I would say Concussion is a very interesting film. It's very fresh in the subject matter and in the filmmaking. It's very powerful.
Popular in the Community