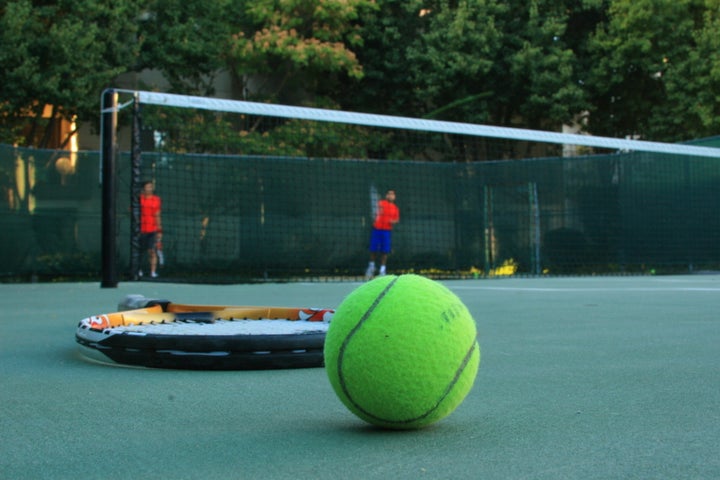 Looking ahead, I would like to beg and plead for one addition to these lists: a professional men's tennis player. Heck, not even a specific one (although, if pressed, I have some preferences). Truly, any one of them. Please.
The relationship between professional sports and sexual orientation is one that deepens with the coming out of every gay athlete (bravely done, Archer Hultzer!) and outspoken ally (you rock, Kicker Kluwe!). The work of Outsports is amazing and the families, coaches and fans who bolster and support out athletes make for some healthy and exciting stories across the athletic continuum. Sadly and oddly, those stories are not to be found in men's professional tennis.
More than four years ago, Out magazine profiled Francisco Rodriguez, a Paraguayan tennis player who became the highest ranked, out male tennis player at number #373 in the world. To be clear, anytime there are only 372 people in the world better than you, you're incredible. But, in the realm of tennis, #373 is not the stuff of legends. Heck, it's not even the stuff of televised coverage. Since that profile years ago, there have been a whopping total of zero professional male tennis players who have come out of the closet. That just doesn't make any sense.
Tennis is an individual sport and thus exists apart from the stereotypical team-pressure mentality that might inhibit an athlete's coming out. Tennis tournaments traverse the globe and thus gay pros are not beholden to any particular geography that may not be gay-accepting. And with a broad range of styles across the sport with no one "way" to win a match, you can bring your own eccentricities to the game without being labeled a nonconformist.
Further, the sport itself has proven itself to be absurdly gay friendly. There are out female professional tennis players, although they operate without the same spotlight that was directed at Billie Jean King, Martina Navratilova or even Amélie Mauresmo. Some professional tennis players spoke out publicly earlier this year when tennis legend Margaret Court asserted her opposition to gay marriage with the less-than-evolved stance that being gay is a choice. And the Gay and Lesbian Tennis Alliance, an organization that manages and sanctions a gay tennis circuit around the world, boasts tens of thousands of enthusiastic (and highly skilled!) players.
But still no professional gay male tennis player. Why?!
Justin Gimelstob, a former professional tennis player who arguably earns more notoriety for his brash and ofttimes idiotic comments than he ever did for his racquet, had this to say in that profile of Rodriguez: "The locker room couldn't be a more homophobic place. We're not gay-bashing. There's just a lot of positive normal hetero talk about pretty girls and working out and drinking beer. That's why people want to be pro athletes."
Seriously? This can't possibly be an accurate articulation of the climate for professional male tennis players. We gay tennis players and fans long for an elite male to come out in our sport and if there are changes to tennis that would make that desire more of a concrete possibility, we would enthusiastically lend our collective voice of support. We long for an out gay role model in this sport that should, by all reasoning, encourage such a player.
Until then, we will watch the 2013 season of professional tennis featuring men who glide poetically across the court in form-fitting polos monogrammed with their initials in gold filigree and wonder why none of them are gay. Or, more accurately, out.
REAL LIFE. REAL NEWS. REAL VOICES.
Help us tell more of the stories that matter from voices that too often remain unheard.