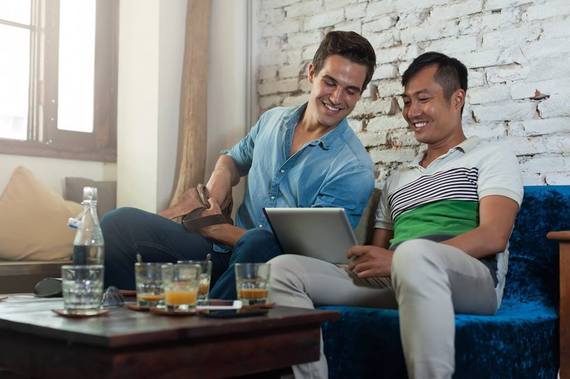 I was running the marathon in Lyon and my partner was coming with me. While researching Airbnb options, I messaged a host, telling her that I was coming with a friend -- in French, it was clear that it was a male.
She wrote back, innocently enough, "The apartment only has one bed..."
I didn't read too much into it, but I wasn't sure how to respond, so I simply said, "Well after the marathon, I'll be so tired I could sleep on the floor."
All I needed to say was that we were a couple, but this was Lyon, and I wasn't sure if I should. Yes, it's a big city in France, where marriage equality has just been passed earlier that year in 2013. Spain, the UK, even Uruguay all passed marriage equality. It seemed like progress was all around, but I avoided the potentially uncomfortable confrontation and got a hotel. I ran a miserable marathon on top of that.
The idea of having to come out on Airbnb every time I wanted to travel somewhere was somewhat jarring, and I wasn't the first to struggle with it. There are a few isolated stories of gay travelers being kicked out of their Airbnb rentals when the host discovered they were gay. Airbnb fought back last year with a touching campaign.
While this is not the norm, it's not something I want to think about when planning my vacation, especially in places beyond -- or even within -- Europe where being gay isn't so well received. Just this April, French and other European anti-marriage equality militants have been petitioning the European Union to define marriage as between a man and a woman. The battle still rages for some.
Whenever we enter a dilapidated area, however, we gays know what to do. We clean it up and make it our own. The travel industry is undergoing a bit of such gentrification as we speak, ever since gay cruises started in the 1980s. Sure, Out Traveler has existed since 2003, and Passport magazine since 2001, but we've pushed even further. Popular blogs like Two Bad Tourists and Nomadic Boys are bringing gay travel to remote corners of the world.
The idea of gay travel seems to be picking up steam in recent years, with services making it easier for all of us to travel, regardless of our sexual orientation or identity.
misterb&b, created in 2013, is a direct way to skip the coming out process by bringing together gay hosts and travelers.
LGBTQ travelers aren't the biggest users of shared economy websites like Airbnb at the moment, according to market researchers at CMI. Their 2015 report states that 17 pe of LGBTQ travelers surveyed choose a site like Airbnb or VRBO, with only 6% of travelers preferring these options for accommodation.

Misterb&b may change that. The site is working well according to its creators, and may be a way to attract more LGBTQ traveler to the shared economy. There are 50,000 hosts on the site in 134 countries -- short of the more than 2 million listings on Airbnb, but we're talking about a niche market here. This May, they are launching officially in Italy with a party in Rome, a place that Jeremy Wolf, misterb&b's community manager, calls a new gay hotspot.
But when we travel, hosts aren't the only people we encounter. I give private tours of Paris and I never really know how to respond when clients ask me, "So, how are Parisian girls?" And yes, people have asked. Do I tell them that I think they dress well and smoke too much, or do I tell them I'd rather speak about the Parisian boys? It's just awkward.
So I started promoting Paris tours for gay clients through The Gay Locals. My partner and I noticed that few companies were offering such tours, aside from Rainbow Gay Tours based in Barcelona. The founder, Eloi Morte Castelló, said that his clients appreciate not having to worry about judgement based on sexuality.
"For those travelers coming from countries where being gay is forbidden or not accepted by the society, it is a truly special experience when come here and forget about any prejudice that they might have back home," he said.
Are these services putting us in a little gay ghetto when we travel? Maybe, but I don't look at it like that. Traveling is all about experiences, and while we take the good ones with the bad ones, we all want to reduce the bad ones as much as possible.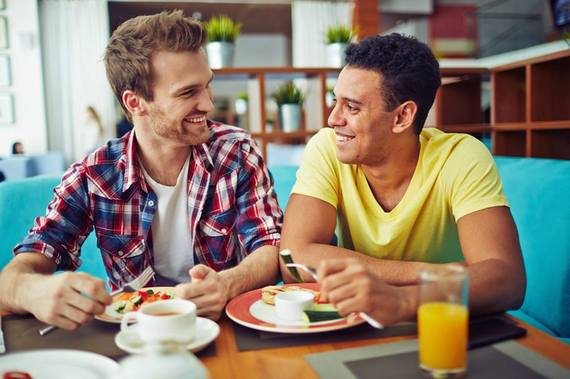 Instead, sites like misterb&b are connecting us with people who have something in common with us, who understand our concerns when traveling, and who are locals that happen to be LGBTQ. We avoid uncomfortable or even potentially dangerous experiences in some countries by seeking gay-friendly or gay service providers, and I don't think there's anything wrong with that. Besides, how much will a heterosexual guide know about backrooms and gay parties in whichever city I'm visiting next?
Maybe it's a home share on misterb&b or a gay tour, or maybe just a suggestion by a reputable gay blogger who has been to a destination recently and can vouch for it. For better or worse, we still need these options.
My partner and I don't want to travel somewhere and have to worry about discrimination or being asked to leave our homestay because we are gay. We're already worried enough about getting to and from the airport.
Popular in the Community