This year's induction ceremony at the Benjamin Dillingham III and Bridget Wilson LGBT Veterans Wall of Honor will be a more--maybe the word is "authentic"--experience for one of the wall's new inductees compared to an event he attended last year.
"Being placed on a wall along with history-making veterans like Harvey Milk is truly one of the greatest honors of my life," said Sean Sala. "I am grateful for those who believed in me through hard times. Everything I accomplished could have never happened without the pioneers who came before me. I am humbled."
At a Veterans Day event in Denton, Texas last year, the former San Diegan and veteran of the United States Navy shared a stage with a contingent of local leaders and dignitaries. He listened as the congressional district's representative to Washington D.C., Rep. Michael Burgess, a Republican with a deplorable voting record regarding LGBT equality and military service, addressed the crowd about the importance of supporting active-duty service members and veterans.
"I had no idea that Congressman Burgess was even going to be speaking that day, truth be told," Sala told LGBT Weekly. "I also didn't know what his legislative record or stance was on LGBT issues until after I personally researched it myself."
In fact, says Sala, the congressman's knowledge about, and apparently genuine concern for, veterans and military families impressed him greatly that day.
"He and I had a personal conversation on problems with the Department of Veteran's Affairs about which he echoed my concern as well," Sala said. "There was no 'gotcha' moment planned. I truly do mean this; his speech on his concern for veterans was moving and I still don't harbor any ill will toward him personally."
Currently studying law in Denton, Sala was at the event in his capacity as campus president of the Texas Woman's University's chapter of a non LGBT-specific veterans organization. His role was to introduce the university's president at the Veterans Day event.
As an aside, TWU is the Western Hemisphere's largest institution of higher education. It was originally established as a campus exclusively for women.
Sean Sala was especially moved when Congressman Burgess shook his hand and while doing so proffered a small, but meaningful gift:
"He had a challenge coin for me in his hand," Sala said. "It was completely unexpected, and I was moved."
According to an article at the official U.S. Air Force Web site, challenge coins "are a form of recognition of the hard work and excellence an individual has displayed. From coins presented by the president, a chief master sergeant or a first sergeant, their value is determined by each individual, but the true history of the challenge coin dates back to World War I, when an American pilot was shot down and captured in Germany."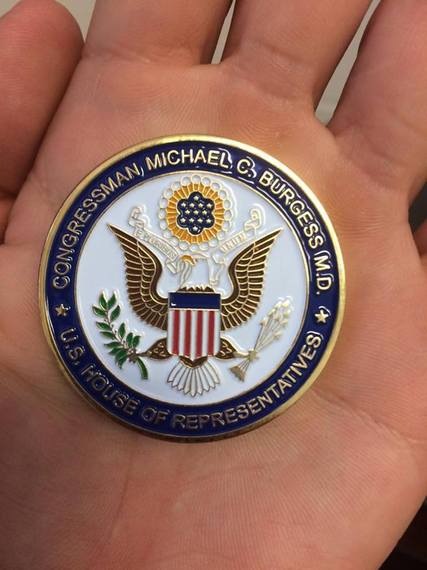 (The "challenge coin" medallion with which Congressman Burgess honored Sala at a ceremony in Denton, Texas on Veterans Day, 2015)
Sala doesn't think the congressman would have held back from honoring him for his service had he realized he was gay. However, because the interaction was unplanned it's likely Rep. Burgess was unaware that Sean Sala is a gay veteran and an activist with a long history of leading LGBT veterans-rights and equality efforts.
Among some of Sala's activism work is that which he performed while a member of the National Leadership Committee of Servicemembers United prior to its merger with American Military Partners Association.
Sala also organized the first contingent of active-duty members of the U.S. armed services march in an LGBT Pride parade. It was an act of defiance that happened before the repeal of Don't Ask, Don't Tell, the law that made it unlawful to serve openly as anything other than heterosexual in the U.S. Military.
"I established this wall to honor our great LGBT veterans who have been serving our great nation since the Revolutionary War," said San Diego City Commissioner Nicole Murray Ramirez, who will be inducting Sala and 11 other LGBT veterans from across the U.S. this week. "Just as we are proud of Harvey Milk, who was stationed here during his time in the Navy, we are also proud of Sean Sala, who was also stationed in San Diego."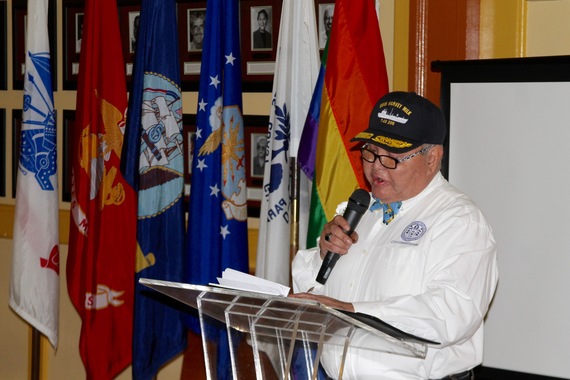 (Nicole Murray Ramirez kicks off the 2016 induction ceremony at the Benjamin F. Dillingham and Bridget Wilson LGBT Veterans Wall of Honor in San Diego late last week (Photo: Big Mike Phillips)
For nearly a year, Sala has ruminated about the uncomfortable way he felt after Congressman Burgess laid words of heavy praise upon him on stage and one-on-one in 2015. During the past 12 months, he has thought about how the Republican legislator was a supporter of anti-equality laws that hurt LGBT people, and how his votes forced lesbian, gay, bisexual and transgender service members into the darkness.
Sala has also thought about how suicide among active-duty service members and veterans is far higher than it is among the general population and how the rate of deaths by suicide is even higher for LGBT members of the military.
In fact, a 2016 study found that an average of 20 veterans die by suicide every day, a rate that is at least 21 percent higher than the general population. Meanwhile, another study found that across their lifetimes, lesbian, gay and bisexual veterans were three times more likely to die by suicide than were their straight counterparts.
For more than 11 months, Sala, a recipient of the Iraqi Campaign Medal, who only learned about Rep. Michael Burgess's stridently anti-LGBT voting record after accepting the congressman's gift of a challenge coin and his kind words of praise, has lamented a lost opportunity to try to persuade one influential anti-equality American to rethink his position.Sala has wondered if there might have been a way to persuade Burgess to change his mind about LGBT Americans.
"That's when I got the idea about an publishing an open letter to the congressman," Sala told LGBT Weekly.
In a spirit of fairness, Sala sent Congressman Burgess an advance copy of the letter.
Sala wrote his letter in the weeks before the fervently anti-LGBT Trump-Pence ticket seemd highly unlikely to win the White House. While campaigning, the GOP nominees promised to roll back most, if not all of the gains the LGBT community made during the Obama years.
Without further ado, here are one brave former sailor's words to a powerful elected official from Texas, imploring him to protect the rights of lesbian, gay, bisexual and transgender Americans to serve their country in our nation's armed forces...
AN OPEN LETTER TO HON. REP. MICHAEL C. BURGESS
UNITED STATES HOUSE OF REPRESENTATIVES, WASHINGTON, D.C.
To the Honorable Congressman Burgess:
Another Veterans day is soon to be upon us: another day to reflect and remember the sacrifices made by our men and women in uniform who so selflessly serve our nation and heed the call to protect freedom and democracy around the world.
I had the honor of meeting you last year at the Veterans Day celebration in Denton, Texas at Denton Square. You and I shared the stage, sir. I was moved by your speech and by the memories you shared about touring Iraq and meeting our men and women in uniform serving in combat zones.
I listened with interest as you stressed to the hundreds of veterans, service members and their families that we need to support and defend our veterans now more than ever before. I am not embarrassed to admit that your speech moved me to tears. Sir, your message on that Veterans Day filled my heart with pride and with gratitude. I knew, with soul-deep certainty that your passion for Americans who serve--for all who have ever served, no matter where we come from, no matter who we are and no matter what our creed--is real and heartfelt.
After the ceremony ended and the crowds had scattered, you and I enjoyed a private conversation. I was impressed that you took time out to speak with me, not caring whether or not there was an audience or media there to give you credit for doing so.
We talked about where I had served. We talked about the challenges ahead and obstacles that must be
overcome in order to properly provide services to veterans. Then when you shook my hand, Congressman Burgess, I felt the cool metal of a challenge coin bearing your name to honor me for my service. I was truly honored, Congressman. I walked away from that ceremony feeling that you, to the best of your ability, are fighting for me and for all of the other folks who, like me, fight for freedom and for our unmatchable American way of life.
Yet there are service members and veterans who for decades have been left in the shadows. Even with the great strides that have been made recently for these women and men in uniform, all of whom are veterans who once risked it all in defense of freedom, there is still a great distance to go before we are equal in the eyes of the government. Stubborn bulwarks still block our way forward to actual equality in the ranks.
Congressman Burgess, I hope knowing that you gave your valuable time, your inspiration, your support and your encouragement to this gay American veteran won't cause you any regret about how you spent Veterans Day at Denton Square in 2015.
I've looked at your Congressional record. When it comes to LGBT issues, I am disheartened. Time and time again, whether it was voting against marriage equality, or workplace protections, or the very law that was the most profane of all, at least from a gay service member's or family member's perspective, legislation repealing the policy known as "Don't Ask, Don't Tell," you have voted to uphold laws that marginalize LGBT people...that marginalize me...at every opportunity.
You called the repeal of "Don't Ask, Don't Tell" a "social experiment." Fifteen-thousand to 17,000 service members representing tens of millions of dollars in tax payer's investment, who raised their hands just like everyone else and laid down their lives, liberties and fortunes to you were no more than a "social experiment?" Congressman Burgess, that is not the gentlemen I got to know for brief and shining moment in Denton Square, sir!
I cannot stress to you how injurious such a statement is. May I ask with all the humility I can muster, honorable sir, please hear these words with new ears: Calling our military service "a social experiment" as we give it all to defend your freedom and your equality back home is...I don't have a word for it, sir.
The Stars and Stripes lists total gay discharges at 114,000 in our military's history. Many service members were treated like felons and given discharge status' that ruined their lives. Some were greeted with dishonorable discharges simply for being gay only after returning from war with injuries, illnesses and lost limbs, having discovered that the decision to discharge them had been made prior to their being sent to battlefields.
To force these service members to remain silent, legislators and presidents--you are not the only one to blame, Congressman Burgess--have belittled the service of thousands upon thousands of Marines, soldiers, sailors, airmen, hospital corpsmen, coastguardsmen and women across the decades.
Sir, I do not believe based that you have such dark intentions in your heart. Nevertheless, the effect of your votes are real and have done damage in the fast. We now have thirty-two states in which LGBT people, many of whom are veterans, can be fired from a job for being LGBT. I must ask you simply, how is this fair?
How can we live in a country that takes men and women who are the very best and treat them as if they are the very worst? How can you meet me as a former sailor and praise my sacrifice, while your voting record robs me of my dignity?
I am asking you respectfully by penning this letter, that you embrace the goodness of our country, the goodness of America, the promise of our Constitution and the righteousness of your God-given soul. I fought for you and would do so again without pause. Will you fight for me now, sir?
Veteran, United States Navy, Operations Specialist Second Class
Calling all HuffPost superfans!
Sign up for membership to become a founding member and help shape HuffPost's next chapter