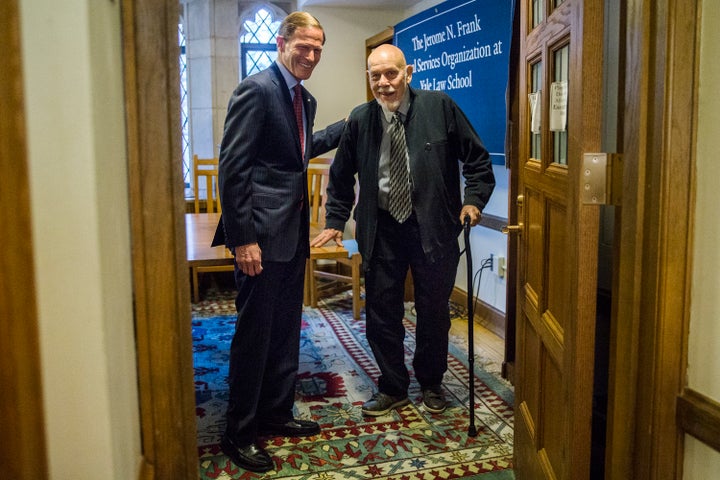 In 1948, H. Edward Spires, received an "undesirable" discharge from the Air Force for being gay.
On Jan. 6, the 91-year-old man from Norwalk, Connecticut finally got the "honorable" discharge status he was denied 68 years ago.
"My first thought was, 'It's about time," Spires told the Hartford Courant. "I can lift my head again."
The change in status is the result of a federal lawsuit Spires and a group of lawyers at the Yale Veterans Legal Services Clinic filed against the Air Force in November.
In 1946 Spires enlisted in the Air Force at the age of 20. He was assigned to be a chaplain's assistant at Lackland Air Force Base in San Antonio, Texas. A little over a year later, he was promoted from private to sergeant. The entire time, Spires kept his sexual orientation a secret.
Spires' military career became jeopardized in October 1947, when the base's commander announced a plan to "clean up the base of homosexuals," according to a complaint filed in federal court.
That Halloween Spires attended an off-base costume party in which he dressed up as "That New Oxydol Sparkle," a nod to a then-popular ad for laundry detergent. Someone at the party recognized him and mistook his eye-catching and sparkly costume for drag.
Spires was soon dragged into the judge advocate's office where he was repeatedly asked if he was gay. Towards the end of the interrogation, which Spires describes in the complaint as "horrific and unbearable," he signed a statement saying that he had "passively participated in homosexual acts," per the complaint.
The document also states that soon thereafter, a psychiatrist deemed Spires homosexual and he was given an undesirable discharge in 1948. 
Ashamed and wishing to keep his sexuality a secret from his family, he made fake documentation of an honorable discharge.
Spires lived with the weight of this experience until 2010 when "Don't Ask, Don't Tell" was repealed and Spires became eligible to apply for status change.
He applied, but the Air Force Board for Corrections of Military Records rejected his request, claiming that his personal records were likely destroyed in a 1973 fire. Yet, Spires' luck changed when he was contacted by a group of lawyers from Yale who said they wanted to take on his case. His legal team soon found Spires' service number, which proved he had served per NBC News.
Thanks to the status change, Spires, who wishes to have a military funeral, he is now eligible to have one. It's a great comfort to the 91-year-old, who recently battled a severe case of pneumonia.
"I'm still recovering from pneumonia but every day seems a little brighter," he told the Hartford Courant. "This is one thing less on my mind ... I can smile again."
Calling all HuffPost superfans!
Sign up for membership to become a founding member and help shape HuffPost's next chapter
BEFORE YOU GO
PHOTO GALLERY
15 Impactful LGBTQ GoFundMe Campaigns