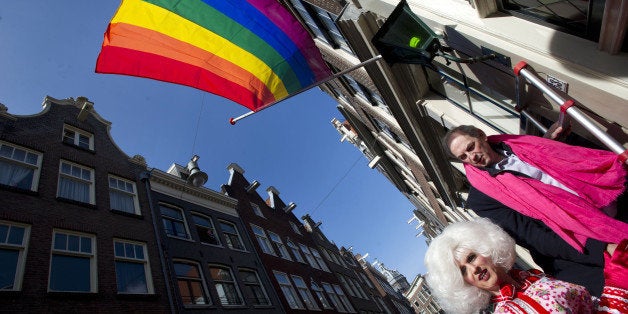 Wanting to make a point about the violence facing the lesbian, gay, bisexual and transgender community in the Netherlands, a Dutch gay rights group this week orchestrated an elaborate hoax that successfully fooled many around the world.
"#RozeMaandag doesn't want to exclude, but positively include #Gayvillage #hoax," the organization wrote in a tweet Wednesday.
When news of the gays-only village made headlines earlier this week, many in the Netherlands expressed their outrage at the plan.
Local gay advocacy group COC condemned the idea, saying it didn't believe that a segregated neighborhood would be the "right solution to unsafe living surroundings for Dutch LGBTs." Several Dutch celebrities voiced their disdain, as well.
TV personality Peter van der Vorst said he hoped "this enclosed gay ghetto is just a joke," per NLTimes. Talk show host Cornald Maas told his Twitter followers that he found the plan "shameful and moronic."
The Rose Maandag foundation said this week it is "happy" at the reactions the hoax provoked.
"We are happy with the thousands of negative reactions, and the fewer positive ones," the foundation said in a statement, per NLTimes. "It is great to hear that the majority is against the idea. All we wanted was to create awareness, and we are certain that we succeeded in this."
Last year, the Central Bureau for Statistics of the Netherlands released a report stating that 30 percent of lesbians and 22 percent of gay men felt "unsafe in their own neighborhood" in 2012. The same report said that homosexuals were "more often victims of crime" than bisexual and heterosexual individuals.
Ultimately, the Rose Maandag foundation says it hopes the hoax will prompt discussions about how the Netherlands as a whole can become a safe space for the LGBT community.
"Gay Village Tilburg may not be real, [but] intolerance against the gay community is," the group wrote on its website Thursday, per a HuffPost translation. "A safe residential situation is not obvious for everyone. Members of the gay community are faced with discrimination and violence every day. Gay village is not a solution to that problem, but the idea responds to a need [which has been shown today] to really exist."