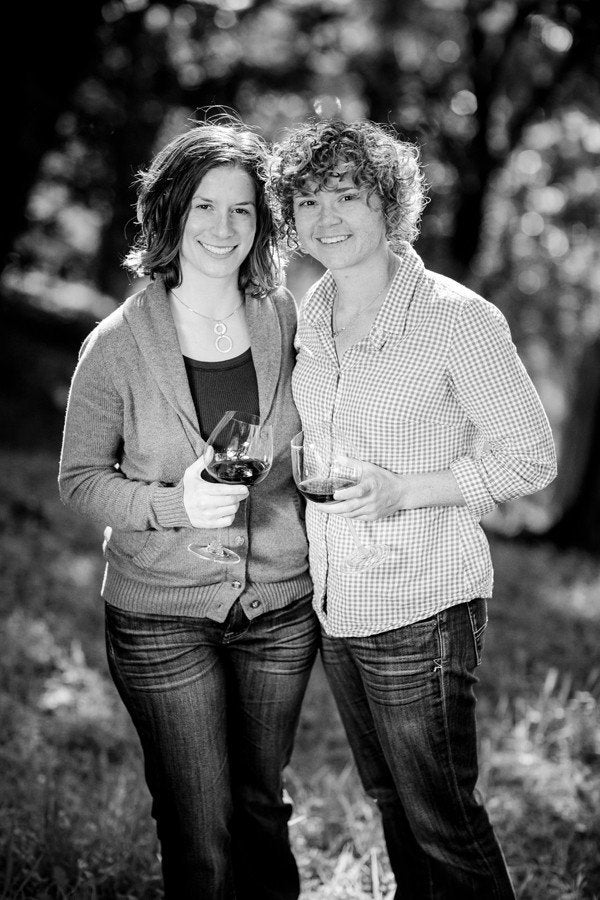 In fourth grade I wanted to be a writer. In college I decided to go into the field of sports medicine as a kinesiologist. And at age 32 I became a vintner. My fiancée, Dana Sabin, and I started Stand Tall Wine Co. because we wanted to create wine labels for causes we stand tall for, and as a means of fundraising for organizations. We work full-time Monday through Friday in our vocations, and we run the wine company in the evenings and on the weekends. We sleep from 1:30 a.m. to 5 a.m.
In September 2012 we released "Genetic,'" a 2010 pinot noir from Willamette Valley, and we are proud that it is an LGBTQ wine label. Why "Genetic"? Because we both have siblings who are gay: All three of the Sabin children are gay, and two out of the four Stephenson children are gay. We like those odds! We knew it would be risky creating an LGBTQ label. Most wine companies create labels to please the masses, but we wanted to take the chance of creating a minority label that represented us. This label will give people another opportunity to support LGBTQ rights and a local Napa organization. A percentage of "Genetic" sales are donated to the Napa LGBTQ Project, a local LGBTQ organization started by On the Move. Our goal is to have each label we create give back to an organization for the cause that inspired the label.
We're at the beginning stages of learning about all the wonderful ABC and TTB laws we have the joy of following. (By the way, they do not accept unborn firstborn children in exchange for an ABC license; however, the DMV did accept our unborn second child as payment for renewing our driver's licenses.) And we have a long road ahead of us as we try to get "Genetic" onto shelves in stores and on restaurant menus.
It isn't difficult being an openly gay vintner, but as is the case when starting any business, there are hurdles. We've added plyometrics into our workout routines so that we're able to clear those hurdles, and we're asking a lot of questions of those who are already successful in the wine industry. Stand Tall Wine Co. has been pieced together not just by me and Dana but with much help from our family and friends... and those same folks are the first purchasers of "Genetic"!
Our family: Laura took our idea for the label and created what it is today (and will be for the next 10 vintages); Ryan helped us with our website; David sold us the pinot noir; Susan encouraged us along the way; and my family is still astonished that we pulled this off, but they have been very supportive. Our friends: Austin answers all the crazy winemaking questions we have ("You use what yeast? Is that legal?"); Elizabeth attacked this blog post and our press release with a red pen that she refilled three times with ink; Diana and Vish tried to explain branding to us numerous times; Janet has referred us to wine industry resources and reaffirmed our need to do this; Lester and Megan are phenomenal lawyers who keep us legal; and to everyone else who has helped in their own ways, thank you! It might take a village to raise a child, but when it comes to running a wine company, it takes one village to grow the grapes, another to make the wine, another to market the wine, four villages to distribute the wine, and one person to drink it.
Calling all HuffPost superfans!
Sign up for membership to become a founding member and help shape HuffPost's next chapter