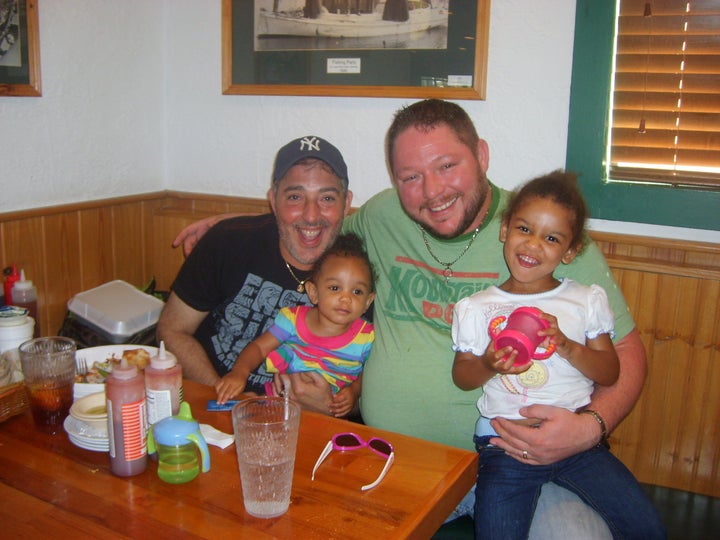 As part of our Family Friday series, every week we spotlight one family, share the story of their love and send lots of love and support to them from our own huge family all over the world.
Since we've launched our Family Friday series, we've gotten so many beautiful submissions from you and we've been genuinely touched by your stories. Your families are beautiful. Thank you.
You are going to LOVE this family. Last month, while we were still highlighting LGBT adoption and the families that came together through adoption, in partnership with the Family Equality Council, Jack reached out to us to share his family's inspirational story. Jack and Johnny have a very special family and have been sharing a lot with their readers on their blog, Our Forever Family. They've taken some time to answer some of our questions here, so without further delay: Meet Jack, Johnny, Jada and Naviha.
How did you and your partner meet?
We met like so many people have: we met at a local gay bar in West Palm Beach on May 7, 2005. We both never thought we would meet the love of our lives at a bar, but stranger things have happened.
How long have you guys been together? Are you married, planning on it? If so tell us about your wedding/wedding plans. Will you/did you have to leave your state to get hitched? If you're not planning to and you're in the "we don't need to get married camp," feel free to talk about that, too.
May 7th we had been together for eight years. Back in 2010, before the adoption laws changed, we were planning to move to Boston, so we could be married and adopt children. We planned our trip for Thanksgiving 2010. Before we left for the trip, things changed in Florida and we were able to pursue adoption, so we decided not to move, but still went on a great vacation. When we were in Boston, we were legally married in Boston Public Garden on December 2, 2010.
How has your extended family embraced your nuclear one?
Our extended family has truly embraced our nuclear one. We have always been so fortunate to have such a supportive family, and in return our girls have such a huge family. We both come for such large families.
Tell us about your adoption process.
Our adoption process was a little out of the norm. It started very normally, though. In December 2010, after we returned for Boston, we registered for adoption orientation with Children's Home Society in West Palm Beach. We were a little nervous because these would be the first MAPP classes that would include open gay and lesbian candidates. Everything went great and the classes were wonderful. The classes stated in February and ended in April of 2011. Then we just needed to wait for our home study to be complete before we could start being matched with potential a child/children.
Here is where things went off the beaten path. We received a call on Thursday, May 4, 2011 that there were two girls, siblings, one and three years old that needed a home. We could not believe this was happening. There was a catch: the girls needed to come home to us the next day. Without knowing any real details, not knowing their history, not even seeing them, we agreed to become the daddies of these two little girls. We still had to wait, the judge needed to remove the girls from the current foster mother, who was neglecting the girls, and move them into our custody. After a long day of waiting, we received the call around 3PM on Friday, May 5, 2011 that the girls were coming home to us.
We rushed home from work to await the arrival of our new daughters. By 5PM, the girls' case worker arrived with our adoption coordinator. When we saw them, we were in complete shock. We just could not believe our dream of having a family of our own was finally coming true. After signing a ton of paper work, about an hour passed and both the social worker and out adoption coordinator left our girls with us. We spent that evening and weekend shopping. The girls had nothing and we had nothing yet since we did not know the sex or age of the child/children we were going to have. We bought clothes, shoes, furniture, toys, car seats, etc. It was an insane weekend. The greatest thing was before the night was over, the girls we calling us "Daddy." Now the girls call is Big Daddy and Small Daddy.
Usually, the process take some time, you go through a selection process and hope to be matched with a child. After that, you will go through disclosure, during which you learn the history of the child. From what we were told, we were the only completed home study that was willing to take siblings, who were of a different race, and a child with medical needs. Our youngest takes anti-seizure medication due to injuries caused by the biological parents. Also, if we did not agree to take them, they would have been separated and placed in separate foster homes. So we did not only create a family, but we kept one together.
After 90 days have passed, you can petition for adoption. We were very fortunate that we were approved exactly on the 90th day, so on August 5, 2011 we finalized the adoption of our daughters. We were told we were the first openly gay couple for finalize an adoption in Palm Beach County Florida. We were really proud of this, but was also did not want to become the poster child, so we kept our whole process quiet. Over all, our adoption process was a great experience, we were treated just like every other couple, except Florida law only allows married couples to adopt jointly and since Florida does not recognize our marriage, only one of us was able to adopt the girls. However, our lawyer drew up every kind of document possible and in the future we are hoping to be able to do a second parent adoption.
What makes your proudest of your family?
What makes us proudest is just watching our girls learn and grow. Knowing what we have done to better their lives and what they have done to better ours. We are just proud of everything that encompasses being a parent. We are also proud that we are a part of the change in our society where families that are different are treated like all the rest.
How do you explain anti-gay sentiments to your children?
Fortunately, we have not experienced much of this; we had one issue when the girls first came home to us in a Wal-Mart where we were told, in front of the girls, that "Fagots cannot have kids!" Thankfully the girls were young and really did not notice the confrontation. The little one is three now, so she still is not fully understanding this, but our oldest, she understands that our family is different. We have only spoken to her so far in general terms about how some people do not like families like ours for many reasons, because she has two daddies, or because we are a multiracial family. We just instill in our girls that all families are different, but at the same time other families are no different than our own.
I'm going to leave this open for you to talk more about your family and your wishes for them in 2013.
Since the girls have come home to us, we have been through many different changes. We recently moved to Atlanta because we felt it was a better place to raise children and it would afford our girls more of an opportunity. Our wishes for 2013 are continued growth for our children -- they have grown so much physically and mentally over the past year and a half they have been with us. We wish nothing but the best for us as a couple, after moving we have new career paths that we feel are more beneficial for our family. We wish everyone in our lives happiness, health, and prosperity. Our biggest wish for 2013 is finding a new baby sitter in the Atlanta area we trust so that daddies can have an evening out!
You can see a few photos of Jack and Johnny's family below. To see more families and learn how to share your own, scroll to the bottom.
PHOTO GALLERY
Meet Jack and Johnny's Family
REMINDER: If you'd like your own family featured on a Family Friday, please email us at gayvoices@huffingtonpost.com. Remember that family is what we make it, so if your family is you and the pack of LGBT folks who you'd go to the mats for, send them over. We want to see them, too.
REAL LIFE. REAL NEWS. REAL VOICES.
Help us tell more of the stories that matter from voices that too often remain unheard.
BEFORE YOU GO
PHOTO GALLERY
Gay Voices First #FamilyFriday!