An Idaho waiter got an upsetting and anti-gay surprise after serving two customers. 
Britton Weaver, a server at Marie Callenders in Boise, recently attended to an ostensibly "nice middle-aged couple" during lunch, according to KIVI. While the two were courteous during the meal, Weaever got an unwelcome present when he went to pick up the bill after they had left the restaurant. 
Instead of signing a name on the receipt, the customers signed it as "straight," he told the network.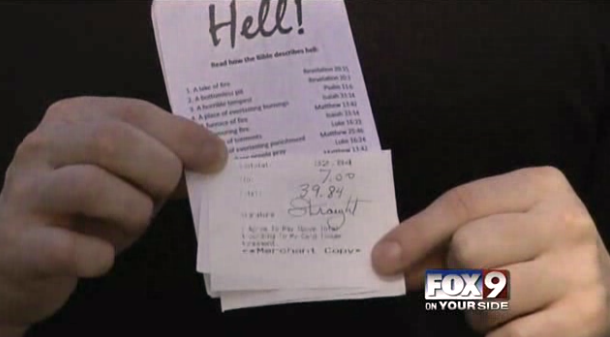 They also left behind a religious pamphlet about hell with a 20 percent tip. "Go change your ways, God will forgive you. That is what the pamphlet says," Weaver noted.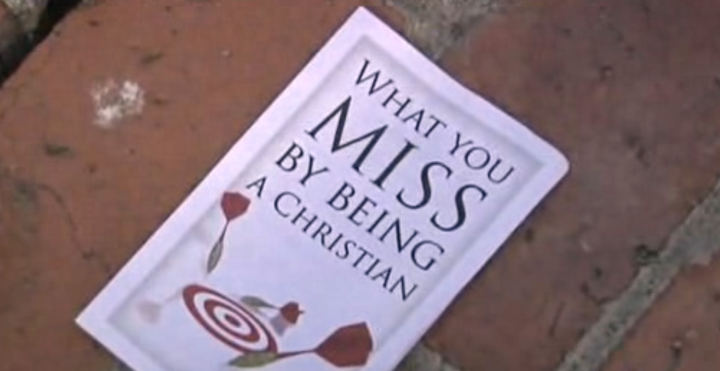 Weaver told The Huffington Post in an email Thursday there was no indication during the meal that the couple would respond in such a way. If he could talk to the diners today, he would tell them to think twice next time. 
"[I would just ask them] to think about what they are doing before they leave stuff like that," he wrote to HuffPost. "What if someone went home and killed themselves because they were insecure about themselves? Also, why judge me? Doesn't God say to not judge others?"
A representative for Marie Callenders was not immediately available for further comment, but Weaver said they have been supportive. 
PHOTO GALLERY
Outrageous Receipts (EXPLICIT LANGUAGE)
Calling all HuffPost superfans!
Sign up for membership to become a founding member and help shape HuffPost's next chapter