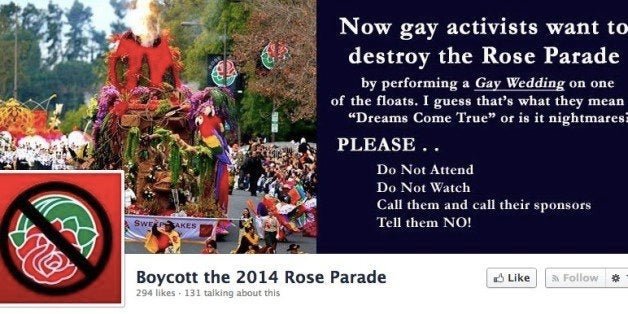 A small backlash is brewing over plans to include a gay wedding ceremony at the 2014 Rose Parade, which this year is themed "Dreams Come True."
Long-term gay couple Aubrey Loots and Danny Leclair are to be married atop the AIDS Healthcare Foundation's wedding cake-shaped float. Sharon Raphael and Mina Meyer, a recently-married lesbian couple who have been together for 42 years, will also join Loots and Leclair on the float.
San Diego resident Karen Grube launched a Facebook page campaign against the planned wedding ceremony, asking people to stay home and keep the TV off on the day of the Rose Parade to boycott the marriage equality message. Grube also encouraged people to contact Rose Parade sponsors like Disneyland, the Los Angeles Times and Taco Bell to voice their opposition.
"Now gay activists want to destroy the Rose Parade by performing a Gay Wedding [emphasis hers] on one of the floats," says the Facebook page's cover photo. "I guess that's what they mean by 'Dreams Come True' or is it nightmares?"
"Gay marriage is illegal in over 30 states, why would they promote something that is blatantly illegal?" Grube said to Pasadena Star-News. "That's just stupid."
Ralph E. Shaffer, a professor emeritus of history at Cal Poly Pomona, also told the Star-News that Loots and Leclair's "in your face" ceremony could ultimately be detrimental to the marriage equality cause.
"The problem is going to be the wedding kiss," Shaffer said to Pasadena Star-News. "I don't know what the response is going to be," he said.
AHF President Michael Weinstein responded to Shaffer's comments in a phone interview with The Huffington Post, calling the ceremony float a celebration of love, long-term relationships and marriage equality as the "law of the land."
"Aggression is in the eye of the beholder," said Weinstein to HuffPost. "The suggestion that same-sex couples have less of a right to exhibit their love for one another than heterosexual couples is a form of discrimination."
Weinstein also dismissed Grube's protest and praised the Tournament of Roses for its support.
"It's a tempest in a teapot," said Weinstein to HuffPost. "This opposition is minor and we've got great support from the Tournament of Roses, and we look forward to a wonderful day on January 1st."
After the Pasadena Star-News published their article, Grube posted it to the protest campaign's Facebook page and had this reaction:
"I was appalled to see the prepared statement from the Tournament of Roses that the [sic] 'welcomed' the float. Good grief! Can they be that clueless?"
As of this story's publish time, Grube's group had fewer than 300 "Likes" on Facebook.

REAL LIFE. REAL NEWS. REAL VOICES.
Help us tell more of the stories that matter from voices that too often remain unheard.
BEFORE YOU GO
PHOTO GALLERY
The Best Gay Kisses