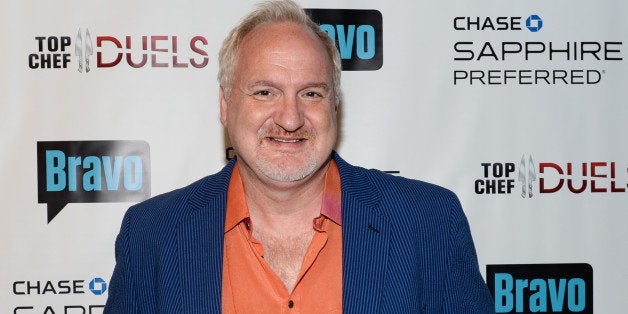 If you've ever wanted to have your wedding forever cemented in queer history, now is your chance to get married on national television.
Chef Art Smith will oversee an upcoming gay wedding on a special episode of the hit reality TV show "Top Chef." Details are sparse at this time, but according to an e-mail sent to The Huffington Post and Popnography.com, the special will air later this year and producers are currently looking for couples who might want to tie the knot on the popular cooking competition.
In other gay wedding news, Smith is set once again to throw his "101 Gay Weddings" event, this time in the city of Atlanta, Georgia. "101 Gay Weddings" is a mass gay wedding that any queer couple looking to tie the knot can take part in.
The self-proclaimed "Queerest Chef in America" previously held the [same] event on Miami Beach, immediately after Florida lifted its ban on same-sex marriage.
Smith will host the Atlanta installment of "101 Gay Weddings" alongside husband Jesus, with whom he will soon celebrate five years of marital bliss.
"We've written books, opened restaurants and cook for a galaxy of stars but not having someone to share it with its meaningless," Smith said of his time working in the industry with Jesus. "I'm thrilled to be making all these foodie kids dreams come true by the first cooking show mass gay wedding in television history. It's amazing that it all started with food activism, 'Take The Hate Off The Plate,' 'Big Gay Ice Cream Social,' '101 Gay Weddings' and now 'Bravo Top Chef Big Fat Gay Wedding.' A little bit of fried chicken has made a lot of love and continues to make more."
The "101 Gay Weddings" in Atlanta will take place Sunday, June 28, 2015 from 1:00-6:00 p.m. The first 101 couples to tweet #101GayWeddings to @ChefArtSmith will be invited to participate in the free wedding and each couple invited will be able to bring to guests to share in the special day.
Popular in the Community