After the Supreme Court struck down the Defense of Marriage Act last month, John Arthur and his partner of 20 years, Jim Obergefell, decided it was finally time to tie the knot. There were just a few problems: The two live in Ohio, where same-sex marriage is not legal, and, more devastatingly, Arthur had become bedridden since being diagnosed with ALS (a progressive neurological condition also known as Lou Gehrig's disease) two years ago.
So they enlisted the help of their friends, doctors and nurses to rent a special medical transport plane (to accommodate Arthur's stretcher) and flew to Maryland to get married, Cincinnati.com reported Sunday.
On Thursday, along with a nurse and their officiant (Arthur's aunt), Arthur and Obergefell flew to Baltimore and held a quiet, simple ceremony on the plane as it sat on the tarmac at the airport. They spent 56 minutes in Baltimore before flying back to Cincinnati.
"We met for the first time. My life didn't change, your life didn't change. We met a second time. Still nothing changed. Then we met a third time, and everything changed," Obergefell said during the ceremony. "As you recently said, it was love at third sight. And for the past 20 years, six months and 11 days, it's been love at every sight."
Afterwards, Arthur said he was "overjoyed."
"I'm very proud to be an American and able to openly share my love for the record. And I feel like the luckiest guy in the world," Arthur said.
Watch the video above to see Arthur and Obergefell's wedding.
Another long-term gay couple, William Campbell and John Hilton, went through a similar situation when Campbell was diagnosed with Parkinson's disease; however Campbell died in 2011, before same-sex marriage was legalized in their home state of New York.
Click through the slideshow below to see photos taken after the Defense of Marriage Act and California's Proposition 8 were ruled unconstitutional.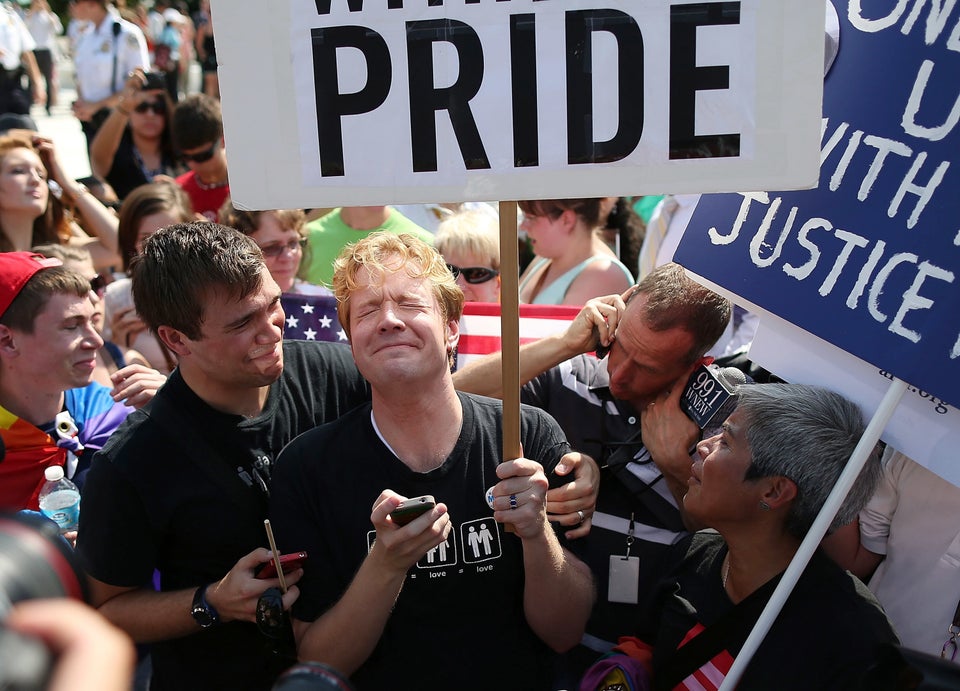 SCOTUS Decisions On Prop 8, Defense Of Marriage Act