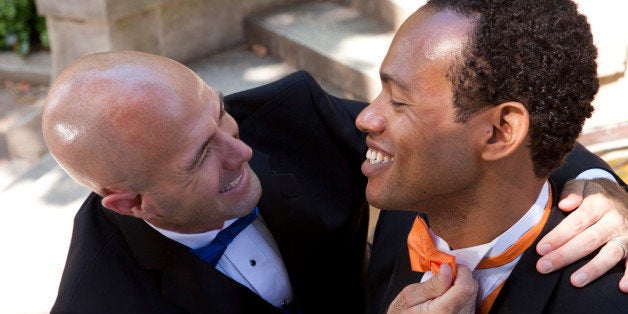 A new survey reveals that gay couples are taking a strikingly different approach to wedding planning than their heterosexual counterparts.
The Knot teamed with The Advocate to survey gay and lesbian couples about their wedding planning habits, and released the results of their first Same-Sex Wedding Survey on Friday. The findings indicate that same-sex couples are more likely than straight couples to forgo tradition in many aspects of wedding planning.
Same-sex couples were less likely than heterosexual couples to have a "formal" proposal (40 percent simply "decided to get married"). They were also more likely to evenly split wedding planning duties and pay for the wedding themselves (86 percent, compared to 40 percent of straight couples), as well as call their wedding "casual."
Straight couples reported having more pre-wedding events -- 22 percent had a bridal shower and 25 percent had a bachelor or bachelorette party, while just 8 percent of gay couples had a shower and 13 percent had a bachelor or bachelorette party.
On the Big Day, gay couples were less likely to be walked down the aisle by a family member -- 35 percent will be escorted, compared to 74 percent of straight partners. Same-sex couples were more likely to be married by a justice of the peace (22 percent, as opposed to 8 percent of straight couples). And while 39 percent of straight couples said religious vows, 45 percent of gay couples wrote their own.
The survey found that 76 percent of brides take their groom's name after the wedding, whereas 62 percent of gay couples kept their own names.
However, lesbian couples were more likely to adopt traditions like a formal proposal, a walk down the aisle and one partner's name being taken by both.
On Wednesday, the Supreme Court struck down the portion of the Defense of Marriage Act that made it illegal for married same-sex couples to receive federal marriage benefits and repealed California's gay marriage ban, Proposition 8. An estimated 37,000 gay and lesbian couples are expected to wed in California over the next three years, according to UCLA's Williams Institute.
According to Pew Research Center, at least 71,165 gay couples have married in the U.S. since Massachusetts became the first state to legalize gay marriage in 2004. A Pew poll revealed that 52 percent of LGBT Americans would like to get married some day.
Click through the slideshow below to see gorgeous same-sex wedding photos.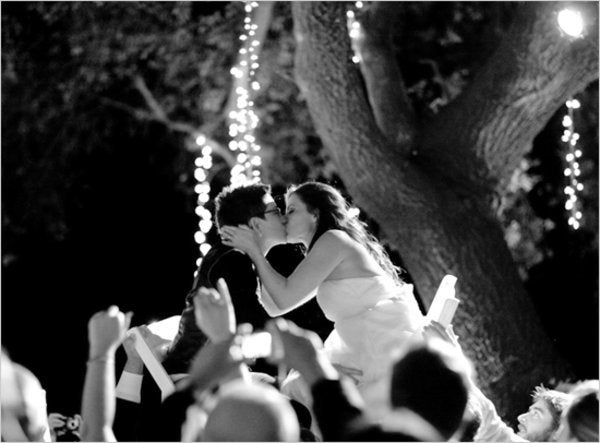 Beautiful Same-Sex Weddings