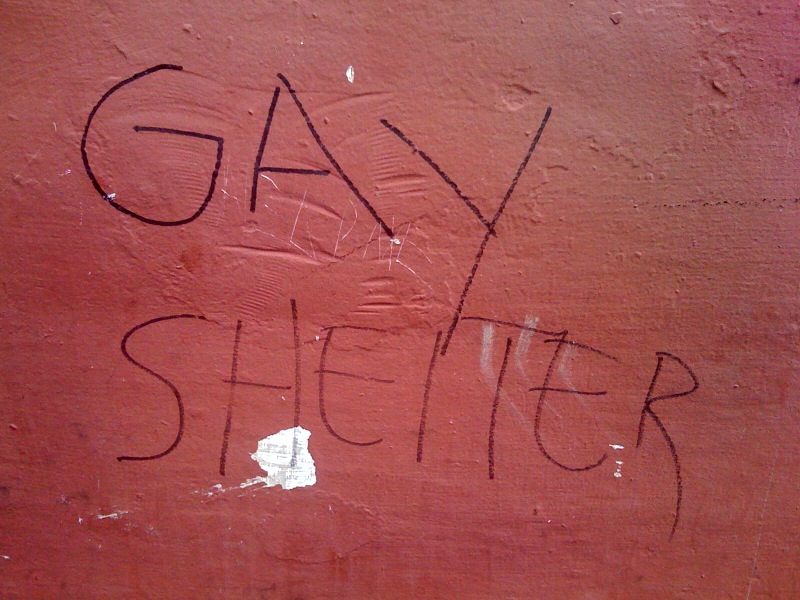 On Wednesday night, a gay youth homeless shelter was vandalized with anti-gay graffiti that read; "We don't want gay people here."
The shelter, located in Queens, is operated by New York City's Ali Forney Center, the nation's largest organization serving homeless LGBT youth. "Gay shelter" was also scrawled on the building's door.
"I am infuriated that someone would target our kids in this cowardly way," says Carl Siciliano, Executive Director of the Ali Forney Center. "The young people who come to us for help and shelter have already experienced terrible hardship, and I will not stand for them to be further abused." (In April, I interviewed Siciliano on my Gay History: Uncut podcast on the gay homeless situation in New York.)
Community leaders and police have responded and an investigation is in the works.
On Monday at 6:30, thousands will rally in Union Square to protect homeless LGBT youth. While this rally was planned before last night's bigoted, cowardly vandalism, it's only made more vital because of it.
Speakers include Sandra Bernhard and Lt. Dan Choi and the rally has been endorsed by dozens of human rights and LGBT organizations and individuals.
I hope I'll see some of you on Monday night. Showing that there is visible support for this issue is important, because as many as 40% of the homeless youth in the United States are LGBT. That's hundreds of thousands of young people.
Related
Popular in the Community