Ashley Kolodner is a New York-based activist and artist who specializes in still photography. Her latest project, "GAYFACE," involves over 150 participants across six states and utilizes portraiture in an attempt to both empower the subject and transform the perspective of the viewer.
As a body of work, "GAYFACE" is Kolodner's response to the marginalization of lesbian, gay, bisexual and transgender (LGBT) individuals living in America and the mainstream attempt to cast LGBT identity in black and white terms. She cites the goal of the project as an attempt to "break the barriers under which the LGBTQ community has lived for too long... to give this community the voice it deserves and the power to speak the diverse truth... [and] to portray the innovative, personal and participatory face of the gay movement and American culture at large and in the home."
Kolodner's subjects are photographed in two frames -- one with eyes closed and the other with eyes open -- the effect of which is meant to "create a powerful juxtaposition" and give the viewer "a sense of the subject's vulnerability."
The Huffington Post caught up with Ashley Kolodner this week to discuss her inspiration behind the "GAYFACE" project, the impact she hopes it creates, and her opinion about what needs to happen to enhance representations of queer people in the media.
Check out a slideshow of photographic stills from the series below.
The Huffington Post: Where did the inspiration for the project come from?Ashley Kolodner: In a nutshell, I wanted to connect with my community. I wanted to empower us as individuals and as a whole, big queer spectrum. I really wanted to show the world who we are in all our glory, and help the queer humans I document to not be so scared of life -- it can feel really scary out there sometimes. I also wanted to give every person their own voice. I chose color as opposed to black and white because I want to show vibrancy and richness and the colorfulness of this group.
Are you hopeful about the evolution of representations of queer people in the media? What do you think still needs to be addressed?Yes! I am super hopeful, but there's still a lot to be done. The "what needs to be addressed" is really a million dollar question. If I had to choose one thing, I'd say education all around. First of all, education of straight folks who have no idea how to relate with non-heteronormative humans, or still think they're freaks or second-class citizens. But also, education of queer spectrum humans who don't know how to fully realize themselves, feel confused, alone, unheard. Sex and gender education for everyone and open discussion of a real spectrum.
What do you hope people take away from the project?I hope my subjects come away feeling proud of whoever they are. With every photographer you can see the subject interacting with the person behind the lens, and I can really see all those different interactions and the moments we share during the photo shoot. I hope that a bit of one-on-one attention, a moment in the spotlight, a unique and colorful paper that reflects their personality, makes them feel empowered, unique, and special. Celebrated. I hope the viewers look at the photos and, no matter what their label or identity is, see a vast array of every type of human, and see someone they can relate to, someone they're attracted to, someone they're interested in. Someone beautiful. I'm also trying to inspire people with the format -- the eyes open / eyes shut contrast is so striking and gets people thinking about how they're viewed and how they can take on the world with pride.
What has been the most gratifying part of the project?Connecting members of the community who never would have met otherwise. We do these open house photo shoot parties and loads of people come, make friends, network, exchange info, even get dates! Also, the responses I've gotten from some humans for whom the project has been very personally transformative. Some humans have chosen to come out through "GAYFACE." I'm honored when I hear that.
What's up next for you?Next? Big things! I have pulled together a team of brilliant queers and we are all working together to get ready to launch a Kickstarter and fund the next leg of this journey. We are going to spend two months traveling the whole country doing photo shoots in all the little underrepresented places where we need some love and celebration most, as well as the diverse urban gay centers too. We want to collect images of 2,000 humans across the country, and make a book of the images and the stories that go with them, as well as share them online so we can connect with each other. Very soon, on National Coming Out Day, we'll be doing another photo shoot so come out!
Support HuffPost
Every Voice Matters
Before You Go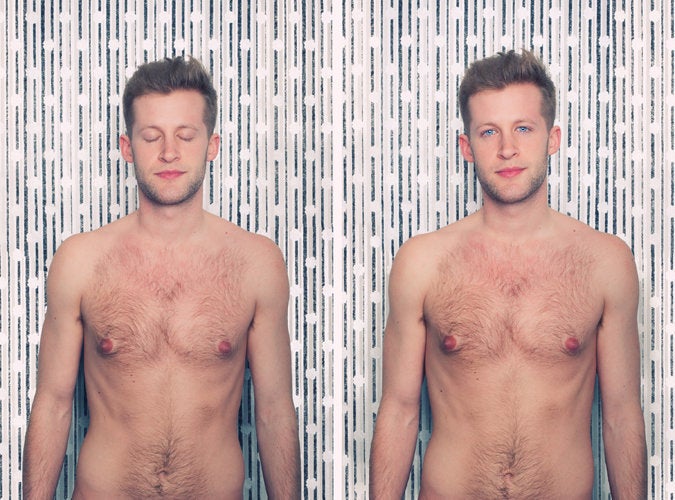 GAYFACE : 1st Class. Eyes Closed Eyes Open
Popular in the Community